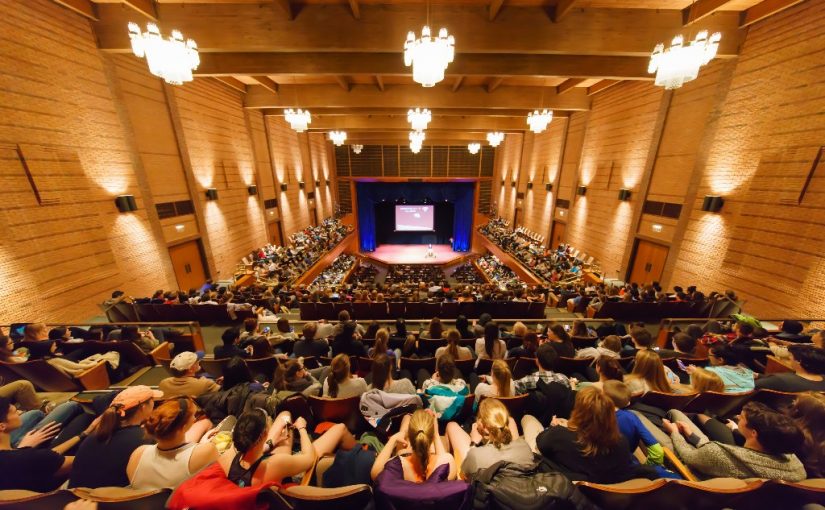 How much do you know about the Weis Center? Sure, it's a beautiful space. The Atrium Lobby's winding staircase and the theater's high ceilings, wood paneling, and signature light fixtures are immediately recognizable to any student, staff, faculty or alumnus. It's ranked as one of the country's most beautiful university performing arts centers for a reason.
However, when you dig a little deeper, there are many facts and eccentricities that make the Weis Center even more unique. Here are a few did you know?'s about Bucknell's home for all things performing arts.
The center has a "shoe box" shape. With similar proportions as Boston Symphony Hall and Vienna's Musikvereinsaal, the Weis Center was built to create ideal acoustics. The theater's wooden ceiling and wall paneling also feature sound-reflecting surfaces that increase the sound quality of performers.
Its full name is The Sigmund and Claire Weis Center for the Performing Arts. Construction of the Weis Center began in 1985 and it was completed and dedicated in 1988. The Center was funded by and dedicated to Claire Weis, the wife of Sigmund Weis, one of the founders of the Weis Markets chain. The couple's son, Sigfried, was the chair of the Bucknell Board of Trustees from 1982 to 1988, and was able to see his parents' donation come to life.
The Weis Center's beauty is nationally ranked. Beyond the Bucknell community, people agree that the Weis Center is an amazing performing arts space. The Center placed third both on BestValueSchools' and Tripping's lists regarding the most beautiful college and university performing arts centers in the country. Check out the complete rankings here and here.
2017 has many more performances in store. Beginning this weekend with Mermaid Theatre of Nova Scotia: Brown Bear, Brown Bear & Other Treasured Stories until late April, the Weis Center is hosting nineteen events of varying genres. Fans of bluegrass music can enjoy The HillBenders Present Tommy: A Bluegrass Opry on February 1st, while those who enjoy dance and acrobatics can look forward to the Golden Dragon Acrobats' performance on March 30th. Even comedy fans will be pleased, as stand up comedian Paula Poundstone will be performing on April 8th.
~ Madeline Diamond, Class of 2017