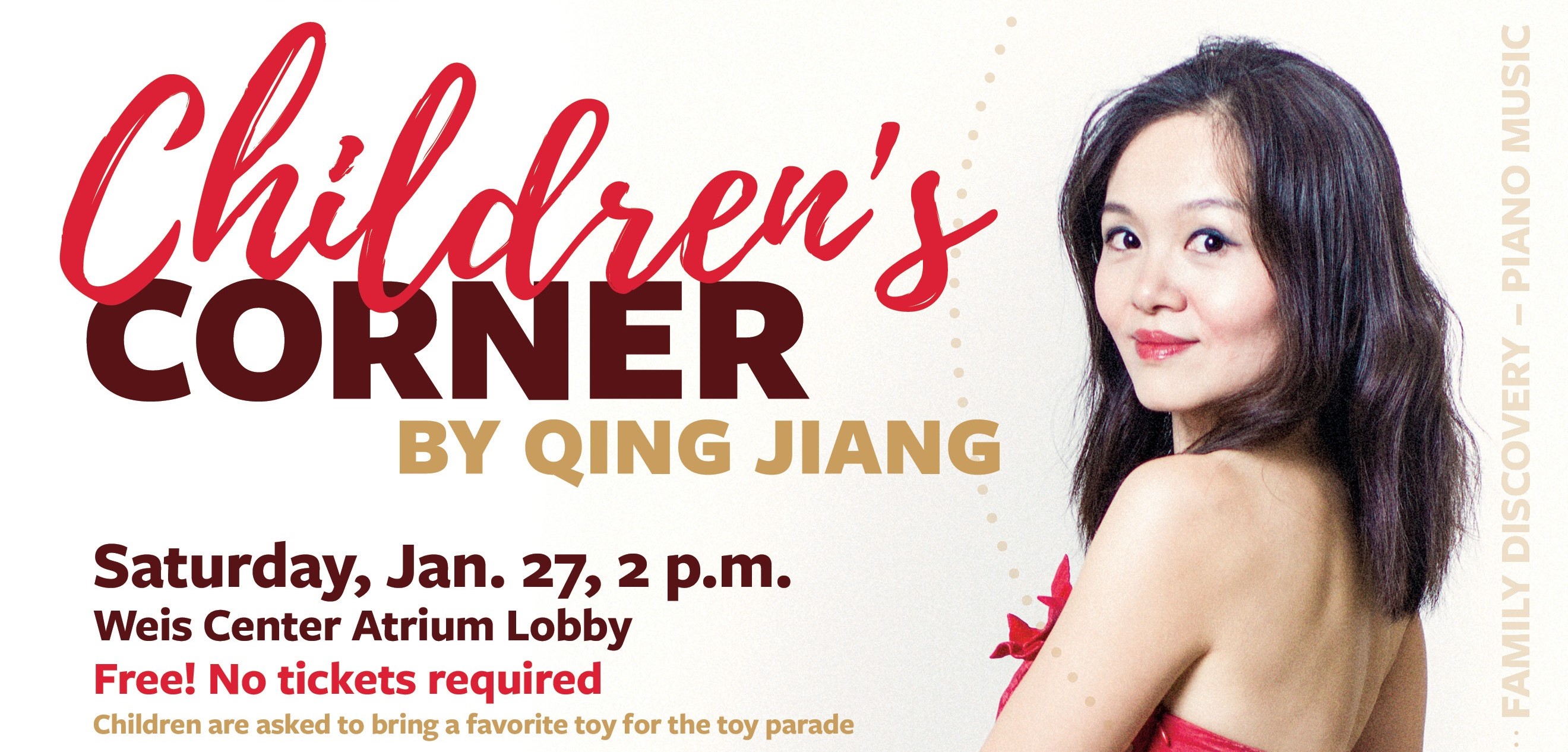 Pianist Qing Jiang will present a free classical program called "Children's Corner" on Saturday, January 27 at 2 p.m. in the Weis Center Atrium Lobby. The performance is free and tickets are not required.
The concert will feature piano music, storytelling, acting, visual arts, and poetry, in collaboration with Bucknell faculty and students, and Lewisburg High School students and the National Art Honor Society.
Children are asked to bring a favorite toy for the toy parade.
The Family Discovery performance is suggested for ages 3 and older; the run time is 60 minutes with no intermission.
The performance is sponsored, in part, by the Public Library of Union County. Families are invited to stay afterwards for free kids' activities from the Public Library of Union County in the Atrium Lobby from 3-4 p.m.
The first portion of the performance will include Maurice Ravel's "Ma mère l'Oye" ("Mother Goose") paired with storytelling and music, with paintings and illustration by Hang Ha (Bucknell Class of 2018) and Lewisburg High School's National Art Honor Society members: Matheu Davenport, Nina Lo, Taylor Lingle, Isabel Martine, Roman Mercado-Bonanno, Antonia Novosel, Avigail Solomon, Jenna Thomas and Julia Thomas.
Featured in the performance will be: narrators Mark Hutchinson and Chris Martine, actors Elijah Comas and Alyssa Dadalt, and dancers Chiara Evans '21 and McKayla Charney '21.
The second selection will feature poetry by G.C. Waldrep, K.A. Hayes, Bucknell alumna Molly Rose Brown, Troy Schwab '19, Mukta Phatak '18, Jackson Pierce-Felkner '18 and Tucker Leighty-Phillips '18 paired with music by Robert Schumann's "Kinderszenen" ("Scenes from Childhood").
Finally, selections from Claude Debussy's "Children's Corner" will be presented.
For more information about this free performance contact Lisa Leighton, marketing and outreach director, at 570-577-3727 or by e-mail at lisa.leighton@bucknell.edu.
For more information about the Weis Center for the Performing Arts, go to www.bucknell.edu/WeisCenter or search for the Weis Center on Instagram, Facebook, Twitter or YouTube.