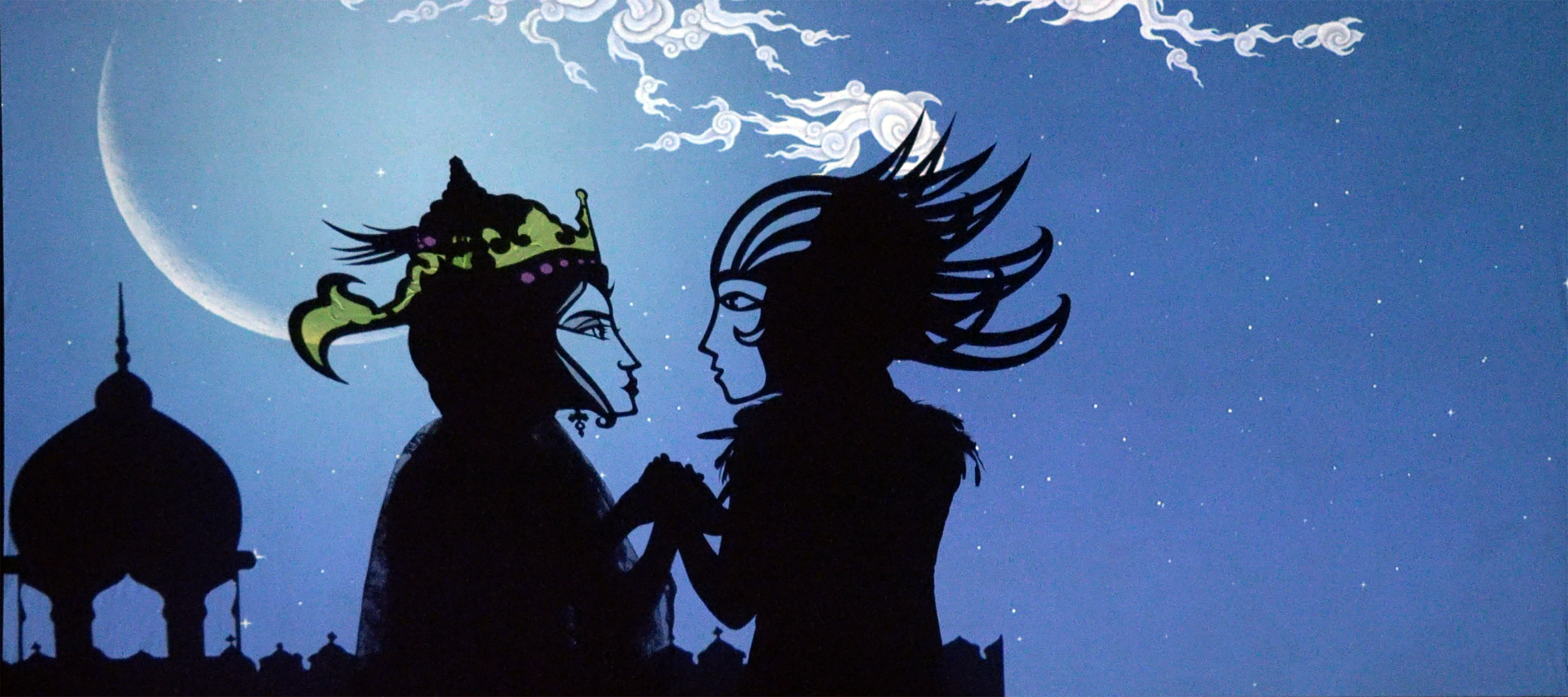 Feathers of Fire: A Persian Epic, a shadow-puppet play will be presented on Saturday, January 20 at 2 p.m. at the Weis Center for the Performing Arts. The performance is suited for all ages and is 70 minutes in length without an intermission.
There will be a free pre-performance talk with the artists on Friday, Jan. 19 from Noon-1 p.m. in the Weis Center Atrium Lobby. A light lunch will be provided.
Feathers of Fire: A Persian Epic is a visually breathtaking cinematic shadow play, created by Hamid Rahmanian, a 2014 Guggenheim fellowship-winning filmmaker/visual artist born and educated in Tehran, Iran. The play is an action-packed magical tale of star-crossed lovers from the 10th-century Persian epic Shahnameh (The Book of Kings) who triumph at the end, against all odds.
Utilizing eight actors, 160 puppets and 15 masks and costumes, Feathers of Fire also projects 158 animated backgrounds onto a vast 15 by 30-foot screen on the stage. Rahmanian's graphics, derived from the visual tradition of the region, are rendered as puppets, costumes, masks, scenography and digital animation, all of which come to life in a "live animation" on a cinema-size screen.
Take a look at some stunning pics from the production!
The performance is sponsored, in part, by John and Julianna Cooper and family. This engagement is made possible through the ArtsCONNECT program of Mid Atlantic Arts Foundation with support from the National Endowment for the Arts.
Frances Ford Coppola says, "One of the great epics of all time and my favorite 'Shahnameh' brought to life in a spectacular fashion by Hamid Rahmanian with shadow puppet design and cinematic wizardry."
Feathers of Fire had its world premiere at the Brooklyn Academy of Music in 2016.
Suitable for all ages, Feathers of Fire tells the enthralling tale of Zaul and Rudabeh, two young lovers of old Persia. Zaul is raised by a mythical bird in the wild. His deep love for Rudabeh enables them both to triumph over inconceivable odds, and then give birth to a beloved son, Rostam—the most important mythological hero of Shahnameh.
Taking inspiration from one of the most primitive methods of telling stories ("Imagine you are in the cave, and you have a fire, and first thing to come is your shadow," Rahmanian told the Los Angeles Times), Feathers of Fire adapts the techniques of San Francisco "shadow master" Larry Reed—inventor of a dramatic protruding mask—to create a cinematic spectacle.
The Feathers of Fire original score is by acclaimed Iranian composers Loga Ramin Torkian and Azam Ail of the band Niyaz, who have been described by the Huffington Post as "an evolutionary force in contemporary Middle Eastern music."
"When I immigrated to the U.S. I realized that many people knew nothing about Iran's rich history in the arts and literature," says Rahmanian. "I want to be a cultural activist, a cultural ambassador by showing the contribution that Persian culture has brought to civilization. I hope that Feathers of Fire presents a more holistic view of Iran. Moving past politics and religion, it shows Iran and its culture in the universal context of a shared and common world mythology."
Tickets for the performance are $20 for adults, $16 for seniors 62+, $10 for youth 18 and under, $10 for Bucknell employees and retirees (limit 2), $10 for Bucknell students (limit 2), and $10 for non-Bucknell college students (limit 2). Tickets can be purchased online at Bucknell.edu/BoxOffice or by calling 570-577-1000.
Please note that tickets are available in the main auditorium only; the balcony will be closed.
Tickets are also available in person from several locations including the Weis Center lobby (weekdays 10 a.m. to 4 p.m.) and the CAP Center Box Office, located on the ground floor of the Elaine Langone Center (weekdays 10 a.m. to 4 p.m.).
For more information about this performance contact Lisa Leighton, marketing and outreach director, at 570-577-3727 or by e-mail at lisa.leighton@bucknell.edu.
For more information about the Weis Center for the Performing Arts, go to www.bucknell.edu/WeisCenter or search for the Weis Center on Instagram, Facebook, Twitter or YouTube.