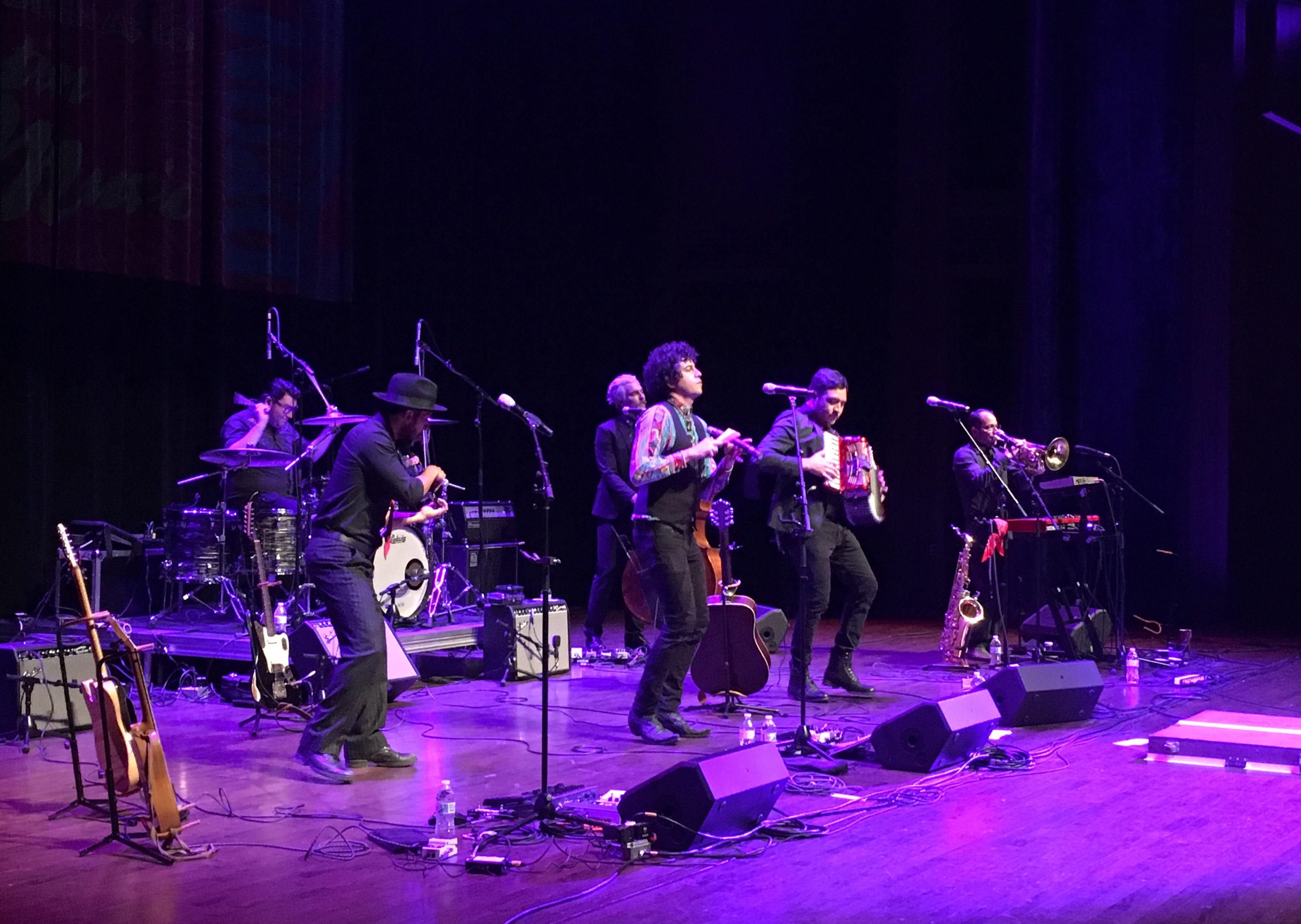 Music fans young and old were in for a treat Saturday evening Feb. 3 when globalFEST On The Road made its stop in Lewisburg. globalFEST is a nonprofit musical venture that puts on an annual New York City festival highlighting acclaimed artists of various genres from around the world. Formally titled globalFEST On the Road: The Golden Age of Latin Music, this winter 2018 leg is a curated touring program based off of that very festival and showcases artists Orkesta Mendoza and Las Cafeteras, coheadliners that evening, as well as Mariachi Flor De Toaloache, who rocked the Weis Center this past September but did not return for the Lewisburg show.
The evening began with Orkesta Mendoza, a high-energy sextext that performed songs that felt like a combination of Latino styles, indie rock, and, at times, psychedelic rock. The eclectic collection of instruments including a violin, an accordion, and multiple flanking the stage were all utilized throughout the set and, along with a drummer, created a full sound that made audiences want to move. There certainly was a lot of movement throughout the performance hall as audiences were dancing in their seats and through the aisles; it was unlike many Weis Center performances I'd seen. The groups of audience dancers even inspired some of the band members to put on their own impromptu "dance battle" to keep the energy going.
Las Cafeteras continued off of the vibes Mendoza brought through their spirited and socially conscious set.
The six-piece band began as a group of students in the East Los Angeles area who came together to play son jarocho, a style of music from the Gulf of Mexico. This "traditional" music was given a rock and hip-hop twist with Las Cafeteras youthful energy and musical expertise. The band played a variety of traditional Mexican folk instruments including a jarana, or smaller, 8-string guitar, a quijada, apercussion scraper, and a small wooden dance platform, or a tarima. The tarima saw some use from Cafeteras vibrant lead female vocalist as well as from their enthusiastic jarana player. The group was incredibly fluid on stage and bopped about with their instruments, creating a relaxed yet high-energy atmosphere. Highlights from the set included a stirring then rousing rendition of "This Land is Your Land" and a welcome cover of Johnny Cash's "Ring of Fire."
Both acts introduced genres very unlike conventional music of today. It's such a treat to experience musical styles so familiar yet quite foreign thanks to the caliber of artists globalFEST highlights in its events.
The next performance in the Weis Center's 2017-18 Season will a night of classical music courtesy of the Helsingborg Symphony Orchestra on Friday, Feb. 16 at 7:30 p.m. in the Weis Center.
For more information about the Weis Center for the Performing Arts, go to Bucknell.edu/WeisCenter or search for the Weis Center on Instagram, Facebook, Twitter or YouTube.
~Caroline Clancy, Class of 2018