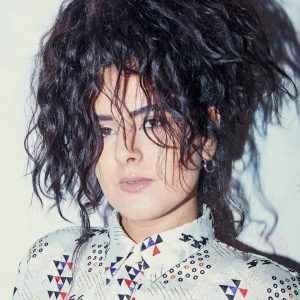 Dina El Wedidi comes from a self described traditional Egyptian background, attending university in Cairo were she composed her own music. From 2007 to 2010 El Wedidi worked as a singer and actress with the Warsha Theatre Troupe, the first independent troupe in the free theater movement in Egypt. With the Warsha Troupe El Wedidi took on multiple projects exploring Egyptian folklore, including The Nile Project, an artist collective created to "inspire, inform, and connect Nile citizens to help them collaborate on cultivating the sustainability of the river"(http://nileproject.org/about/).
Since 2011, El Wedidi started her own band, exploring contemporary Egyptian music through her richly innovative compositions. El Wedidi and her band have toured extensively throughout the world, introducing the unique sound of Cairo to the global music scene.
I had the privilege to speak to Ms. El Wedidi on September 6th and ask her about her experiences as one of key players at the forefront of contemporary Egyptian music.
G: What was the process of forming your own band?
D: " I knew two of them previously. One was music partner who encouraged her to work independently. Unfortunately that friend is not on tour with me right now because she's working on a different project. The other is an accordion player I've known for some years. We have musicians who play the accordion, oud, percussion, guitar, bass, and drums. There are nine members in total. Right now we're actually working on our second album!"
G: What are your experiences traveling the world to perform?
Dina laughs. "Every time [the band] presents work from Egypt, most places have NO idea about Egyptian current events, or what's happening in the modern music scene in Egypt. We have intense and beautiful stories from playing around the world. For example, we played at opening of Sudan's first cinema festival and it was a great opportunity to spread Egyptian music to different countries We've even been as far north as Norway and Sweden."
G: Do you think that your work comments on current social or political issues?
D: "I don't know if I have a message, but every artists has a message behind their art, whether intentional or not. Right now, I'm just focusing on personal issues. I feel like I have something to present, to get it out from inside myself. My responsibility is to "love my work", so that's why I create."
G: What was your inspiration for including other instruments from around the world in some of your performances (such as the Irish violin)
D: "I chose musicians based on how the instrument will benefit composition, regardless of nationality. I love using a variety of instruments."
G: I read in your biography that you used trains as instruments? Can you explain that a little more? It sounds fascinating!
Dina explains that's for an independent upcoming project. "There's no band, only the train." She described it as an experimental, electronic album; her very first experimental project in fact. She hopes the album will help improve her career as a music producer as well as a musician.
G: What can we expect from your set at Bucknell University on September 27th?
D: "We'll play the same songs we're playing on our tour this year, maybe a few pieces from the upcoming album."
G: How do you feel about coming to Pennsylvania? Is it a strange experience for you?
D: "The Nile project has played in America before, for 4 months in 2015, 32 states." Dina says she is excited, but knows what to expect. I told her to prepare to see a lot of corn fields.
El Wedidi is thrilled that the Weis Center has taken the initiative to invite other Middle Eastern artists, including Mohamed Abozekry & Karkade (Sept. 14th, 7:30 pm). She looks forward to coming to Bucknell and sharing the music of Cairo with a new audience.
– Grayson Kennedy, Class of 2019