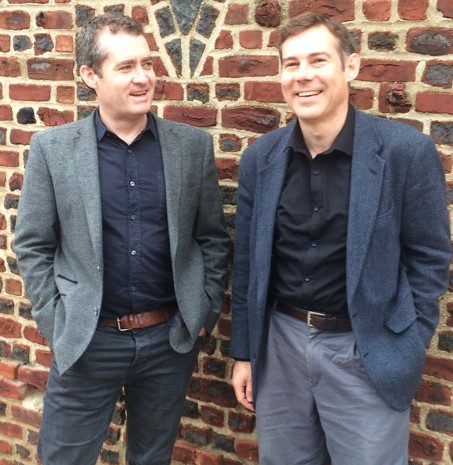 In the Atrium of the Weis Center, it's a full house. The audience watches the sun set through the glass-panel walls as Willie Kelly and David Powers take their position on the stage at the base of the spiraling staircase. After a brief introduction by Kathryn Maguet the musicians lift their instruments and, without wasting another breath, begin to play, transporting the audience back into the history of Ireland.
David Power of Ireland and Willie Kelly, a native of New Jersey, brought an uniquely Irish experience the Central Pennsylvania with their free performance on Thursday night, September 6th, at 7:30 pm.
Powers is an award-winning piper with a stellar career in concert performance and theatrical productions. He has toured American performing arts centers with the Masters of Tradition for three consecutive years, appeared on Broadway in the Eugene O'Neill play A Touch of the Poet, starring Gabriel Byrne, and has performed with poets Dermot Bolger, Seamus Heaney, Kerry Hardie and others. He has three solo piping recordings: My Love is in America, Cuaichín Ghleann Neifín and The eighteen Moloney. He plays with Ciarán Somers and Donal Clancy in the group Pipers Union and in duet shows with Willie Kelly and with Martin Hayes.
Kelly plays fiddle in the stately East Clare style. He has performed extensively with renowned Galway flute players, Mike Rafferty and Jack Coen, both National Heritage Fellowship award winners. He accompanied both Mike and Jack at their respective induction concerts and has played at the Smithsonian Festival of Folklife in Washington, D.C.  In 2009, Willie released a highly acclaimed duet CD with Mike Rafferty called The New Broom.  More recently he recorded with concertina player Dymphna O'Sullivan as a guest on the recordings Bean Cairdin (2007) and Enriched (2014).
During their Thursday night performance, It was immediately evident that Power and Kelly were not just performers, but an emotional force. They closed their eyes as they played, lifting their heads to the sky as if in prayer. To their credit, there is something almost holy about the music. Only using a fiddle, a set of pipes, and at one point a penny-whistle, the duo composes a beautiful narrative of Irish lore and tradition rich with joy, melancholy, and above all a profound soulfulness.  
For more information about the Weis Center for the Performing Arts, go to Bucknell.edu/WeisCenter or search for the Weis Center on Instagram, Facebook, Twitter or YouTube.
– Grayson Kennedy, Class of 2019