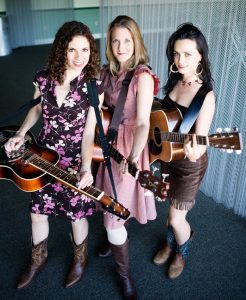 The guitar drawls. The beat of drums reverberates through the floor and up your feet. Audience members laugh and cheer as Red Molly takes the stage. Known for their gorgeous harmonies and infectious songwriting, Red Molly (Laurie MacAllister, Abbie Gardner and Molly Venter) graced Lewisburg downtown with their presence on Wednesday, Sept. 19 at 7:30 p.m. at the Campus Theatre.
This 'Americana trio' beautifully weaves together the threads of American music. In their caramel voice and superb three-part harmonies they explore every sound from folk to bluegrass, lamenting ballads to honky-tonks. Laurie, Abbie, and Molly each have wonderfully distinct voices, both in their actual vocal timbre and in their individual songwriting styles and song choices. Their brilliantly wrought acappella tunes are love letters to the art of the vocal blend, and their innovative instrumentation is perfectly suited for foot-stomping, bluegrass-tinged barn burners and heartfelt ballads alike.
The Campus Theatre perfectly accommodated the full house. Patrons arrived as early as 6:30 for the 7:30 showing. The crowd exploded with excitement at the climax of each set, blown away by Gardner's dobro skills, MacAllister's bass and Venter's guitar playing. Even during intermission the sound of the audience is almost deafening; a collection of you see friends seeing old friends, families spending time together, a couples, young and old, enjoying each other's company. At times it felt less like a concert and more like a community gathering.
Even I, a uncultured yankee from the W.A.S.P capital of America (Fairfield County, CT), am moved by their ballads, reminding me of long car rides to see my grandparents in Texas and Missouri. I think about dancing on my father's feet, and my mom retelling stories of the "good" southern music she grew up with in the 80's, and I can feel the nostalgia and joy in the room swelling like a tide. In a spectacular finally, Red Molly brought the the house down with an electric cover of Fleetwood Mac's The Chain.
– Grayson Kennedy, Class of 2019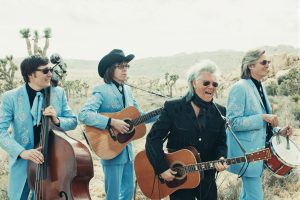 Upcoming Americana Show: Marty Stuart and His Fabulous Superlatives
Stuart continues to record and release keenly relevant music that honors country's rich legacy while advancing it into the future in his 18th studio album Way Out West. Marty Stuart and His Fabulous Superlatives will play at the Weis Center November 1st, 2018, 7:30 pm. Tickets now limited!
Order tickets online or Visit/Call the Campus Box Office at 570.577.1000, Monday-Friday 10 a.m.-4 p.m.
Adults: $30
Seniors 62+ and subscribers: $24
Youth 18 and under: $20
Bucknell employees and retirees (limit 2): $20
Bucknell students (limit 2): $10
Non-Bucknell college students (limit 2): $20