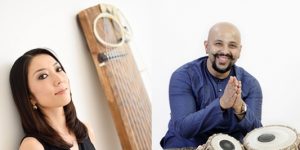 Yumi Kurosawa and Anubrata Chatterjee blended together the expressive musical traditions of Japan and India in an incredible performance on Sunday, February 10th in the Weis Center atrium. The audience went on a journey of sound – from Vivaldi on the koto to Japanese edo period lullabies to Kurosawa's original compositions. Kurosawa and Chatterjee's collaboration speaks volumes to the unifying power of music. Their visionary compositions demonstrate the similarities between their musical traditions as well the unique characteristics of the Japanese koto and Indian tabla.
Kurosawa is one of today's most exciting soloists on Japan's national instrument. Her many collaborations have included pairings of koto with tabla, with oud, with string quartet, and with dance. She has two solo albums out to date: 2015's Looking up at the Sky and 2009's Beginning of a Journey.
Chatterjee is a master of Farukhabad Gharana along with Lucknow & Ajrada Gharana styles. He has proven himself as an accomplished soloist and as an accompanist with the power, grace, skill and superb tonal clarity of his tabla renditions . Chatterjee actively collaborates with both traditional and new age projects, and currently performs with his band LayaCurry and Beats & Pieces.
– Grayson Kennedy, Class of 2019