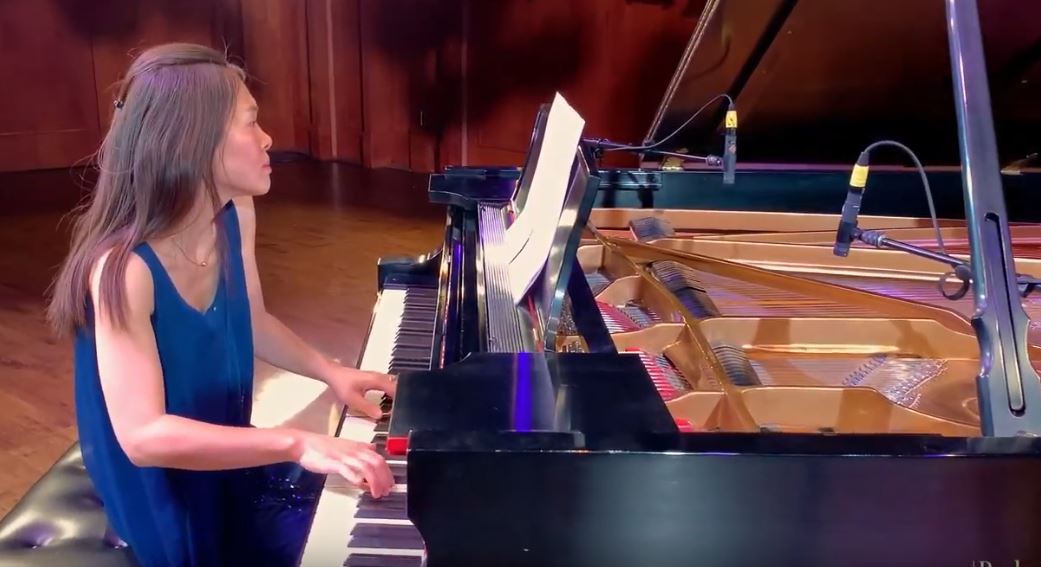 Welcome to our fifth installment of Weis Center Sessions!
Each Friday, we will release a video that features a member of the Bucknell University community. Today, we feature Pianist Qing Jiang and a piece composed by Daniel Temkin.
Praised by the New York Times as a "fiery musician" whose playing is "vigorous and passionate," Chinese-born Pianist Qing Jiang has performed to acclaim across the United States and abroad, including Alice Tully Hall, Weill Hall, as well as the UK's Snape Maltings Hall, and China's Shenzhen Poly Theater. Jiang is currently Assistant Professor of Music at Bucknell University, and Piano Faculty at the Kneisel Hall Chamber Music Festival in Maine. Passionate about Chamber Music and contemporary music, Jiang has performed alongside Itzhak Perlman, Gil Kalish, as well as with members of the Emerson, Juilliard, Shanghai, Kronos, Jasper, and Parker string quartets. She collaborates often with her husband Daniel Temkin, who is also on the music faculty at Bucknell.
Composer Daniel Temkin is known for crafting works filled with rich detail and visceral beauty. Praised for capturing an "immensity" and "demonstrating an allure too difficult to convey in words" (Houston Chronicle), Daniel's works have been noted as "direct, convicted and beautiful" (Incident Light) and praised as "sweet and simple…like a memory stream in an American vernacular" (Philadelphia Inquirer). Daniel's music has been heard worldwide with leading orchestras and music festivals, and he has been featured in broadcasts with NPR's "Performance Today," PBS Philadelphia's "WHYY" series, WWFM.org, and RTHK national radio in Hong Kong.
In this video, we hear the first movement, "Starfield" from Daniel's piano suite DREAMED LANDSCAPES. Originally commissioned by the Pennsylvania Music Teachers Association (PMTA), the piece was awarded honorable mention for the Music Teacher National Association (MTNA) Distinguished Composer of the Year Award.
Daniel writes, "The first movement "Starfield" begins with gentle, distant arpeggios – a swirling spiral galaxy of twinkling lights above our heads. In the middle of the movement, the pianist rips upwards on the instrument, like bright colors of light streaking through the night sky."
To hear more of the piece, please visit: www.danieltemkincomposer.com
Recorded at and produced by the Weis Center for the Performing Arts at Bucknell University.
ENJOY!