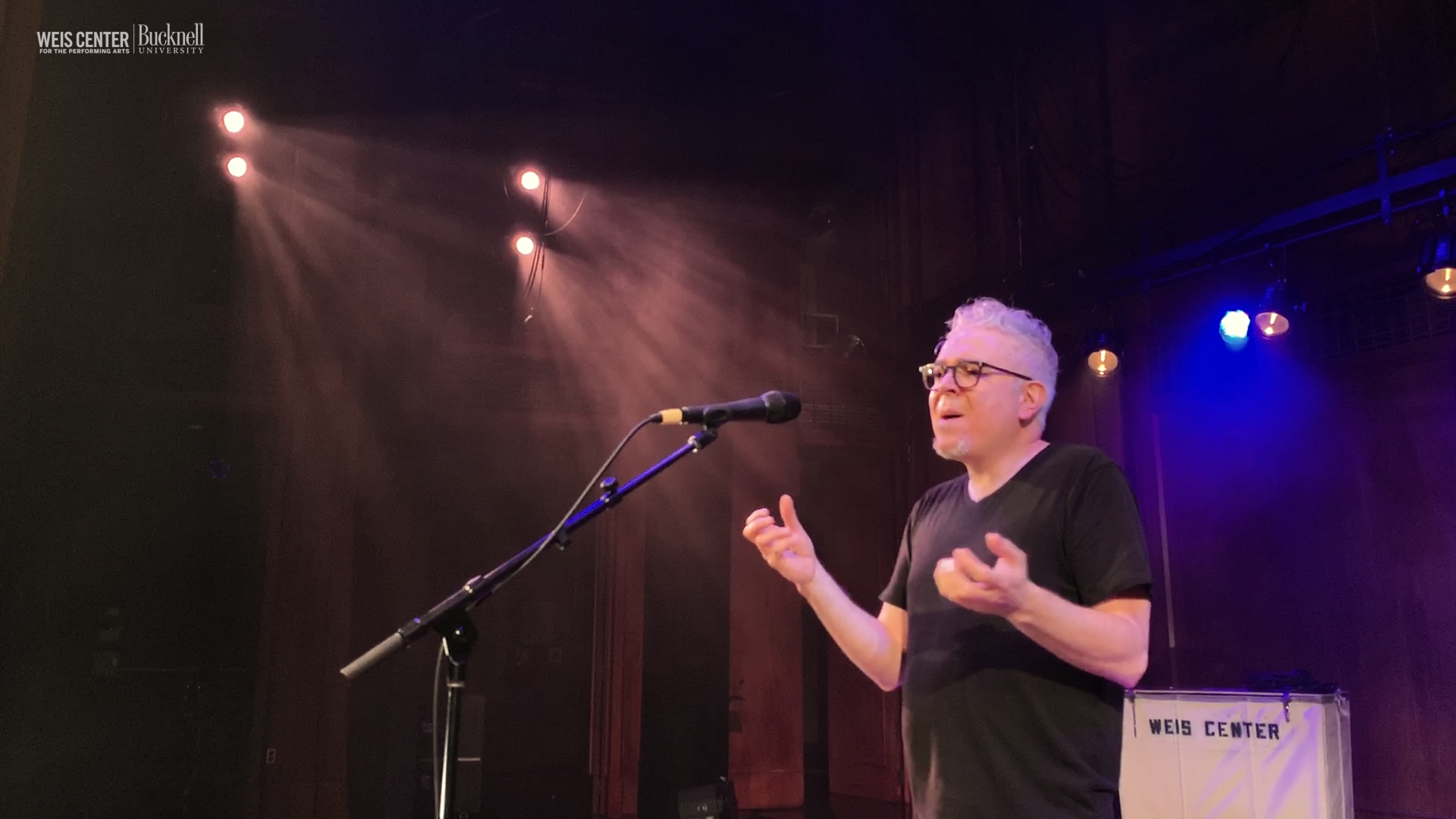 Welcome to our 21st installment of Weis Center Sessions.
Each Friday, we release a video that features a member of the Bucknell University community.
This week, we feature Bucknell Music Professor Paul J. Botelho performing a vocal improvisation.
Praised for his "vocal virtuosity," Azorean-American composer/performer Paul J. Botelho performs worldwide. His work includes acoustic and electro-acoustic music, vocal improvisation, multimedia installation pieces, visual art works, and one-act operas. As a countertenor, he performs vocally primarily through extended technique and incorporates the voice into much of his music.
His recent work explores vocal responses to composed and prerecorded sonic environments and includes Alvira (2020), In Moscow We Marched (Moscow, Russia; 2019-20), Visby Project (Visby, Sweden; 2017-18), and Walmart 3 AM (2016). His work has been performed, presented, and exhibited in concerts, festivals, galleries, and museums across the Americas, Europe, Oceania, and Asia.
Botelho received a Ph.D. and M.F.A. in Music Composition from Princeton University, an M.A. in Electro-Acoustic Music from Dartmouth College, and a B.F.A. in Contemporary Music Performance and Composition from the College of Santa Fe. Currently he is Associate Professor of Music at Bucknell University where he teaches music composition. www.pauljbotelho.com
In the video, Botelho performs an unaccompanied vocal improvisation where he weaves a multitimbral gesturally-based musical line. Melodic fragments emerge episodically throughout the vocal texture acting as waypoints in the sonic journey. The performance features a broad set of extended vocal techniques including multiphonics, glottal clicks, focused breath, ululation, and vocal fry.
Recorded at and produced by the Weis Center for the Performing Arts at Bucknell University.