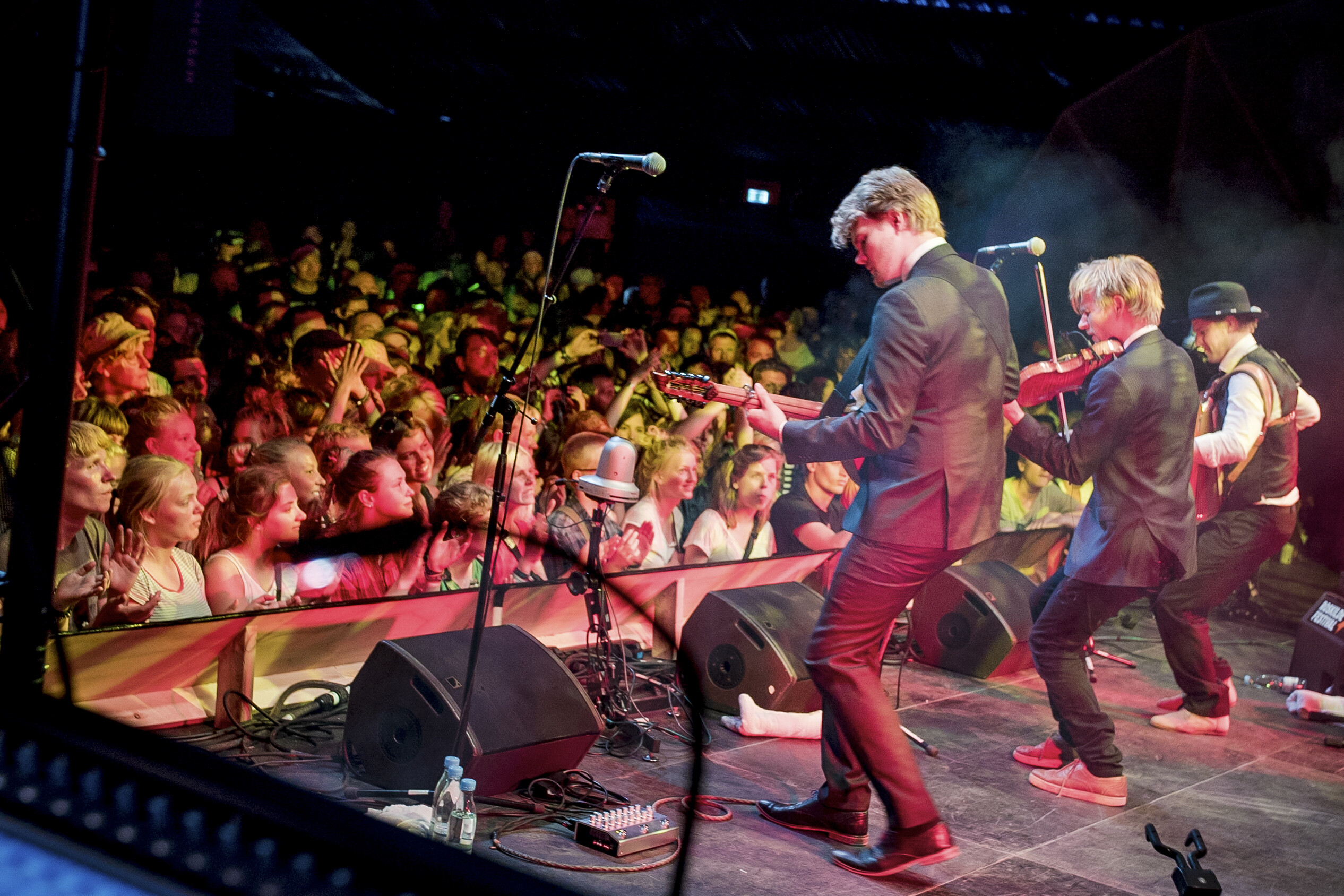 The Weis Center will welcome back Nordic folk trio Dreamers' Circus on Tuesday, September 27 at 7:30 p.m. in the Weis Center Concert Hall.
The performance is sponsored, in part, by John and Julianna Cooper and family.
Please note that as of Monday, Sept. 19, the current rate of transmission of COVID-19 in Union County is HIGH. Masks are required in all indoor spaces, including the Weis Center. For updates, please visit: Bucknell.edu/COVID-19
Their return United States tour includes stops in Lewisburg, PA; Richmond, VA; Burlington, VT; Saratoga, NY; Washington, DC; and Provo, UT.
A new driving force in Nordic world music is the young Danish trio, Dreamers' Circus. Contemporary and endlessly innovative in their approach, they draw inspiration from the deep traditions of folk music in the region and reshape them into something bright, shiny and new.
Dreamers' Circus are: Nikolaj Busk (Danish) on piano and accordion; Ale Carr (Swedish) on Nordic cittern, and Rune Tonsgaard Sørensen (Danish), also of the Danish String Quartet, on violin.
Dreamers' Circus display inventiveness and talent in their approach to performances that include music from Denmark and Sweden as well as Finland, Norway and the far reaches of the windswept Faroe Islands.
Winners of five Danish Music Awards, the trio's sound is based on virtuosic and incendiary musical ability across a range of instruments that includes violin, accordion, piano and cittern.
The trio collaborates regularly with the Danish String Quartet and the Copenhagen Philharmonic and performs with other orchestras.
Sing Out said, "They're world class. Now the world needs to hear them."
"Dreamers' Circus does for Nordic folk music, what Astor Piazzolla and the tango nuevo did for Argentinian folk music," said Politiken (Denmark).
Endlessly exploring new challenges for themselves and for audiences, Dreamers' Circus mine their backgrounds in traditional and roots music to present a genre-bending amalgam of folk sensibility, jazz improvisation and classical complexity distilled through an openness to popular music influences. The result is music that is resolutely contemporary and rhythmically and melodically engrossing.
On September 10, Dreamers' Circus released Handed On, a published book of 58 pieces of their own new-Nordic music, arranged for varying degrees of difficulty, along with videos to accompany each tune.
Their most recent recordings of original tunes, Blue White Gold (for which the Trio was awarded the prestigious Carl Prize for Composer of the Year in 2021) and Lost Swans (2022), are set to be released on a double vinyl record reissue this fall.
In addition to writing and performing their own music, Dreamers' Circus is a frequent collaborator with other musicians. Recent projects include:
Playing the music for the video game Chrono Cross, including: Sailing and Termina, a collaboration with Japanese composer Yasunori Mitsuda
Performing and arranging music for a collaboration with the DR Børnekoret (Danish Radio's Children's Choir) on an album of Danish children's folk songs.
Collaborating with renowned Danish fiddler Poul Bjerager Christiansen on an initiative to bring traditional folk music to life from centuries-old handwritten scores.
TICKETS
Tickets are $25 for adults, $20 for seniors 62+ and subscribers, $15 for youth 18 and under, $15 for Bucknell employees and retirees (limit 2), $10 for Bucknell students (limit 2) and $15 for non-Bucknell students (limit 2).
Tickets can be reserved by calling 570-577-1000 or online at Bucknell.edu/BoxOffice.

Tickets are also available in person from several locations including the Weis Center lobby (weekdays 10 a.m. to 4 p.m.) and the CAP Center Box Office, located on the ground floor of the Elaine Langone Center (weekdays 10 a.m. to 4 p.m.).

PLEASE NOTE

Bucknell's face covering requirements follow CDC guidelines, based on current rates of transmission of COVID-19 in Union County. When transmission rates are high, face coverings are required of everyone in all public and academic indoor campus spaces, including the Weis Center. Masks are not required indoors when transmission rates are low or medium. This guideline applies to all visitors regardless of vaccination status. Please always have a mask available when you are on campus. KN95s are recommended. To view Bucknell's current status, visit bucknell.edu/COVID-19.

For more information about the Weis Center for the Performing Arts, go to Bucknell.edu/WeisCenter or search for the Weis Center on Instagram, Facebook, Twitter or YouTube.