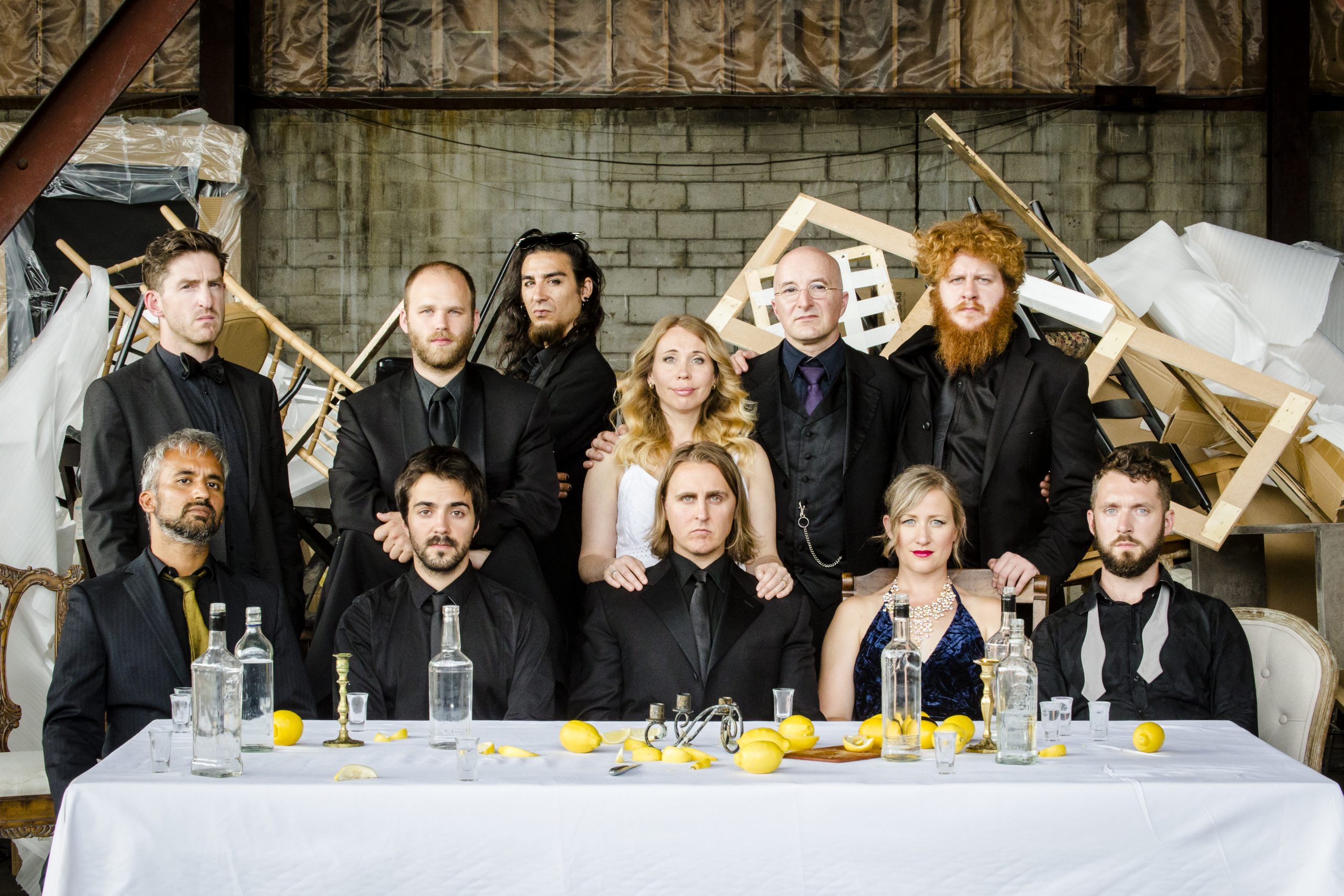 The Weis Center will welcome Balkan brass band Lemon Bucket Orkestra (LBO) on Thursday, September 29 at 7:30 p.m. in the Weis Center Concert Hall.
Patrons are encouraged to come early for a Balkan folk dance demo in the Weis Center Atrium from 6:45-7:15 p.m., facilitated by Heather Almer and Mariya Monfette of the Global Music and Dance Collective. The teachers will introduce three Balkan/Roma folk dances — cocek, pravo and paidushko — all danceable to the energetic Balkan Brass music of Lemon Bucket Orkestra. No prior dance experience is necessary and the activity is open to all ages and abilities. The teachers will start with the very accessible pravo, and then move along to the beautiful cocek and then take on the rhythmically challenging paidushko. These dances originated in the countries of Albania, Macedonia, Bulgaria, Serbia, Romania and Turkey and are common to the international folk dance community repertoire.
The LBO performance is sponsored, in part, by The News-Item and the Mid-Atlantic Arts Foundation's Performing Arts Global Exchange (PAGE) program with support from the National Endowment for the Arts.
ABOUT THE BAND
Lemon Bucket Orkestra are Toronto's original guerrilla-folk, party-punk band. The multi-award-winning ensemble has been heralded as a groundbreaking, genre-bending phenomenon by media and fans alike, and over the past eight years have performed all over the world from WOMAD in New Zealand and Pohoda in Slovakia, to Festival D'Été in Québec City and Luminato in Toronto.
The Guardian proclaimed that their performances are "gorgeously sung and passionately played" and The New York Times declared them "charismatic … handsome and ambitious."
Lemon Bucket Orkestra is: Ian Tulloch (sousaphone), Os Kar (savage drums, screams), Marichka Marczyk (accordion, vocals), Michael Louis Johnson (trumpet), Julian Selody (saxophone), Jaash Singh (darbouka), Alex Nahirny (guitar), Mark Marczyk (violin, vocals), Stephania Woloshyn (dance, percussion, vocals), Nathan Dell-Vandenberg (trombone) and James McKie (violin).
Equal parts exhilarating precision and reckless abandon, the Orkestra's live shows are a truly immersive experience — ranging from the ecstatic to the cathartic and all points in between. They have expertly captured that unique blend of energy and emotion on their new album If I Had the Strength.
TICKETS
Tickets are $25 for adults, $20 for seniors 62+ and subscribers, $15 for youth 18 and under, $15 for Bucknell employees and retirees (limit 2), $10 for Bucknell students (limit 2) and $15 for non-Bucknell students (limit 2).
Tickets can be reserved by calling 570-577-1000 or online at Bucknell.edu/BoxOffice.

Tickets are also available in person from several locations including the Weis Center lobby (weekdays 10 a.m. to 4 p.m.) and the CAP Center Box Office, located on the ground floor of the Elaine Langone Center (weekdays 10 a.m. to 4 p.m.).
MASKING REINSTATED
Please note that as of Monday, Sept. 19, the current rate of transmission of COVID-19 in Union County is HIGH. Masks are required in all indoor spaces, including the Weis Center. For updates, please visit: Bucknell.edu/COVID-19

For more information about the Weis Center for the Performing Arts, go to Bucknell.edu/WeisCenter or search for the Weis Center on Instagram, Facebook, Twitter or YouTube.