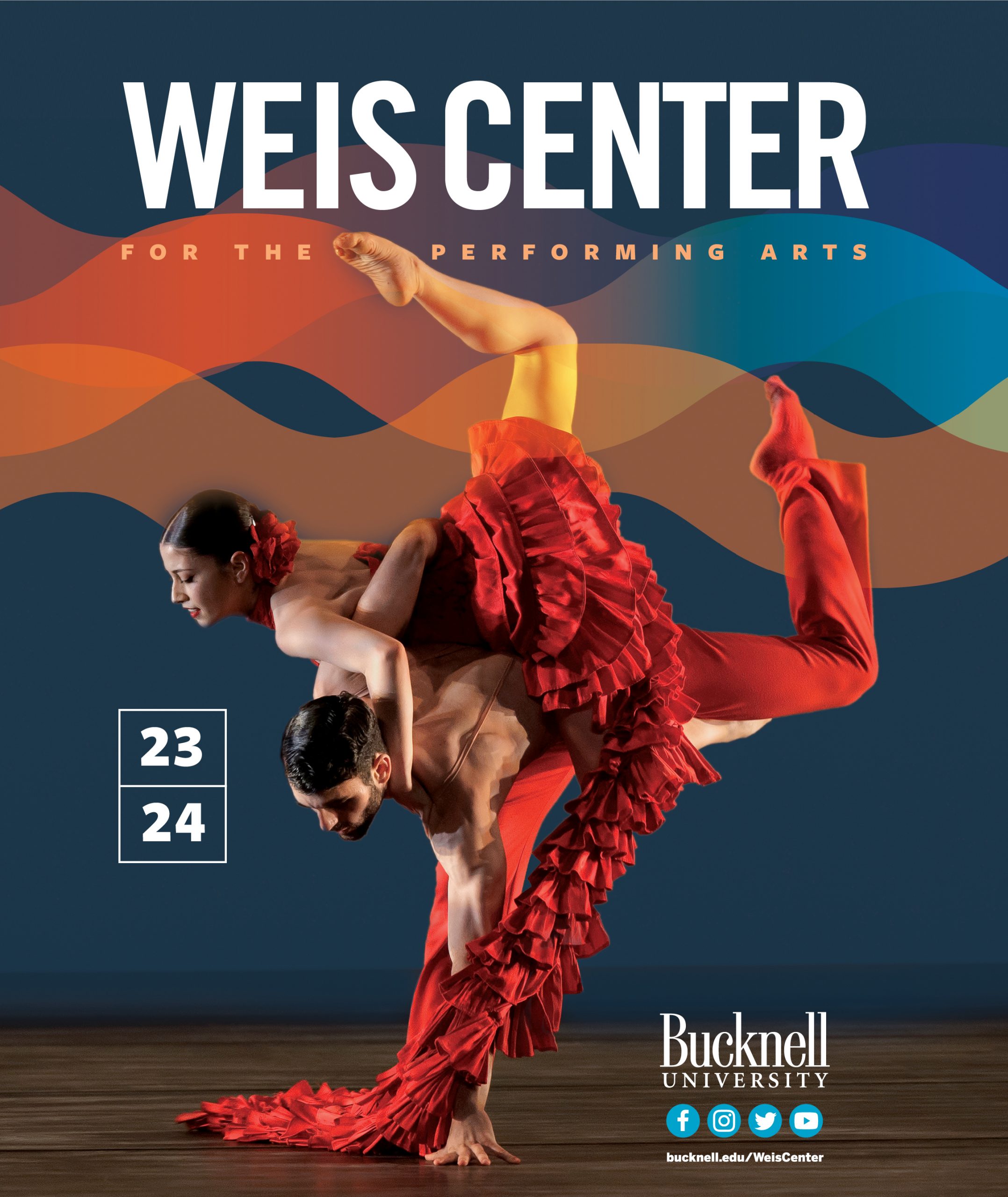 The 2023-24 season at the Weis Center for the Performing Arts includes 25 professional performances – including world music, classical, Americana and roots music, modern dance, jazz, soul, and so much more. All performances take place at 7:30 p.m. unless otherwise noted.
Tickets go on sale to the public on August 24 at 10 am by calling 570-577-1000, online at Bucknell.edu/BoxOffice or in-person weekdays 10 a.m.-4 p.m. at the Campus Box Office's location in the Weis Center Atrium.
As always, season subscribers of five or more performances receive 20 percent off ticket purchases. Subscription orders will be given priority until Tuesday, August 22 at 10 a.m.
The fall season will kick off on Thursday, September 7 at 6 p.m. with a free concert by DC-based brass ensemble, DuPont Brass, outside on the Weis Center Plaza. This lively nine-piece ensemble consists of brass, a rhythm section and vocalists. The event is co-presented with Bucknell Basketball; patrons are encouraged to come early for free family-friendly events from 5-6 pm. Pre-concert activities will include: hoops on the Plaza – come play basketball with the Men's and Women's Basketball teams, Meet the Teams: Autograph Signings, pics with Bucky the Bison, Bison Girls Dance Team showcase performance, Bucknell Cheerleaders appearance, cornhole, raffles and prizes. Bucknell's food truck The Flying Bison will also be parked on-site from 5-7 pm with snacks, drinks, and dinner offerings for a fee.
On Thursday, September 14 we will welcome the Martha Graham Dance Company, which has been a leader in modern dance since its founding in 1926. It is both the oldest dance company in the U.S. and the oldest integrated dance company. Today, the company is embracing a new programming vision that showcases masterpieces by Graham alongside newly commissioned works by contemporary artists.
On Friday, September 29, Molly Tuttle & Golden Highway will bring roots music to the Weis Center stage. Molly Tuttle is a multi-instrumentalist and singer-songwriter with a lifelong love of bluegrass. On her new album, Crooked Tree, Tuttle joyfully explores her family's rich history with bluegrass, resulting in a record that is both forward-thinking and steeped in bluegrass heritage.
On Thursday, October 12, jazz pianist and composer Emmet Cohen takes the stage with his Trio. Emmet is the winner of the 2019 American Pianists Awards and was a finalist in the 2011 Thelonious Monk International Piano Competition. Cohen headlines regularly at Jazz at Lincoln Center, the Village Vanguard and Birdland.
Gospel powerhouse ensemble, The Legendary Ingramettes, will perform on Thursday, October 19. The African-American gospel quintet was founded six decades ago as a way to keep a family together through hardship. The Legendary Ingramettes bring roof-raising harmonies and explosively powerful vocals, all driven by the voices of women.
On Friday, October 27, the Dublin Guitar Quartet performs new music on classical guitars. The quartet has worked to expand the limited repertoire by commissioning new works and adapting modern masterpieces from outside of the guitar repertoire. With the help of eight- and eleven-string guitars, the quartet has created an original catalog of arrangements by composers such as Philip Glass, Rachel Grimes, Arvo Pärt and many more.
On Wednesday, November 1, violinist, vocalist and composer Terry Jenoure performs with powerhouse pianist Angelica Sanchez in a new project called Secret to Life in the Weis Center Atrium. The project shines the spotlight on women's accounts, ones that were once held in secret.
Then on Friday, November 3, world music from Cadiz, Spain comes to Central Pennsylvania. La Banda Morisca blends roots and traditional music of Andalusia, the Maghreb and the Middle East. The group has developed a creative and unique repertoire that combines the traditions of the eastern and western Mediterranean with the spirit of flamenco and Andalusian rock.
Classical music by The Danish String Quartet will be featured on Sunday, November 5 at 4 pm. The Grammy-nominated quartet is known for impeccable musicianship, sophisticated artistry, and an unmatched ability to play as one. They exude a palpable joy in music making and will present an intriguing program that includes Mozart, Britten, and a selection of Scandinavian folk music.
The contemporary dance company BODYTRAFFIC takes the stage on Thursday, November 9. BODYTRAFFIC uses the creative spirit of its Los Angeles home to fulfill its mission of delivering performances that inspire audiences to simply love dance. The company is composed of artists who received their training at some of the finest schools throughout the world. The Los Angeles Times described BODYTRAFFIC as "one of the most talked about companies—not just in LA, but nationwide."
Bucknell Music Department's Gallery Series presents a free performance by singer-songwriter Alissa Moreno on Friday, Nov. 10 in the Weis Center Atrium. After moving to Los Angeles, she co-wrote the Grammy-nominated hit "Every Day" for Rascal Flatts. Her music is featured in television and film with numerous songs licensed to shows like The Vineyard, The Hills, Laguna Beach, How I Met Your Mother, Guiding Light, Will and Grace, Criminal Minds, among others.
Then on Tuesday, November 14, Okaidja Afroso returns to the Weis Center with a new project, Jaku Mumor – Ancestral Spirit. Born into a family of musicians and storytellers on the west coast of Ghana, Afroso is a singer, guitarist, percussionist and dancer deeply connected to the musical traditions of the African Diaspora. His new project combines percussion, guitar, dance and native language vocals.
Finally, the fall season ends with world music from Mariachi Herencia de Mexico on Thursday, November 30. The energetic, Latin Grammy-nominated group has issued chart-topping albums and performed across the North American continent. This performance will include both traditional mariachi music and holiday favorites.
The spring 2024 season kicks off on Tuesday, January 30 with a family-friendly performance of Hamid Rahmanian's Song of the North, a large-scale, cinematic performance combining the manual art of shadow puppetry with projected animation to tell the courageous tale of Manijeh, a heroine from ancient Persia, who must use all her strengths and talents to rescue her beloved from a perilous predicament and help prevent a war. This epic love story employs a cast of 500 handmade puppets and a talented ensemble of nine actors and puppeteers.
Ballet Hispanico returns to the Weis Center on Tuesday, February 6. Ballet Hispánico is the largest Latine/Latinx/Hispanic cultural organization in the U.S. and one of America's cultural treasures. They will present a mixed repertoire of three pieces.
Kyshona, an artist who blends roots, rock, rhythm and blues and folk, will perform on Thursday, February 8. Her release, Listen, was voted Best Protest Album of 2020 by Nashville Scene. Kyshona's nonprofit organization, Your Song, offers songwriting programs for youth empowerment programs, detention, re-entry, recovery, mental health and veterans centers and organizations.
Jontavious Willis is an up-and-coming blues artist who will perform on Wednesday, February 14. His style of playing and his voice touches the very roots of country blues, bringing back the true soul of the music. A newspaper headline once called him a "70-year-old Bluesman in a 20-year-old Body." Hailing from Greenville, Ga. He got his much-needed break from the living legend Taj Mahal in 2015, when Mahal asked Willis to play on stage with him. That appearance resulted in a roaring response from the audience and led Willis to bigger stages and broader opportunities, including an opening slot at select shows along the TajMo tour, featuring his musical mentors Taj Mahal and Keb' Mo'.
The National Symphony Orchestra of Ukraine will perform on Friday, February 23 under the chief conductor Volodymyr Sirenko. Pianist Volodymyr Vynnytsky will be featured. Formed by the Council of Ministers of Ukraine in November 1918, the National Symphony Orchestra of Ukraine is considered to be one of the finest symphony orchestras in Eastern Europe.
Then on March 1, tenThing returns to the Weis Center. Formed in 2007 by Norwegian trumpeter Tine Thing Helseth as a fun and exciting collaboration among musical friends, the 10-piece, all-female brass ensemble has firmly established itself on the international scene to great acclaim. tenThing is celebrated for its commitment to outreach and access to music through a diverse repertoire, from Mozart to Weill, Grieg to Bernstein and Lully to Bartók.
The Martha Redbone Roots Project comes to the Weis Center on Tuesday, March 5. Martha Redbone is a Native American and African American vocalist/songwriter/composer/educator. She is known for her unique gumbo of folk, blues and gospel from her childhood in Harlan County, Kentucky, that is infused with the eclectic grit of pre-gentrified Brooklyn. Inheriting the powerful vocal range of her gospel-singing African American father and the resilient spirit of her mother's Southeastern Cherokee/Choctaw culture, Redbone broadens the boundaries of American roots music. With songs and storytelling that share her life experience as a Native and Black woman and mother in the new millennium, she gives voice to issues of social justice, bridging traditions from past to present, connecting cultures and celebrating the human spirit.
Traditional Irish music will be performed on Friday, March 22. Described by the BBC as "an icon of Irish music," the band has played at festivals from Rock in Rio, Brazil, to Glastonbury, England, toured with the Irish president and struck up tunes on the Great Wall of China. Dervish has a lineup that includes some of Ireland's finest traditional musicians, fronted by one of the country's best-known singers Cathy Jordan. Dervish has been long-established as one of the biggest names in Irish music internationally.
Bill and the Belles returns to the Weis Center on Thursday, April 4. Happy Again isn't exactly happy, but the delightfully deadpan new album from roots mainstays Bill and the Belles is full of life, humor and tongue-in-cheek explorations of love and loss. This album marks a new chapter for the group by featuring 11 all-original songs penned by founding member Kris Truelsen. There's no dancing around it: this album is about his divorce. But the group has a knack for saying sad things with an ironic smirk, pairing painful topics with a sense of release and relief. Anyone who's been to one of their shows can attest that you leave feeling lighter and refreshed.
Rising star of the cello Jonathan Swensen performs on Sunday, April 7 at 2 pm. Swensen is the recipient of the 2022 Avery Fisher Career Grant and was featured as both Musical America's New Artist of the Month and One to Watch in Gramophone magazine. Swensen captured first prizes at the 2019 Windsor Festival International String Competition, 2018 Khachaturian International Cello Competition and the 2018 Young Concert Artists international auditions in 2018.
Then, the U.S. Army Field Band/Jazz Ambassadors take the stage on Friday, April 12 in a free performance. Known as America's Big Band, the Jazz Ambassadors are the premier touring jazz orchestra of the U.S. Army. Formed in 1969, this 19-piece ensemble has received critical acclaim throughout the U.S. and abroad performing America's original art form, jazz. Performances by the Jazz Ambassadors offer some of the most versatile programming of any big band. Concerts include classic big band standards, instrumental and vocal solo features, patriotic favorites, contemporary jazz works and original arrangements and compositions by past and present members of the Jazz Ambassadors.
Finally, the season ends with Caña Dulce Caña Brava on Thursday, April 18. Caña Dulce Caña Brava offers a performance that shows off the music, poetry, dance and traditional attire of Veracruz, Mexico, interpreted by artists who are beneficiaries of the jarocho culture and noteworthy performers with years of experience on both national and international stages. The group stands out as an artistic project that highlights feminine poetry and voices. Creating an experience that connects the spectator with distinct emotions, one is taken on a voyage through multiple rhythms, accompanied by traditional string instruments, such as the harp and the jarana, percussion and zapateado (percussive dance), poetic improvisation in rhyme and visual effects.
Season Brochure

The season brochure is now available as an eco-friendly, downloadable and printable PDF at Bucknell.edu/WeisCenter.
A limited number of hardcopies are available upon request. To request a hardcopy brochure, contact Lisa Leighton, marketing and outreach director, at 570-577-3727 or e-mail Lisa.Leighton@bucknell.edu and one will be mailed at no cost.
Hardcopies are also available at the Weis Center and will soon be available throughout the Susquehanna River Valley region including the Susquehanna River Valley Visitors Bureau, Columbia Montour Visitors Bureau, local Chambers of Commerce and all local libraries.
Sponsors
The Weis Center's 2023-24 season is supported by the following season-level sponsors: Bucknell Sports Properties, The Daily Item, Seven Mountains Media, Sunbury Broadcasting Corporation and WVIA.
Event sponsors include Backyard Broadcasting, Bucknell Music Department Gallery Series, Martha and Alan Barrick, Centre Daily Times, Class of 1953 Fund, Coldwell Banker Penn One Real Estate, Columbia-Montour Visitors Bureau, Nancy and Sam Craig, Evangelical Community Hospital, Geisinger, Jazz at Bucknell, Clayton and David Lightman, Teri MacBride and Steve Guattery, The News Item, PPL Foundation, Press Enterprise, Asbury Riverwoods, Adriana Rojas and family in memory of Andrew, Service 1st Federal Credit Union, Gary and Sandy Sojka, Standard Journal, Stone State Entertainment, ViaMedia, Williamsport Sun Gazette, Karl Voss and Chanin Wendling family, PAHomepage/WBRE/WYOU, WNEP and WVIA.
Grant funding for the season includes Mid Atlantic Arts Foundation, Western Arts Alliance Advancing Indigenous Performance (AIP) Touring Fund and the Andrew W. Mellon Foundation, National Endowment for the Arts, and the Pennsylvania Council on the Arts.
TICKETS
Tickets go on sale to the public on Thursday, August 24 at 10 am.
Monday–Friday, 10 a.m.–4 p.m.
Elaine Langone Center, Campus Activities & Programs Center
Monday–Friday, 10 a.m.–4 p.m.
The Campus Box Office opens one hour prior to performances at the performance location.
570-577-1000 or Bucknell.edu/BoxOffice
For more information about the Weis Center for the Performing Arts, go to Bucknell.edu/WeisCenter or search for the Weis Center on Instagram, Facebook, Twitter or YouTube.