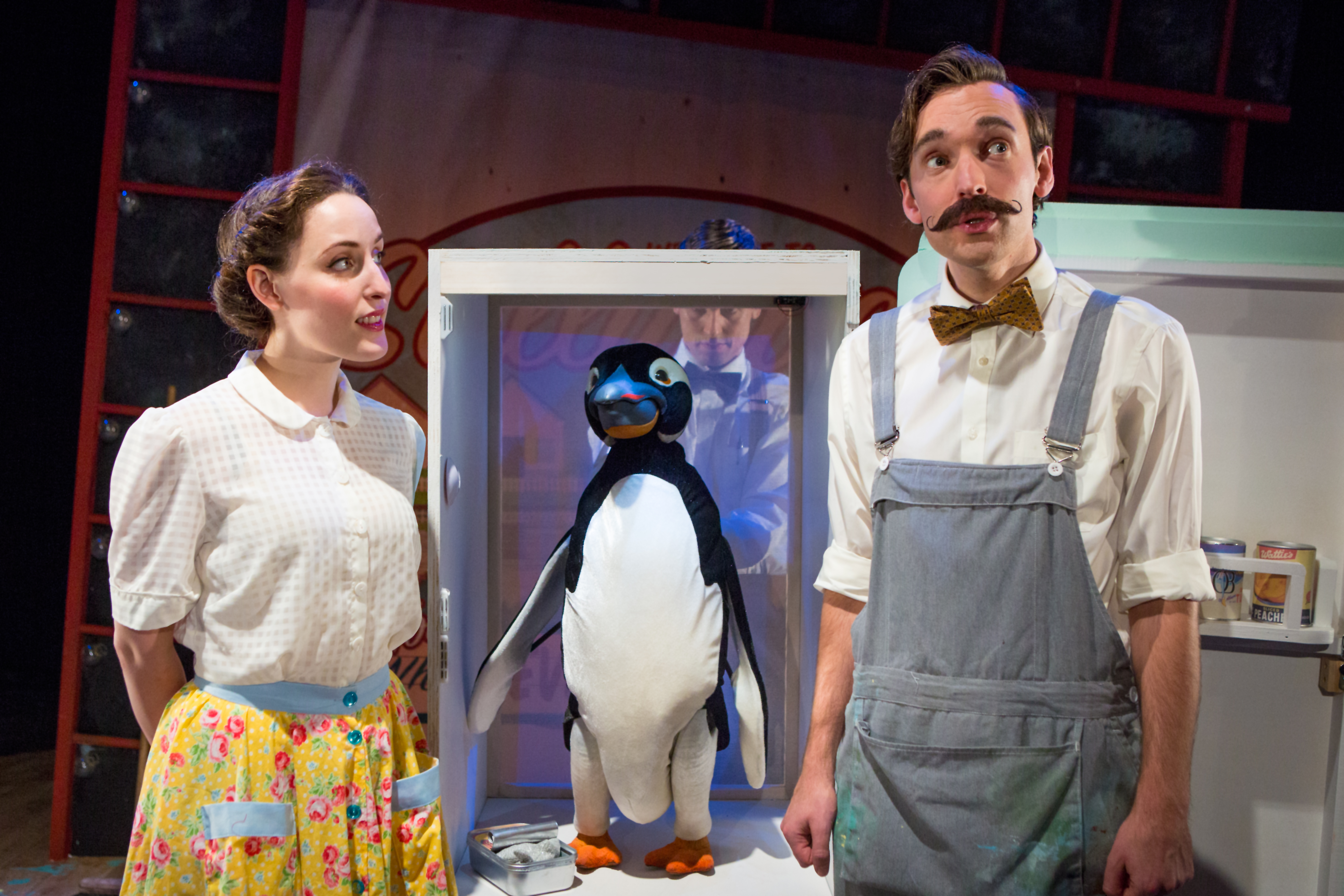 The popular children's book, Mr. Popper's Penguins, will come to life as a musical on the Weis Center stage on Thursday, February 22 at 7 p.m. at the Weis Center. The Family Discovery performance is ideal for ages 4 and above and is 60 minutes, without an intermission.
There will be a pre-performance talk with the artists from 1-2 p.m. in the Weis Center Atrium Lobby the same day as the performance.
Patrons are encouraged to arrive early to the performance, as the Children's Museum of Bloomsburg will offer free kids' activities in the Atrium Lobby from 6-7 p.m.
With original songs and performing penguin puppets, this delightful, action-packed musical adaptation of Richard and Florence Atwater's popular book is the perfect family treat. The book won the Newbery Honor Book Award in 1939 and was one of the inaugural Lewis Carroll Shelf Award books in 1958. A 20th Century Fox film based loosely on the book was released on June 17, 2011 and starred Jim Carrey as Mr. Popper.
Painter and decorator by day, Mr. Popper spends his time dreaming of Antarctic adventures. He is astounded when one day a packing crate arrives on his doorstep and a penguin waddles out.
The Huffington Post says, "Mr. Popper's Penguins is a 55-minute musical romp. It's funny, warm and unbelievably touching. It whimsically proves families come in all shapes and sizes, as do dreams."
The New York Times says, "Children may wish the birds were real, but Nick Barnes's ingenious life-size puppets, manipulated by the actors, may be the next-best thing."
Tickets for the performance are $20 for adults, $16 for seniors 62+, $10 for youth 18 and under, $10 for Bucknell employees and retirees (limit 2), $10 for Bucknell students (limit 2), and $10 for non-Bucknell college students (limit 2). Tickets can be purchased online at Bucknell.edu/BoxOffice or by calling 570-577-1000.
Please note that tickets are available in the main auditorium only; the balcony will be closed.
Tickets are also available in person from several locations including the Weis Center lobby (weekdays 10 a.m. to 4 p.m.) and the CAP Center Box Office, located on the ground floor of the Elaine Langone Center (weekdays 10 a.m. to 4 p.m.).
For more information about this performance contact Lisa Leighton, marketing and outreach director, at 570-577-3727 or by e-mail at lisa.leighton@bucknell.edu.
For more information about the Weis Center for the Performing Arts, go to www.bucknell.edu/WeisCenter or search for the Weis Center on Instagram, Facebook, Twitter or YouTube.