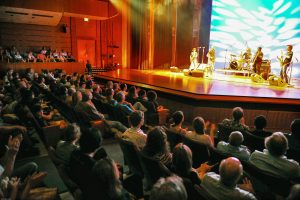 The 2016-17 season at the Weis Center for the Performing Arts at Bucknell University features 35 events from across the United States and around the world and includes Americana/folk, classical, jazz, world music, dance, a Family Discovery Series and much more. Six performances are free.
The season will kick-off on Friday, August 26 at 6 p.m. with a free outdoor concert on the Weis Center Plaza by Washington, D.C.-based Americana group, The Bumper Jacksons. A second free outdoor concert will be offered on Friday, September 9 at 6 p.m. on the Weis Center Plaza by a world music ensemble from Zanzibar.
Highlights from the new season include:
Americana/folk music from The Bumper Jacksons, The Coal Town Rounders and Van Wagner, Judy Collins with Ari Hest, Birds of Chicago and the HillBenders.
Seven classical performances: Aritmia, Proserpina: Two One-Act Operas, Warsaw Philharmonic, vocal ensemble Roomful of Teeth, Dover Quartet with Colleen Hartung on clarinet, Beijing Guitar Duo with Marina Piccinini on flute, brass ensemble tenThing and Julia Wolfe's oratorio Anthracite Fields.
A Family Discovery Series that includes seven events: B – The Underwater Bubble Show, Mermaid Theatre: Brown Bear, Brown Bear and Other Treasured Stories, Momix Opus Cactus, Tony-nominated musical A Year with Frog and Toad, Dr. Seuss' The Cat in the Hat, Golden Dragon Acrobats and Shaolin Warriors.
World music from Zanzibar ensemble Rajab Suleiman and Kithara, Bickram Ghosh's Drums of India, Edmar Castaneda Trio, Bulgarian Women's Choir and Mariachi Los Camperos, as well as world dance from Lizt Alfonso Dance Cuba.
Jazz by Maria Schneider Orchestra, Cyrille Aimee, The Bad Plus, and Dr. Lonnie Smith
Hawaiian masters George Kahumoki Jr, Nathan Aweau and Kawika Kahiapo performing Hawaiian/slack key guitar
Two Celtic performances: Windham Hill's Winter Solstice and Caladh Nua
Comedian Paula Poundstone
The Weis Center's season will feature a special series of events related to Anthracite coal. Coal Collections: Local, National and International Stories will include several professional performances: The Coal Town Rounders and Van Wagner, Hard Coal: The Concert with music by Guy Klucevsek, a Chilean theatre/puppetry company called Silencio Blanco that will present the piece Chiflon, El Silencio del Carbon and Julia Wolfe's 2015 Pulitzer-prize winning oratorio Anthracite Fields, as well as a free monthly noon-time lecture series, films, special speakers and special projects throughout the 2016-17 season.
For more information about the 2016-17 season, visit their website or Facebook page.
Brochure Available
The Weis Center's expanded 32-page season brochure and ticket order form can be downloaded from the Weis Center's website.
Hardcopies are also available at the Weis Center and later this summer will be placed throughout the Bucknell University campus and Susquehanna River Valley region.
To request a hardcopy brochure, contact Lisa Leighton, marketing and outreach director, at 570-577-3727 or by email and one will be mailed to you at no cost.
Tickets
The majority of Weis Center tickets range in price from $15 to $35 for adults, with discounts available for subscribers (5 or more events), senior citizens, college students, groups and youth.
Tickets for Weis Center events can be charged online or by calling 570-577-1000.
Tickets will also be available in person from several locations including the Weis Center lobby weekdays 10 a.m. to 4 p.m. and the CAP Center Box Office, located on the ground floor of the Elaine Langone Center, weekdays, 10 a.m. to 4 p.m.