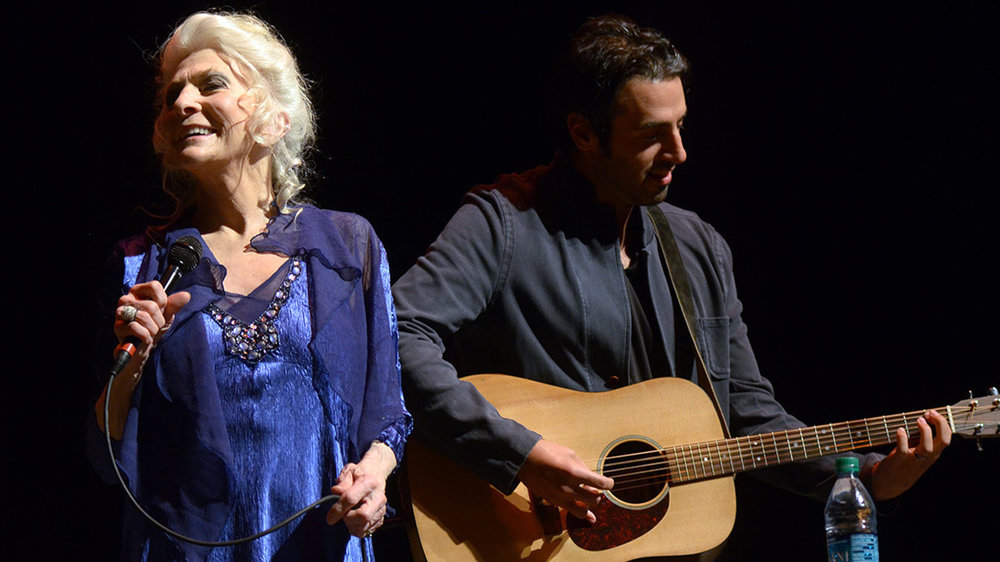 On Thursday, October 20, the Weis Center hosted folk icon Judy Collins and up-and-coming singer-songwriter Ari Hest. The combination of her angelic voice and his velvety tone left patrons feeling inspired and transformed – even if just for one night.
Ari performed a set of his own songs first and then after a brief intermission, Judy took the stage at 8:15 pm. Performing a wide-ranging set of her classic melodies, as well as some well-known covers from the 60s and 70s, Judy performed for over an hour. Throughout the set, she interjected lovely memories about the songs and the time periods in which they represented, as well as personal stories of love, loss, and activism. As a "surprise" Ari came back on-stage near the end to join Judy in about half a dozen duets from their new album, Silver Skies Blue. Then, Judy closed the performance with several more songs — and an encore.
Over the course of the two and a half hour performance, patrons were struck by Judy's grace, humor, and angelic voice – that hasn't changed in nearly five decades. The honesty and universal appeal of Ari's songs led to a long line of people waiting to get his autograph after the performance.
After every performance at the Weis Center, we like to reach out to patrons to hear feedback – both positive and constructive. We wanted to share a few of the emails that we received after this performance, not to make you feel bad if you missed the performance, but rather to invite you to have a similar experience at an upcoming Weis Center event.
"The concert was phenomenal! Over two hours of enchanting entertainment…The voices and musical instruments resonated seamlessly. I could have stayed another few hours. I've been telling everyone what a joy the concert was that night. I also wanted to thank Bucknell and the Weis Center for the beautiful facility and sound as compared to other performance centers I've been in…an absolute joy!" ~John
"The concert by Judy Collins and Ari Hest was thoroughly enjoyed by the five members of our family.  What a delightful, entertaining evening of beautiful music which touched our lives." ~Gary
"This was a wonderful concert!  It exceeded our expectations!" ~Katharyn
"We thoroughly enjoyed tonight's program.  Judy Collins' voice was beautiful and her sense of humor, which was wonderful, took us by surprise.  Ari Hest had a very nice voice and we would enjoy seeing him again.  It was one of the best concerts we've attended." ~Alan
"This was a really wonderful night! Loved the coffee house atmosphere before and Judy and Ari were above amazing! Please have more performances like this!" ~Sue
And from Facebook, just a few highlights:
"Phenomenal concert. Judy Collins is a living legend and Ari Hest was amazing! One of the best events I have attended at Bucknell! The Weis Center is such a gift." ~Michele
"This was one of the best concerts I have ever attended. What a fantastic show." ~Gene
"Amazing performance of both classics and new! Delightful evening!" ~Cindy
"More like this – please!!! She was so personable and funny and has that amazing voice still! Loved every minute – made me so happy!" ~Penny
"AMAZING!!!! Her voice is still so incredible and I felt blessed to have been in attendance." ~Natalie
"Thank you so much, Weis Center, for this amazing concert! Her talent is undiminished by the years, and it was a joy to hear Ari Hest for the first time. You truly are a blessing to our area!" ~Nancy
"The concert was awesome and I cannot believe the quality you get for the price of two tickets. Judy Collins is simply magnificent and I'm so happy to have finally seen her in concert, opening with the perfect opener, "Open the Door (Song for Judith)". I have her album with Ari Hest on iTunes so I was familiar with all their duets. He's going to be a great entertainer and, perhaps in 40 years, he'll be able to recant stories like she did of great performers she's known, and he himself can include the time he spent with a legend." ~George
"Oh wow…..so enjoyable loved it……she sings like an angel and his voice is amazing…….together an awesome event….will return." ~Bernadine
In short, our patrons loved every moment of their Judy and Ari experience. If you weren't able to attend this beautiful and transformative performance, we hope you will take the opportunity to experience our venue and high-quality programming very soon!
Our season is just beginning and we have many inspiring evenings ahead…