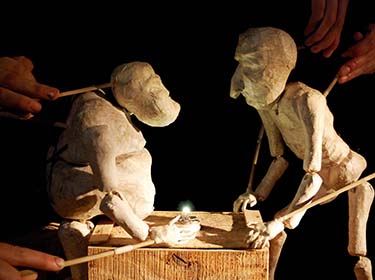 Silencio Blanco, a touring group of puppeteers who use their puppets to tell stories, will perform twice at Bucknell on Friday, Feb. 17 (2 p.m. and 7 p.m.).
As part of the Weis Center's ongoing series, Coal Collections: Local, National, and International Stories, the ensemble will perform with marionettes made from a newspaper base in order to share stories about the significance of coal mining in Chilean culture.
In what is likely a first for the Weis Center, patrons will be seated on-stage with the puppeteers and puppets, gaining intimate access to this unique performance.
As the group's name suggests, the puppeteers will perform in silence. There is a close connection between the marionettes and their puppeteers, which allows them to come alive before the audience's eyes.
So what exactly can you expect to see at the Weis Center on Feb. 17? The puppeteers will share the story of a young coal miner in Chile who had worked in a mine that has collapsed and has to move to a new, dangerous mine.
This specific show is titled Chiflón, El Silencio del Carbón, which translates to "the silence of coal." It will be performed on tour as part of Southern Exposure: Performing Arts of Latin America, a program of Mid Atlantic Arts Foundation in partnership with the National Endowment for the Arts.
~ Madeline Diamond, Class of 2017