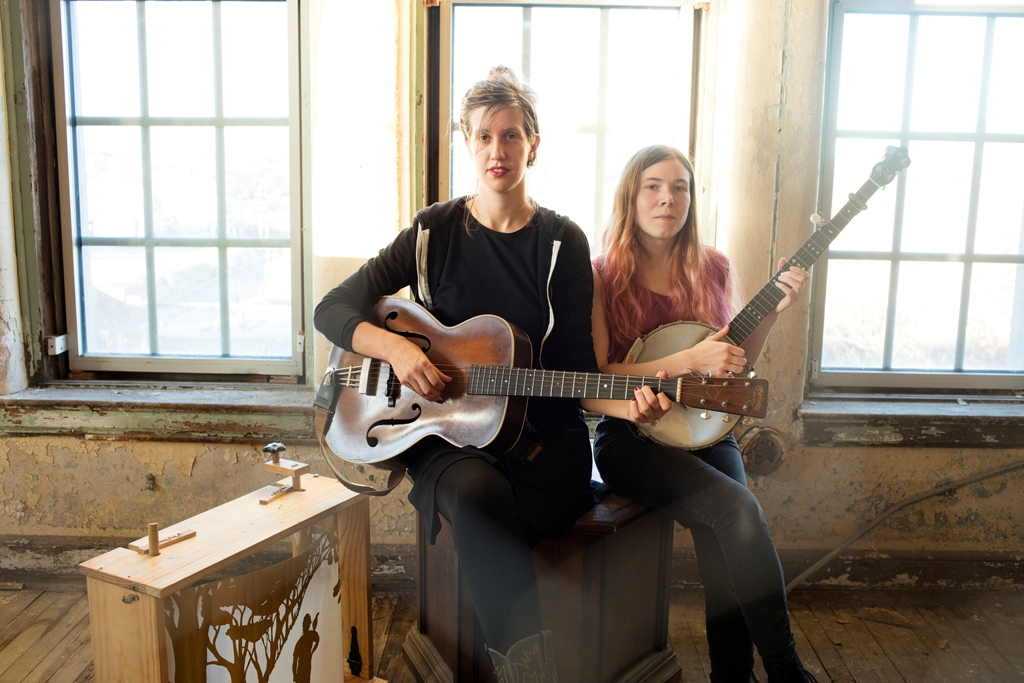 Americana mountain music will be performed by Anna & Elizabeth on Wednesday, October 4 at 7:30 p.m. at the Campus Theatre, 413 Market Street, downtown Lewisburg. Featured during the performance will be the Bucknell University Choir; Beth Willer will serve as Conductor.
There will be a free lecture and demonstration with the artists on Tuesday, October 3 at 1 p.m. in the Weis Center Atrium Lobby. The discussion will be facilitated by Professor Eric Martin.
The growing acclaim for the collaboration between Anna Roberts-Gevalt and Elizabeth Laprelle springs from a shared talents as historians, storytellers, visual artists, and gifted, intuitive musicians – a groundbreaking approach. Inspired by the richness and tradition of the music, Anna and Elizabeth gather songs and stories from archives and visits with elders. They bring these songs to life with sparse, atmospheric arrangements using guitar, banjo, fiddle and the uncanny blend of their voices in close harmony.
They accompany their songs with stories – of the lyrics, of the singer, of the quest to learn the song – and they illustrate them in mesmerizing fashion. The two revive the old scrolling picture show, or "crankies," that illustrate the old songs they sing. They create these intricate picture scrolls in tandem with papercuts, shadow puppets, prints and embroidered fabric.
NPR Music says, "If you've never thought your tastes would lean to mountain music, take a deep breath and soak it all in."
Since 2011, with a deep and shared love of old Appalachian music, they stand at the vanguard of tradition and the avant-garde, transforming traditional music with innovative, modern arrangements. Their captivating performance integrates visual art, movement and experimental film with breathtaking harmonies.
The performance magic comes from unique strengths of each artist: Elizabeth LaPrelle, lauded as the finest traditional singer of her generation, is rooted in rural Virginia and a lifetime of singing ballads. Anna Roberts-Gevalt's musical path has led her from the kitchens of Kentucky banjo elders to sessions in Brooklyn's thriving experimental music world. A master instrumentalist, Anna is the band's arranger and driving force.
In winter 2018, Anna & Elizabeth will release their third full-length album; a continuing progression of their evolving sound.
Anna & Elizabeth has appeared on stages across the world, including the Cambridge Folk Festival, Brighton Festival, Newport Folk Festival, National Sawdust, Atlanta Museum of Modern Art, Old Town School of Folk Music, Brooklyn Folk Fest; intimate theaters across the U.S., U.K. & Europe; and fellowships to develop their work at the MacDowell Colony, Virginia Center for Creative Arts, and Centrum. They have released two acclaimed full-length albums–Sun to Sun (2012) and Anna & Elizabeth (2015).
General admission tickets for the performance are $20 for adults, $16 for seniors 62+, $10 for youth 18 and under, $10 for Bucknell employees and retirees (limit 2), free for Bucknell students (limit 2), and $10 for non-Bucknell college students (limit 2). Tickets can be purchased online at the Campus Box Office or by calling 570-577-1000.
Tickets are also available in person from several locations including the Weis Center lobby (weekdays 10 a.m. to 4 p.m.) and the CAP Center Box Office, located on the ground floor of the Elaine Langone Center (weekdays 10 a.m. to 4 p.m.).
For more information about this performance contact Lisa Leighton, marketing and outreach director, at 570-577-3727 or by e-mail at lisa.leighton@bucknell.edu.
The next performance in the Weis Center's 2017-18 Season will be a modern dance performance by San Francisco's Alonzo King LINES Ballet on Thursday, October 12 at 7:30 p.m. at the Weis Center.
For more information about the Weis Center for the Performing Arts, go to www.bucknell.edu/WeisCenter or search for the Weis Center on Instagram, Facebook, Twitter or YouTube.