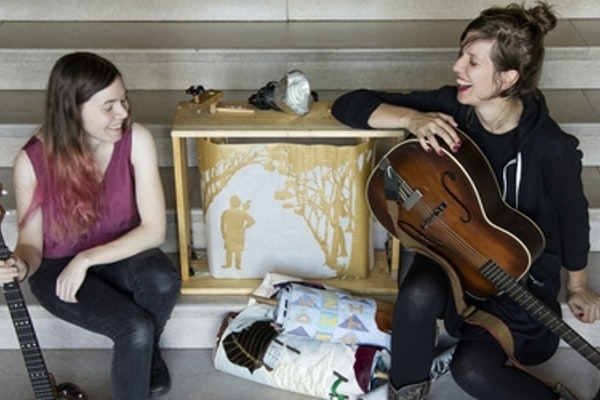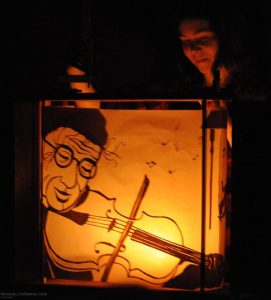 After a busy and lively first month of performances in our uphill concert venue, female folk duo Anna & Elizabeth took the Campus Theatre stage in downtown Lewisburg at a nearly sold-out show. The duo channels their Appalachian roots and love for traditional music by delivering a modern, Americana twist that captivated the entire venue. These modern arrangements of old, maritime tunes with an interesting visual component create a unique arrangement that tests the limits of this often forgotten yet fundamental genre.
The two started their performance with an old sailor's tale supplemented by dynamic artwork to tell the story. "Crankies," illustrated hand-cranked and sometimes illuminated scrolls that depict the events as told in their songs, provided a unique visual element to the show and demonstrated their range of artistic talents. In their story of an eclectic old widow named Mrs. Lulla (pictured) that adored the neighborhood children, Anna & Elizabeth used the crankies to tell a nostalgic childhood tale that made the audience yearn for a more innocent time.
Their angelic voices and breathtaking harmonies, reminiscent of the Sirens from O Brother Where Art Thou, stole the show from the beginning. With minimalist accompaniment from a variety stringed instruments, their voices were allowed to take full control of the venue and awe the crowd. The power of their vocals was compounded in their collaboration with the Bucknell Choir in performing a jaw dropping rendition of a traditional American lullaby.
Anna & Elizabeth delivered an all-encompassing visual and listening experience that can best be described as avant-garde folk. They are able to tastefully fuse modern and traditional musical motifs that creates a truly one of a kind performance.
The duo are taking their talents across the East Coast and into Europe as they close out their 2017 tour.
~Stephen Hollinshead, Class of 2018