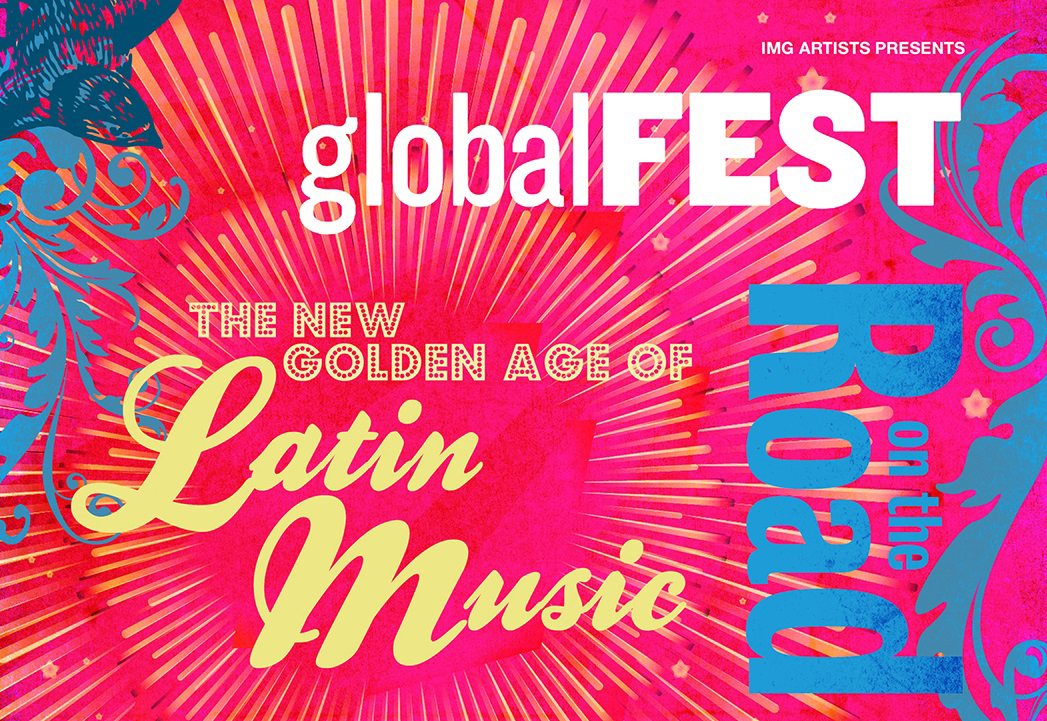 GlobalFEST on the Road: The New Golden Age of Latin Music featuring two leading Latin bands, Las Cafeteras and Orkesta Mendoza, will come to the Weis Center for the Performing Arts on Saturday, February 3 at 7:30 p.m.
There will be a free pre-performance DJ – Bucknell University student KJ James – from 6:30-7:15 p.m. in the Weis Center Atrium Lobby.
GlobalFEST on the Road is a flexible touring and curating concept based on GlobalFEST's annual flagship festival in New York City, a one-day event that showcases a dizzying range of musicians from around the globe. GlobalFEST: The New Golden Age of Latin Music reveals the global energies now at work in the American Latin music scene.
This engagement is made possible through the ArtsCONNECT program of Mid Atlantic Arts Foundation with support from the National Endowment for the Arts.
The six-piece band Las Cafeteras began as a group of students at Eastside Cafe, a community space in East Los Angeles, where they learned to play son jarocho, a traditional music style from Veracruz, a state in the Gulf of Mexico. All of the band's members are children of immigrants.
The group features traditional Mexican folk instruments including the jarana, an 8-string guitar; the quijada, a donkey jawbone (which serves as a percussive scraper) and a tarima, a wooden platform for dancing. While rooted in son jarocho, the LA Times called their sound a "uniquely Angeleno mishmash of punk, hip-hop, beat music, cumbia and rock." It's a mix-and-match of styles and sources that serves to deliver socially conscious lyrics, in both English and Spanish.
"We're organizers. We're movement kids," said band member David Flores in a recent interview. "But we don't say we're political. We say we're storytellers. It's just not the mainstream story."
They have released two recordings. Their song "La Bamba Rebelde", a politically-charged remake of "La Bamba" (perhaps the most famous son jarocho) from their CD It's Time (2012) became a theme song for the telenovela Bajo El Mismo Cielo on the Telemundo network. Las Cafeteras' second album, Tastes Like LA, featuring the powerful song "If I Was President", was released in April 2016.
Orkesta Mendoza, originally founded by singer and guitarist Sergio Mendoza in 2009 to play a 20-minute tribute set honoring Cuban mambo king, Dámaso Perez Prado, is a dapper sextet that plays a high-energy combination of mambo, cumbia, psychedelia and rock. The Orkesta´s music, arranged to suggest a big band with a touch of lo-fi electronics, speaks of a borderless world in which US culture and Latin traditions come together.
"I think it has to do with being near the border," explained Mendoza, who also toured and recorded with Calexico, in an interview with the online magazine Rhythm Passport. "I grew up in Nogales, Sonora. Living in Mexico exposed me to cumbia and many regional styles of Mexico, such as mariachi and norteño. When I was 7, I moved to Nogales, Arizona. I started getting into American music and that is where the mixture of cultures begins."
"From about 12 to 24 I completely forgot about Latin music. I studied a bit of many styles of music during that time. A little jazz, salsa, ska and a lot of classic rock and roll. I took a little bit from all the styles I had played and that's how I started Orkesta Mendoza. Today we just want to rock more. Of course, it is Latin-based, but we like turning up our amps and consider ourselves a rock band."
It's the music of ¡Vamos a Guarachar! (Let's Party!), the band's most recent release and an invitation to dance with a travelogue of styles that goes from surf rock to mambo and pop rock.
globalFEST: The New Golden Age of Latin Music is the second national touring extension of globalFEST and the first to spotlight Latin artists based in the United States. In addition to concert performances, the tour will include outreach programs at universities across the country and matinee performances for young audiences. It continues the mission of globalFEST to bring the world's music to America.
Tickets for the performance are $25 for adults, $20 for seniors 62+, $15 for youth 18 and under, $15 for Bucknell employees and retirees (limit 2), $10 for Bucknell students (limit 2), and $15 for non-Bucknell college students (limit 2). Tickets can be purchased online at Bucknell.edu/BoxOffice or by calling 570-577-1000.
Please note that tickets are available in the main auditorium only; the balcony will be closed.
Tickets are also available in person from several locations including the Weis Center lobby (weekdays 10 a.m. to 4 p.m.) and the CAP Center Box Office, located on the ground floor of the Elaine Langone Center (weekdays 10 a.m. to 4 p.m.).
For more information about this performance contact Lisa Leighton, marketing and outreach director, at 570-577-3727 or by e-mail at lisa.leighton@bucknell.edu.
For more information about the Weis Center for the Performing Arts, go to www.bucknell.edu/WeisCenter or search for the Weis Center on Instagram, Facebook, Twitter or YouTube.