The Helsingborg Symphony Orchestra will perform renowned classical works by Sibelius, Elgar and Brahms on Friday, February 16 at 7:30 p.m. at the Weis Center.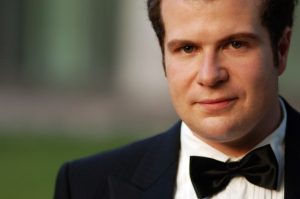 The Helsingborg Symphony Orchestra (HSO) was founded in 1912 and is one of Sweden's oldest orchestras. Its principal conductors have included Sten Frykberg, John Frandsen, Okko Kamu and Andrew Manze, with whom it has recorded symphonies by Beethoven and Brahms. The HSO with its music director Stefan Solyum is undoubtedly one of the key international leaders and is much sought-after for both concert tours and recording projects.
While at the Weis Center, the orchestra will perform Jean Sibelius' Valse Triste, Op. 44, No. 1; Sir Edward Elgar's Violin Concerto in B minor, Op. 61 with Violin Soloist Catherine Manoukian, and Johannes Brahms' Symphony No. 2 in D major.
The performance is sponsored, in part, by Sam and Nancy Craig.
In addition to regular guest appearances on major Scandinavian stages, the HSO has had many successes at prominent European venues. Recent engagements include appearances in Munich and Nuremberg. The HSO's extensive discography has also received rave response and reviews, especially its recordings of the music of Mieczyslaw Weinberg and the complete orchestral works of Lars-Erik Larsson.
Since September 2014, the HSO's principal conductor is Swedish-born Stefan Solyom, who is currently also the General Music Director of the Deutsches Nationaltheater and Staatskapelle Weimar. Maestro Solyom has appeared on a regular basis with the HSO since 1998, when he was nineteen years old, and has a highly developed and intimate relationship with the orchestra, based on the kind of mutual familiarity and understanding that comes with years of frequent, intense collaboration. This is apparent not only in the quality of music-making at the HSO under Solyom, which is often described as electrifying, moving, and profound, but also in the complete harmony of their collective philosophical stance on the role of the symphony orchestra in a wider social context. The HSO and Solyom are constantly combining the traditional with the iconoclastic, and finding fresh and unique ways of expanding their horizons while respecting their origins.
Norman Lebrecht, Weinberg Chamber Symphonies, says, "The Helsingborg Symphony Orchestra … play with an intensity untempered by discretion. Must be heard."
Tickets for the performance are $35 for adults, $28 for seniors 62+, $25 for youth 18 and under, $25 for Bucknell employees and retirees (limit 2), $10 for Bucknell students (limit 2), and $25 for non-Bucknell college students (limit 2). Tickets can be purchased online at Bucknell.edu/BoxOffice or by calling 570-577-1000.
Please note that tickets are available in the main auditorium only; the balcony will be closed.
Tickets are also available in person from several locations including the Weis Center lobby (weekdays 10 a.m. to 4 p.m.) and the CAP Center Box Office, located on the ground floor of the Elaine Langone Center (weekdays 10 a.m. to 4 p.m.).
For more information about this performance contact Lisa Leighton, marketing and outreach director, at 570-577-3727 or by e-mail at lisa.leighton@bucknell.edu.
For more information about the Weis Center for the Performing Arts, go to www.bucknell.edu/WeisCenter or search for the Weis Center on Instagram, Facebook, Twitter or YouTube.