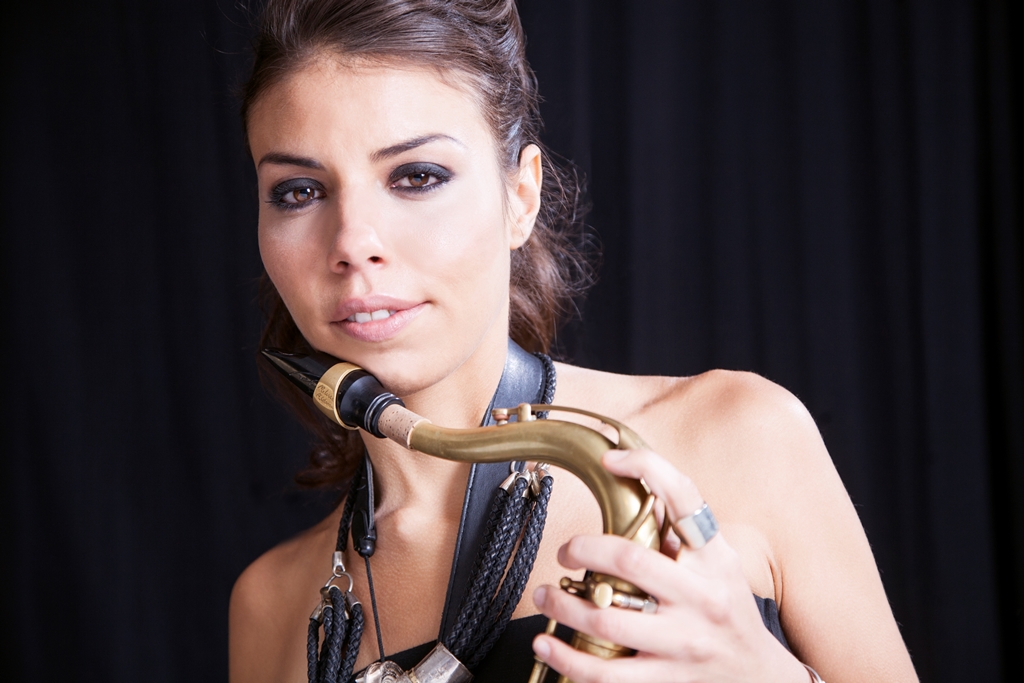 Jazz saxophonist Melissa Aldana will perform on Wednesday, April 11 at 7:30 p.m. in the Weis Center Atrium Lobby. The performance is free and tickets are not required.
There will be a free pre-performance talk immediately before the performance, from 6:45-7:15 p.m.
The band will include Melissa Aldana on Saxophone, Sam Harris on Piano, Pablo Menares on Bass, and Tommy Crane on Drums.
Acclaimed tenor saxophonist Melissa Aldana follows up her 2014 Concord release Melissa Aldana & Crash Trio album with the explorative and deeply swinging Back Home, this time released on the Wommusic label.
The New York Times calls the album "a supremely focused statement."
The album's title Back Home might seem to evoke Chile, which Aldana left in 2007. In fact, Aldana reveals, Back Home "is not really related to Chile itself. It's related to the first time I picked up the tenor [sax] and I heard Sonny Rollins." The closing title track carries strong echoes of Rollins' playful spirit, and reveals much about Aldana's evolution from a 6-year-old alto saxophone player to "a bold new talent," according to NPR, and one of the most compelling and prodigious tenor saxophonists of her time.
As a child Aldana studied with her renowned saxophonist father Marcos Aldana (son of saxophonist Enrique Aldana, whose Selmer Mark VI tenor Melissa performs with to this day). She began on alto but after hearing the landmark Sonny Rollins + 4 she switched to tenor and never looked back. Other important influences she cites range from Don Byas, Gene Ammons and Lucky Thompson to Chris Potter and Mark Turner.
In 2007 Aldana moved to Boston to enroll at Berklee, coming under the mentorship of tenor great George Garzone. Pianist Danilo Pérez and saxophonist Patricia Zarate provided Aldana with crucial support and guidance as well. In 2009 she took the plunge to New York and began apprenticing with greats such as Greg Osby and George Coleman, among others.
In 2013 she became the first female instrumentalist and the first South American ever to win the Thelonious Monk Competition. She is also a recipient of the Martin E. Segal Award from Jazz at Lincoln Center and a double recipient of the Altazor Award, Chile's highly prestigious national arts prize.
In 2014 after two quartet releases for Osby's Inner Circle label (Free Fall and Second Cycle), she turned her attention to the chordless trio, a jazz aesthetic Sonny Rollins did so much to pioneer. With Back Home she deepens her trio investigations while looking back on her roots, drawing as well from the original compositions of Menares and Rueckert.
This engagement is made possible by a grant from Mid Atlantic Arts Foundation as part of its Mid Atlantic Tours program with support from the National Endowment for the Arts.
For more information about this performance contact Lisa Leighton, marketing and outreach director, at 570-577-3727 or by e-mail at lisa.leighton@bucknell.edu.
For more information about the Weis Center for the Performing Arts, go to www.bucknell.edu/WeisCenter or search for the Weis Center on Instagram, Facebook, Twitter or YouTube.