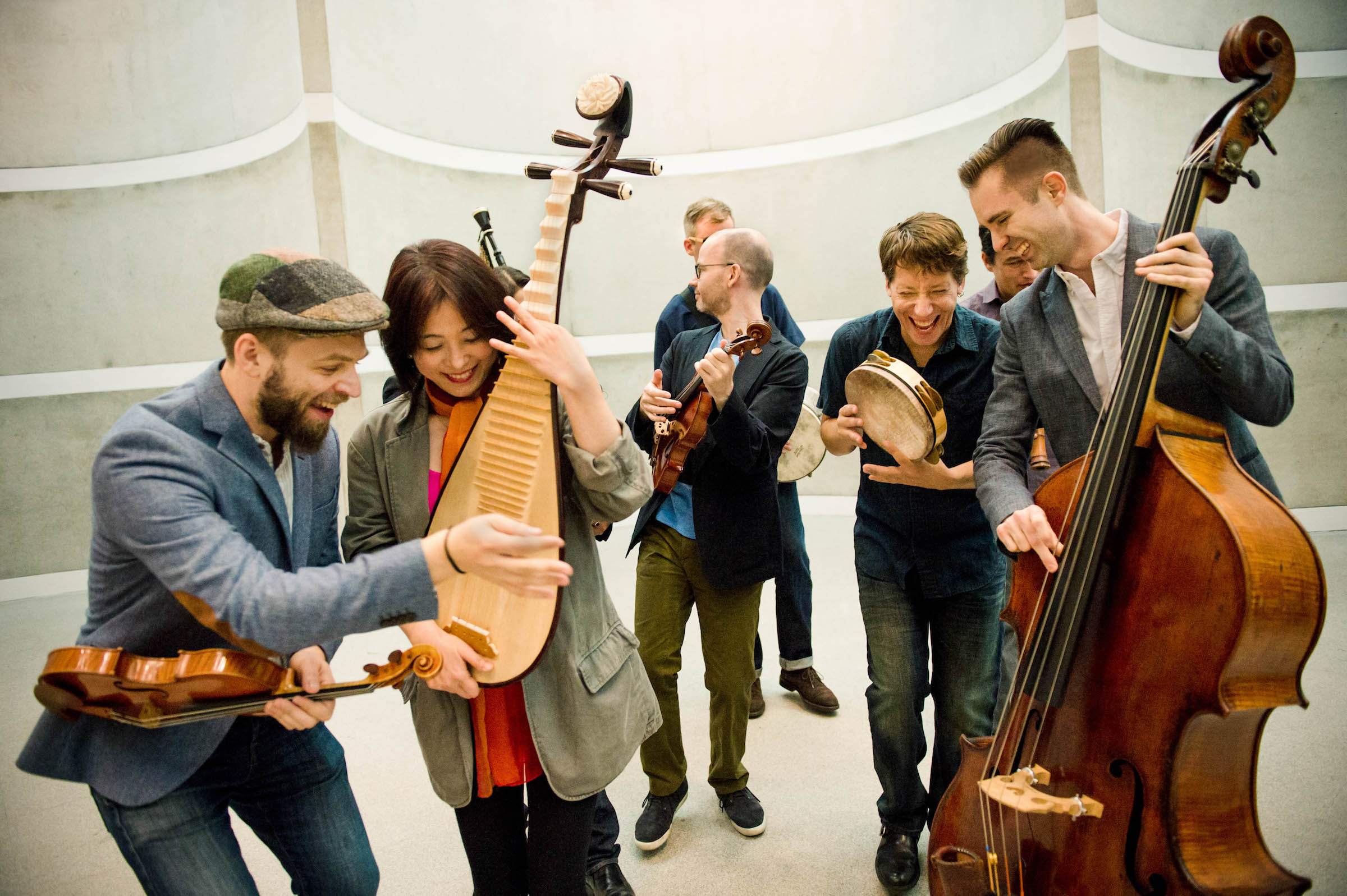 Our 30th Anniversary Season is nearing its close and Saturday, April 14 marked the final in-house performance with Grammy Award-winning musical collective the Silkroad Ensemble. Silkroad redefines classical music through the presentation and celebration of artists from different nationalities and musical traditions. The group is comprised of  over three dozen musicians representing countries like Korea, Kazakhstan, China, and the United States.
On Saturday we were introduced to ten ensemble members who performed with instruments unique to their cultures including the Spanish bagpipe, the pipa, the violin, the piano, and the gong. Listing all of these instruments as a part of one musical ensemble sounds like they would perform a cacophony of sounds, but the precision and fluidity between Silkroad musicians produced just the opposite. The ensemble takes "pride in creating works you would not necessarily see together," as stated onstage. This process allows audiences to discover a blend of cultural traditions working together as one unit.
Different pieces utilized all or some of the instruments in the ensemble. A stirring piece that incorporated the Spanish bagpipe (the gaita) and the Japanese flute (the Shakuhachi) seemed to blend together different cultures and, of course, sounds to create a harmonious tune that carried the listener to places far away from Lewisburg, Pa. It was clear based on their body movements and handling of instruments that the ensemble members take great delight performing onstage together. While on stage, the group complimented the interior beauty of the Weis Center and remarked that it exudes a feeling of being "at home," an important element for producing musical works in what can sometimes feel like a foreign town for some musicians.
The final two Weis Center 2017-2018 season performances will take place for FREE in our Atrium Lobby. The first, the Suite for Abu Sadiya, will be Wednesday, April 18 at 7:30 p.m. Saxophonist Yacine Boulares, cellist Vincent Segal, and drummer Nasheet Waits will perform a suite of variations of Tunisian healing trance music. The second performance, featuring double bassist Xavier Foley, will occur Sunday afternoon on April 22 at 2 p.m.
For more information about the Weis Center for the Performing Arts, go to Bucknell.edu/WeisCenter or search for the Weis Center on Instagram, Facebook, Twitter or YouTube.
~Caroline Clancy, Class of 2018