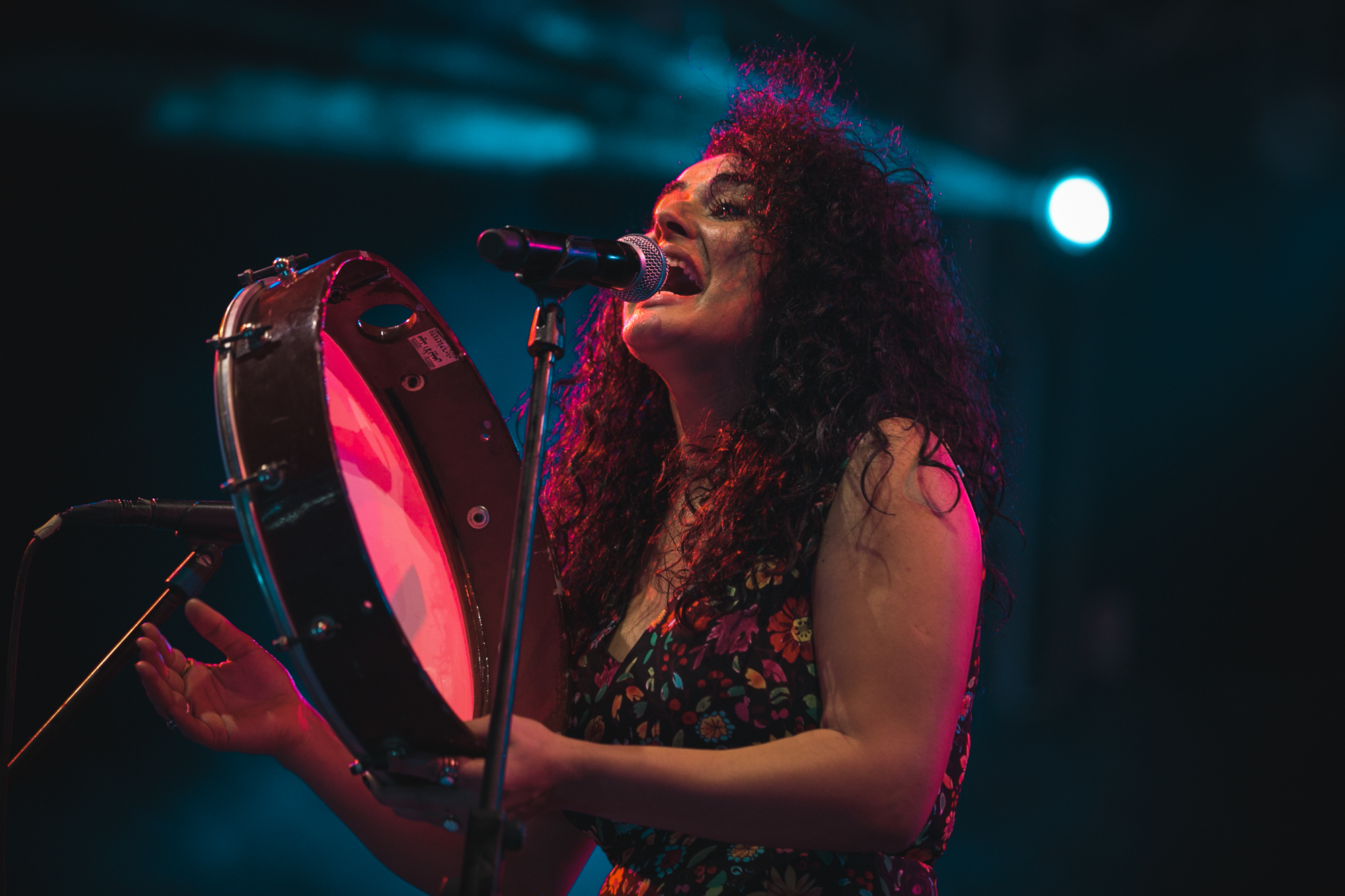 Catalyzed by intense upheavals, Egyptian and Ukrainian performing artists are animating their nations' public spheres. Now, some of the strongest performers and creative innovators from these countries are coming to the US, to share their perspectives and broaden ours.
For its fourth edition, Center Stage, the cultural exchange program initiated by the U.S. Department of State's Bureau of Educational and Cultural Affairs and produced by the New England Foundation for the Arts, will bring five contemporary music and theater ensembles from Egypt and Ukraine to tour in the U.S. in Autumn 2018. During independent month-long tours Dina Elwedidi (Egypt), Kurbasy (Ukraine), Mohamed Abozekry and Karkadé (Egypt), Teatr-Pralnia with CCA Dakh (Ukraine), and Youssra El Hawary (Egypt) will cumulatively present more than 50 performances and hundreds of residency activities. (Individual tour overviews below.)
In addition to performances at the Kennedy Center in Washington DC, this year's Center Stage ensembles visit and engage with people in 16 states, traveling to large cities and small towns, hosted by colleges and universities, cultural and community centers, festivals, contemporary art venues, music clubs, and artist-run spaces, each of which will host half-week to week-long residencies. Two journalists – one each from Egypt and Ukraine will also travel to the U.S. to independently report on the tours for outlets in country.
"Ensembles travel to the U.S. from around the world and enhance the cultural vibrancy of our nation, while promoting economic opportunities in American communities," said Cathy Edwards, Executive Director of the New England Foundation for the Arts. "Arts delegations cultivate the mutual respect and appreciation that is the essence of cultural diplomacy".
Center Stage (www.centerstageUS.org) is among the most successful programs to bring contemporary international artists into direct contact with people across a wide range of American communities. Through performances, workshops, discussions, classroom visits, artist-to-artist exchanges, and community gatherings, Center Stage ensembles engage with audiences onstage, offstage and online, sharing their work with audiences in the U.S. and friends and fans at home. The five Center Stage ensembles traveling to the U.S. this year join 24 ensembles from seven other nations who have toured the U.S. since 2012.
Audiences and the presenters who serve them are looking to directly connect with creative people from other parts of the world. Center Stage, by mitigating financial risk and managing the complexities of international exchange, has ensured high-caliber international artists and audiences meet.
 "Keep this program going! It's making a huge difference in our rural community," exclaims Kathryn Maguet, Executive Director of the Weis Center for the Performing Arts at Bucknell University in Lewisburg, PA, who is hosting Mohamed Abozekry & Karkadé and Dina Elwedidi this fall, and has partnered with Center Stage since its first edition in 2012.
"Center Stage encourages presenters to take chances. We should be able to welcome artists from all over our country and the world; however, international travel expenses, and the logistics of visas, taxes, and communication make it difficult for artists from abroad to reach smaller, more remote markets," says presenter Brian Jose, who programmed Center Stage artists at the Benedicta Arts Center in Minnesota and will host Teatr-Pralnia with CCA Dakh at the University of Florida, Gainesville this year. "The artists don't just play a single concert. They get off the stage and out into the community. I still hear about Khumariyaan from Pakistan who went fishing with their new American fans in Minnesota. These experiences make the world smaller."
"Center Stage is a program aimed at cultural exchange, but for our band, it also tapped into something much deeper," says Center Stage Season 2 artist Sparlay Rawail, of Pakistan's Khumariyaan. "We learned what being working musicians is all about and how to communicate. We now have a deeper sense of our own culture through the eyes and ears of others — from the outside in. But above all, this tour opened our minds as human beings and made our art that much more sincere."
"Increased cultural awareness is especially important in today's world," notes John Chicherio, of the Huntington (NY) Arts Council, who hosted Center Stage ensembles in 2012 and 2016. "Center Stage enhances our reputation as an adventurous program and serves all of us nationally with diverse, high-quality artistic experiences."
THE ARTISTS OF CENTER STAGE SEASON 4
Dina Elwedidi (Giza, Egypt) A sophisticated musical innovator, Elwedidi ravels the personal threads of Egyptian heritage and contemporary identity.
U.S. tour: September 14-October 18. Tour cities include Washington DC, Richmond VA, Boston MA, New York City, Austin TX, and West Palm Beach FL.
Kurbasy (Lviv, Ukraine/U.S. debut) Tight vocal harmonies, resonant lyrics, and phantasmagoric imagery from the Carpathian Mountains.
U.S. tour: October 21-November 18. Tour cities include Washington DC, Hartford CT, Memphis TN, Rohnert Park, CA, Albuquerque and Santa Fe NM, and Seattle WA.
Mohamed Abozekry & Karkadé (Cairo, Egypt/U.S. debut) Virtuoso oud prodigy convenes Egypt's popular and classical music traditions, Sufi calls, and secular poetry with a new instrumental project.
U.S. tour: September 6-30. Tour cities include Washington DC, New York City, Lewisburg and Philadelphia PA, Burlington VT, and West Claremont NH.
Teatr-Pralnia with CCA Dakh (Kyiv, Ukraine/U.S. debut) A rambunctious and audacious supercharged puppet cabaret asks 'TseSho?/What's That?"
U.S. tour: September 28-November 4. Tour cities include Gainesville FL, Allentown and Pittsburgh PA, Portland OR, and Albuquerque NM.
Youssra El Hawary (Cairo, Egypt/U.S. debut) A musical bellwether of everyday life, El Hawary's indie sound captures the stories of Cairo and the alchemy of the Mediterranean basin.
U.S. tour: September 9-October 13. Tour cities include Richmond VA, Washington DC, Lyons NE, Raleigh NC, Kittery ME, West Claremont and Lebanon NH, Albuquerque NM, and New York City.
By the end of 2018, 29 performing arts ensembles from nine nations — Algeria, Egypt, Haiti, Indonesia, Morocco, Pakistan, Tanzania, Ukraine, and Vietnam — will have toured from coast to coast as part of Center Stage. 20 of these ensembles will have made their U.S. debuts with the program.
From 2012-17, Center Stage:
Visited 85 communities in 34 states and Washington, DC
Hosted 154 artists in 24 ensembles
Booked 227 performances — indoors and out, ticketed & free
Planned 642 educational, community, and artist-to-artist activities
Traveled 91,000+ cumulative tour miles
Connected with 141,000+ U.S. audience members, participants, and students
Garnered tens of millions global media impressions (online and print)
Engaged millions more people around the globe through social media and online content
Center Stage is a public diplomacy initiative of the U.S. Department of State's Bureau of Educational and Cultural Affairs, administered by the New England Foundation for the Arts in cooperation with the U.S. Regional Arts Organizations, with support from the Doris Duke Foundation for Islamic Art, and the Trust for Mutual Understanding. General management is provided by Lisa Booth Management, Inc.