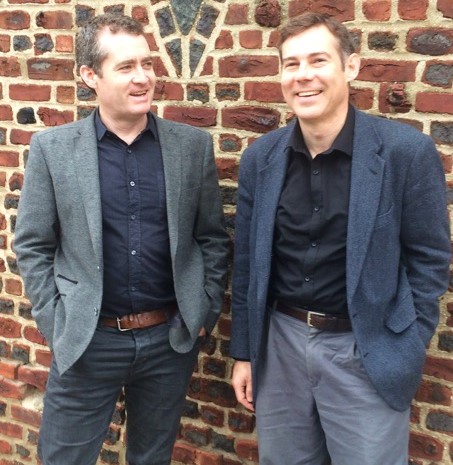 David Power, one of Ireland's foremost uilleann pipers will join beloved New Jersey fiddler Willie Kelly to bring traditional Irish music to Central PA when they perform on Thursday, September 6 at 7:30 p.m. in the Weis Center Atrium. The performance is free and tickets are not required.
There will be a free pre-performance talk with the artists on the same day as the performance at 1 p.m. in the Weis Center Atrium.
Their collaborative new album Apples in Winter has received rave reviews.
The Irish Echo says, "There's a magic to Apples in Winter that will resonate with people who love and admire traditional Irish music played with a stately air and a gentlemanly touch. Power and Kelly obviously prefer to put the music's elegance first, but there is a vigor in their playing that completes the package and brings energy to the tunes they've selected."
ABOUT THE MUSICIANS
David Power is an award-winning piper from County Waterford, Ireland, with a stellar career in concert performance and theatrical productions and is now teaching the next generation of players. He has toured American performing arts centers with the Masters of Tradition for three consecutive years, appeared on Broadway in the Eugene O'Neill play A Touch of the Poet, starring Gabriel Byrne, and has performed with poets Dermot Bolger, Seamus Heaney, Kerry Hardie and others. He has three solo piping recordings: My Love is in America, Cuaichín Ghleann Neifín and The eighteen Moloney. He plays with Ciarán Somers and Donal Clancy in the group Pipers Union and in duet shows with Willie Kelly and with Martin Hayes.
Irish Times says, "David Power brings a breathtaking freshness to the set, his fluid, fluent playing as light as a feather."
Willie Kelly from New Jersey plays fiddle in the stately East Clare style. He has performed extensively with renowned Galway flute players, Mike Rafferty and Jack Coen, both National Heritage Fellowship award winners. He accompanied both Mike and Jack at their respective induction concerts and has played at the Smithsonian Festival of Folklife in Washington, D.C.  In 2009, Willie released a highly acclaimed duet CD with Mike Rafferty called The New Broom.  More recently he recorded with concertina player Dymphna O'Sullivan as a guest on the recordings Bean Cairdin (2007) and Enriched (2014).
Mid-Atlantic CCE says, "Willie Kelly is a refreshing example of all that is good in Irish culture."
For more information about this free performance contact Lisa Leighton, marketing and outreach director, at 570-577-3727 or by e-mail at lisa.leighton@bucknell.edu.
For more information about the Weis Center for the Performing Arts, go to Bucknell.edu/WeisCenter or search for the Weis Center on Instagram, Facebook, Twitter or YouTube.