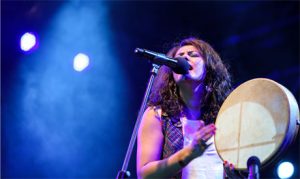 Dina El Wedidi comes from a self described traditional Egyptian background, attending university in Cairo were she composed her own music. Since 2011, El Wedidi and her band have toured extensively throughout the world, introducing the unique sound of Cairo to the global music scene. Dina El Wedidi and her 5-piece band, including Bass guitarist Mounir Maher, Percussionist Azima Barhoma, Accordionist Wael el-Sayed, Drummer Mohammed Raafat and Sound Engineer Mafdy Thabet performed at Bucknell University on September 27th at 7:30 pm. Sponsored by the U.S.-sponsored Center Stage program, El Wedidi is touring America from coast to coast; Lewisburg is the fourth stop on her tour.
The performance began with an introduction by Executive Director of the Weis Center Kathryn Maguet and Senior student Omar El-Etr. Omar gave his introduction first in Arabic and then in English. A native of Alexandria, Egypt, Omar expressed his surprise and delight that the Weis center chose to invite Egyptian artists to perform on campus this semester. In his words, "it was the best senior gift I could ask for."
At Bucknell's Weis Performing Arts Center, El Wedidi had a glowing stage presence. Decked in vibrant pink and statuesque in her wedge heels, her hypnotic voice flowed from her almost effortlessly, captivating the crowd. An easy-going communicator with her band and her audience, El Wedidi encouraged the audience to sing and clap along, even teaching them a short chorus in Arabic. People leapt at the chance to sing along.
El Wedidi is a multifaceted performer. One moment she was joyful and dancing, the next she's lost in a lovelorn melody. Her innovative compositions emphasize the power of universal emotion; unrequited love, the past and the future colliding, and the power of hope. The variety of her subjects were truly astounding. Some songs are particularly modern, such as one sung as an account from a toddler experiencing the revolution from Tahrir Square.
Her music transforms traditional Egyptian music by enriching it was rock and jazz undertones, a musical heritage meeting a new musical generation. A innovative music maker, El Wedidi is not just a master vocalist, but also a storyteller and composer. It was an honor to welcome her and her band to our campus, and her performance was unforgettable.
~Grayson Kennedy, Class of 2019