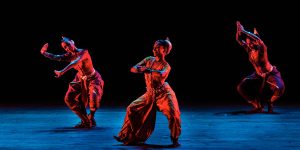 The Nrityagram dance ensemble performed at the Weis Center on October 13th at 7:30 pm. Accompanied by live musicians the ensemble performed pieces from their newest piece 'Samhara', which brings together brilliant Indian dance traditions with shared ancient roots.
Nrityagram is more than just one of India's "premiere classical dance ensembles"; it is also India's first modern Gurukul for Indian classical dances and an intentional community in the form of a dance village.
In the words of the village founder Protima Gauri:
"[Nrityagram] is a community of dancers in a forsaken place amidst nature. A place where nothing exists, except dance. A place where you breathe, eat, sleep, dream, talk, imagine – dance. A place where all the five senses can be refined to perfection. A place where dancers drop negative qualities such as jealousy, small-mindedness, greed and malice to embrace their colleagues as sisters and support each other in their journey towards becoming dancers of merit."
The all-female dance team are masters of traditional Indian dance, performing with exceptional synchronicity, compelling physicality and emotional honesty. As one Bucknell student described, "they dance like moving statues." Their sheer physical prowess is both intimidating and graceful as they moved with the poise of martial artists.
The dancers beautifully incorporate Indian mythology into every movement, from mudras (symbolic hand gestures) to body position. Even subtlest details carry significant meanings, transforming dance into a theatrical masterpiece.
Upcoming Shows at the Weis Center:
Marty Stuart and His Fabulous Superlatives; featuring a unique blend of Americana music – including  bluegrass, country, honkytonk and rockabilly
Weis Center on Thursday, November 1 at 7:30 p.m.
~Grayson Kennedy, Class of 2019