Dubbed the "new soul of Americana," Kaia Kater will perform folk music as part of the Weis Center's annual season on Wednesday, November 14 at 7:30 p.m. at the Campus Theatre, 413 Market Street, downtown Lewisburg.
The Guardian describes her as, "Where bluegrass meets Nina Simone."
This performance is sponsored, in part, by Backyard Broadcasting.
A Montreal-born Grenadian-Canadian, Kaia Kater grew up between two worlds: her family's deep ties to folk music and the years she spent soaking up Appalachian music in West Virginia.
Her old-time banjo-picking skills, deft arrangements, and songwriting abilities have landed her in the spotlight in North America and the UK, garnering critical acclaim from outlets such as NPR, CBC Radio, Rolling Stone, BBC Music, and No Depression.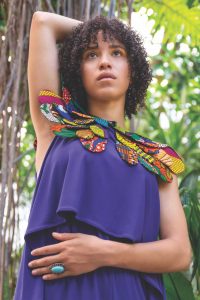 Kaia started her career early, crafting her first EP Old Soul (2013) when she was just out of high school. Since then, she's gone on to release two more albums, Sorrow Bound (2015) and Nine Pin (2016). Her sophomore album wove between hard-hitting songs that touch on social issues like the Black Lives Matter movement ("Rising Down," "Paradise Fell") and won a Canadian Folk Music Award, a Stingray Rising Star Award. It also sent Kaia on an 18-month touring journey from Ireland to Iowa, including stops at The Kennedy Center, Newport Folk Festival and Cambridge Folk Festival.
For her third album, Grenades, she took a decidedly different direction, choosing to lean into a wider array of sounds and styles, in order to convey a wider array of emotions and topics, most notably her paternal ancestry. Grenades has already received acclaim from Rolling Stone (smart, atmospheric Americana) and promises to bring listeners on an entirely new journey.

Rolling Stone says, "…plaintive, mesmerizing…writes and performs with the skill of a folk-circuit veteran…"
General admission tickets for the performance are $20 for adults, $16 for seniors 62+, $10 for youth 18 and under, $10 for Bucknell employees and retirees (limit 2), free for Bucknell students (limit 2), and $10 for non-Bucknell college students (limit 2).
Tickets can be purchased online at Bucknell.edu/BoxOffice or by calling 570-577-1000.
Tickets are also available in person from several locations including the Weis Center lobby (weekdays 10 a.m. to 4 p.m.) and the CAP Center Box Office, located on the ground floor of the Elaine Langone Center (weekdays 10 a.m. to 4 p.m.)