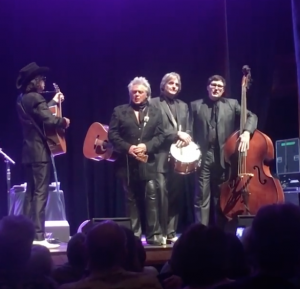 Marty Stuart and his Fabulous Superlatives performed at the Weis Center on Thursday, Nov. 1st at 7:30 p.m.
Dressed like they just stepped out of 2005's Walk the Line, the musicians were welcomed by an uproarious audience of die hard fans. Country music legend and Grammy winner Marty Stuart was a master crowd pleaser, engaging with the audience and even taking song suggestions, and his Superlatives were truly super; with Kenny Vaughan on acoustic guitar, Harry Stinson on multiple instruments and Chris Scruggs on the bass.
The Superlatives covered some of country's greatest hits in honor of the musical genre's rich legacy. They played with a twist of rock-a-billy flair, performing everything from soulful ballads and jangling bluegrass. As the screaming audience can attest, they truly put on one hell of a show.
Way Out West, Stuart's 18th studio album, is currently available on Spotify, Amazon, iTunes and Google Play Music. The album was conceived as a love letter by Stuart, one of Country music's living legends, who has played with everyone from Johnny Cash to Lester Flatt, to the lonely but magical American West, specifically the promised land of California.
You can read more at Marty Stuart's official site.
-Grayson Kennedy, Class of 2019