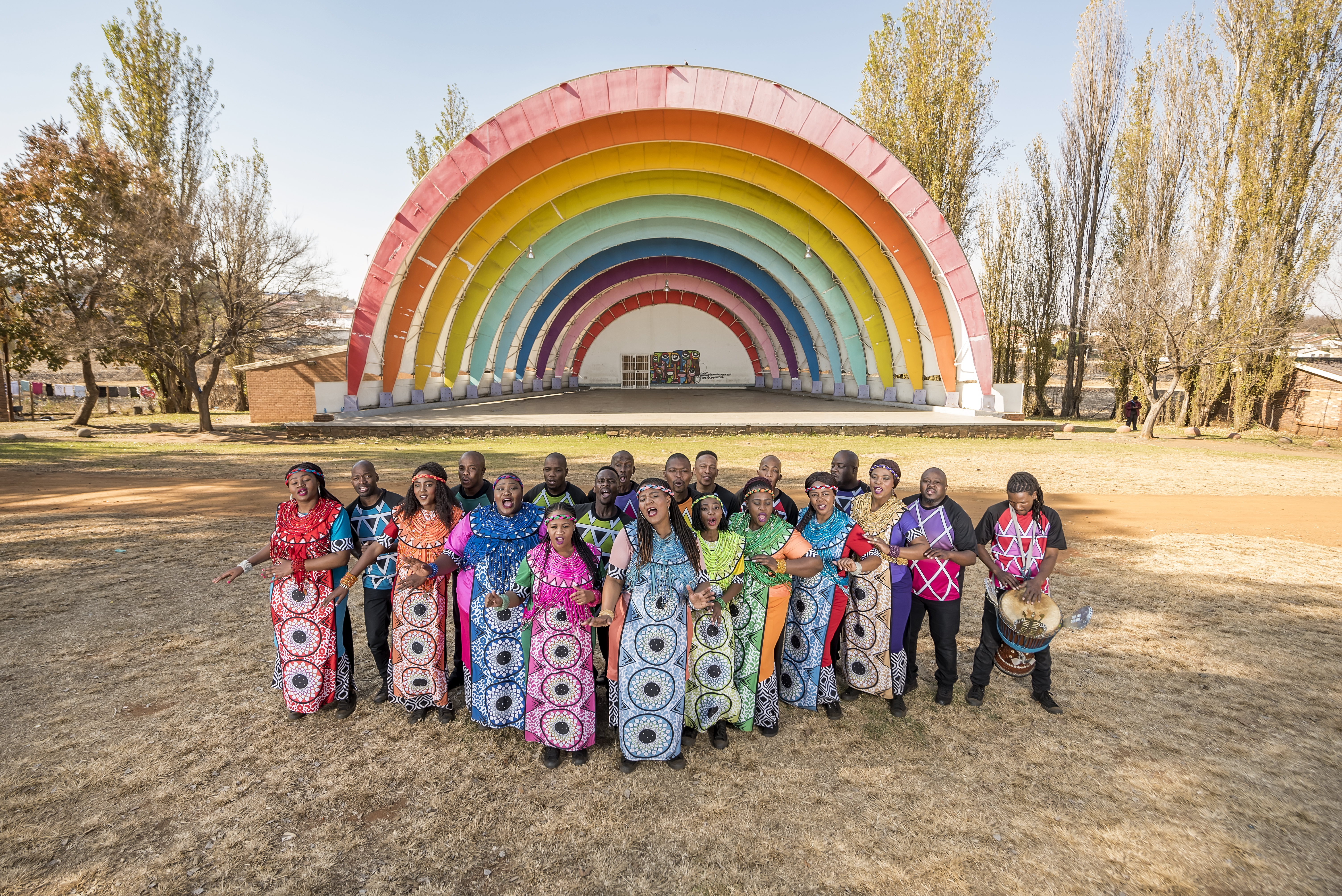 Soweto Gospel Choir will present "Songs of the Free," honoring Nelson Mandela's 100th birthday, as well as international gospel classics and favorite Christmas carols on Friday, November 30 at 7:30 p.m. at the Weis Center.
The performance is sponsored, in part, by Coldwell Banker Penn One Real Estate and Martha and Alan Barrick.
Patrons are encouraged to come early for a free pre-performance concert by Eric Ian Farmer Trio, from 6:30-7:15 p.m. in the Weis Center Atrium. Eric shares his songs about relationships, social awareness, and finding one's path in life while keeping alive classics by artists like Marvin Gaye, Otis Redding, and Bob Marley.  As an educator, Eric also uses music with high school students to facilitate both songwriting and conversation related to identity and social issues.
Free parking lot shuttles will operate from Bucknell's primary parking lots to the Weis Center, between 6-7:30 p.m., as well as after the performance.
The two-time Grammy Award-winning choir has been spreading joy to audiences across the globe for nearly two decades. Comprised of 20 of the best artists in South Africa, the choir invites audiences to enjoy the incomparable and inspirational power of African gospel music.
These uplifting performers have shared the stage with some of the biggest names in music, including U2, the late Aretha Franklin, Stevie Wonder, Robert Plant, Celine Dion, Red Hot Chili Peppers and Josh Groban.
For the first half of the concert, the choir will perform "Songs of the Free," a rousing program celebrating the centenary of the birth its Rainbow Nation's father. Following intermission, the performers will share international gospel classics, including their hair-raising take on Leonard Cohen's "Hallelujah," plus favorite Christmas carols such as Silent Night, Hark the Herald Angels Sing, Holy Night and Go Tell it on the Mountain.
The ensemble performs in six of South Africa's 11 official languages with rich harmonies, earthy rhythms, a lively four-piece band and percussion section.
On September 14, the Choir released its highly anticipated sixth Shanachie Entertainment recording Freedom, a riveting collection of freedom songs from South Africa and beyond, marking the Centennial of Nelson Mandela's birth.
Soweto Gospel Choir's universal message of love, unity and hope, along with its captivating melodic and harmonic wonder, mesmerizing showmanship and awe-inspiring performances, has made believers of millions of fans around the world.
The ensemble has earned two Grammy Awards, scored two #1 Billboard World Music Chart albums and has earned the distinction as the only South African music act to ever perform at the Oscars.
Filling the stage with vibrant costumes, incredible vocals and uplifting songs, the choir provides an evening of indisputable bliss that leaves audience exhilarated. The dynamic choir performs both traditional and contemporary music, adding its unique feel and interpretation to both.
Tickets for the performance are $35 for adults, $28 for seniors 62+, $25 for youth 18 and under, $25 for Bucknell employees and retirees (limit 2), $10 for Bucknell students (limit 2), and $25 for non-Bucknell college students (limit 2).
Tickets can be purchased online at Bucknell.edu/BoxOffice or by calling 570-577-1000.
Tickets are also available in person from several locations including the Weis Center lobby (weekdays 10 a.m. to 4 p.m.) and the CAP Center Box Office, located on the ground floor of the Elaine Langone Center (weekdays 10 a.m. to 4 p.m.).