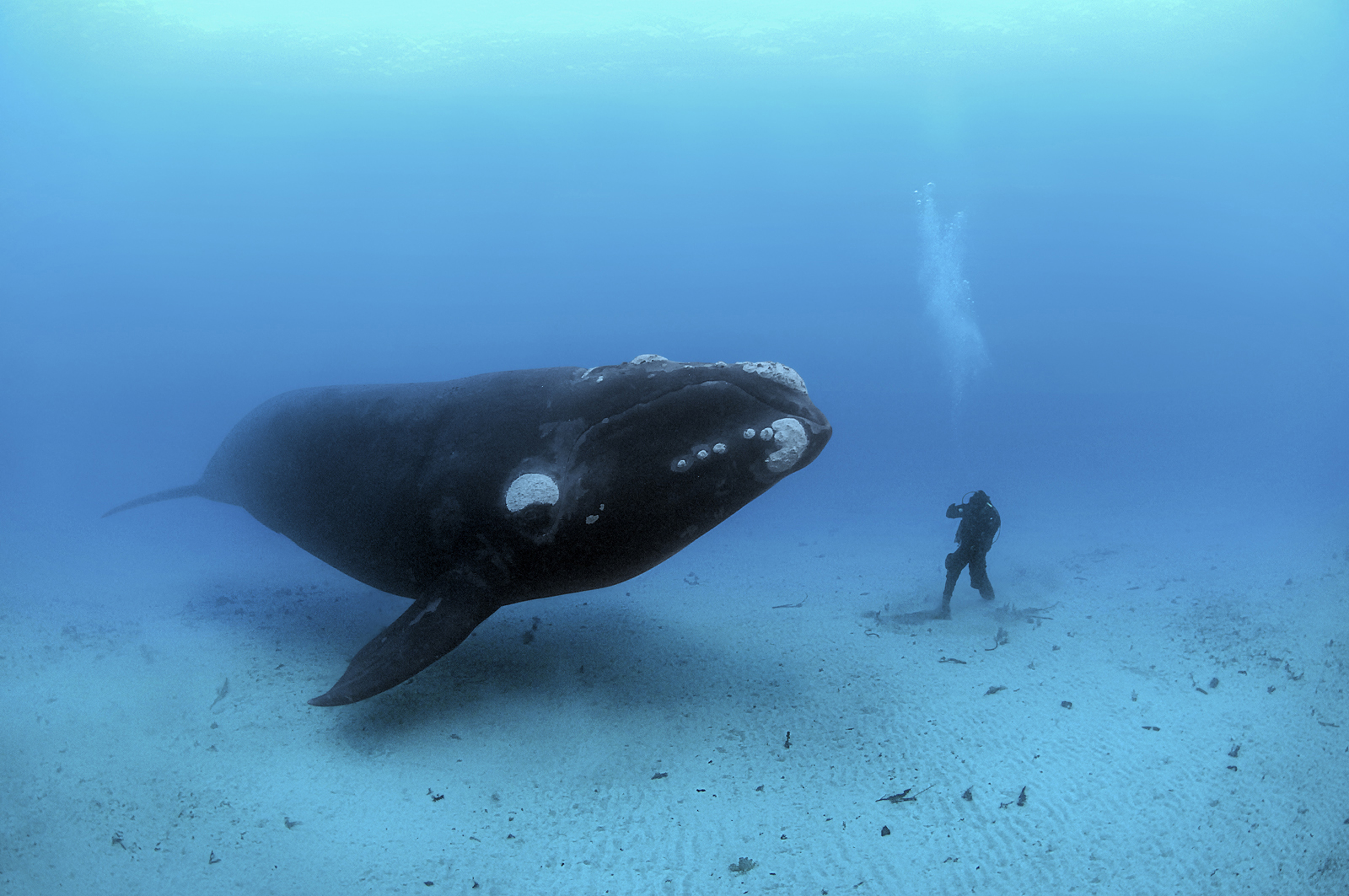 National Geographic ocean photographer Brian Skerry will present a multimedia presentation called "Ocean Soul" on Tuesday, February 19 at 7:30 p.m. at the Weis Center. A book signing with Mr. Skerry will take place after the presentation in the Weis Center Atrium.
Voyage across the oceans with one of National Geographic's most seasoned photographers and discover a vast, hidden world beneath the waves. Using his camera to communicate, Brian Skerry has spent more than 10,000 hours underwater telling the oceans' stories. His images celebrate the mystery of the depths and offer portraits of creatures so intimate they sometimes appear to have been shot in a studio. Skerry dives eight months of the year, often in extreme conditions beneath Arctic ice or in predator-infested waters, and has even lived at the bottom of the sea to get close to his subjects.
National Geographic Live in Lewisburg, PA is sponsored, in part, by John and Julianna Cooper and family.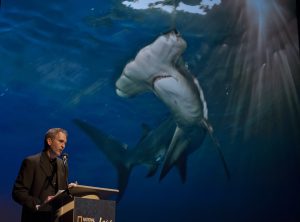 National Geographic Books published Ocean Soul, a landmark retrospective of Skerry's photographs. In the book and this presentation, Skerry takes us from the glacial waters of the North Atlantic, where harp seals face off with commercial hunters, to the balmy central Pacific, where he photographed damaged coral ecosystems rebuilding themselves.
On stage, Skerry is a passionate spokesman for the oceans he loves to photograph. His riveting presentations to audiences at TED, Harvard, and London's Royal Geographic Society inspire reverence for the marine realm and offer hope for protecting the vitality of the world's oceans.

Brian Skerry is a photojournalist specializing in marine wildlife and underwater environments. Since 1998 he has been a contract photographer for National Geographic Magazine (NGM) covering a wide range of subjects and stories. In 2014 he was one of five photographers named as a National Geographic Photography Fellow. In 2015 he was named a Nikon Ambassador and in June 2017 he was awarded the title of Rolex National Geographic Explorer of the Year.
For NGM, Brian has covered a wide range of stories, from the harp seal's struggle to survive in frozen waters to the alarming decrease in the world's fisheries to dolphin intelligence, all cover stories. During 2016 NGM published three consecutive feature stories by Brian about predatory sharks. His cover story in the February 2017 issue of NGM, focuses on protecting special underwater ecosystems in US waters. During his coverage for this story Brian produced the first images of a US President underwater. He is currently at work on his 28th story for NGM.
Brian's work has also been featured in publications such as Sports Illustrated, The New York Times, BBC Wildlife, Paris Match, GEO, The Washington Post, The Wall Street Journal, Smithsonian, Esquire, Audubon and Men's Journal. He is the author of 10 books including the acclaimed monograph Ocean Soul. His latest book, SHARK, was released in June 2017.
Brian is an 11-time award winner in the prestigious Wildlife Photographer of the Year competition. He has also been recognized with awards from Pictures of the Year International, Nature's Best, Communication Arts and is the only photographer to win the coveted Peter Benchley Ward for Excellence in Media. In 2010 National Geographic magazine named one of Brian's images among their 50 Greatest Photographs of All Time and was awarded the 2016 National Geographic Photographer's Photographer Award, an honor bestowed by his colleagues.
He has had solo photographer exhibits at Visa Pour l'Image in Perpignan, France as well as cities such as Geneva, Barcelona, Lisbon and Shanghai and at the Smithsonian National Museum of Natural History in Washington, DC.
Brian frequently lectures on photography, exploration and conservation issues having presented at venues such as the United Nations General Assembly, The World Economic Forum in Davos, Switzerland, TED Talks, The National Press Club in Washington, DC, The Royal Geographical Society in London and the Sydney Opera House in Australia. He's a frequent guest on television programs including NBC's TODAY Show and CBS's This Morning.
Brian is the Explorer-In-Residence and a Trustee at the New England Aquarium, a founding member of the International League of Conservation Photographers, Director of The New England Ocean Odyssey for The Conservation Law Foundation and a Fellow National of the Explorers Club. He also serves as a Marine Fellow with Conservation International, serves on the World Wildlife Fund's National Council and the WWF's Marine Leadership Council and on the Board of Directors of the Atlantic White Shark Conservancy.
National Geographic Live is the live events division of National Geographic. With a broad roster of talent including renowned photographers, scientists, authors, filmmakers and adventurers, National Geographic Live's critically acclaimed programs have connected with audiences worldwide for over a century. Currently, National Geographic Live events are held in a variety of cities around the world, including, Seattle, Tampa, Los Angeles, and Calgary. In each of these cities, speakers share behind-the-scenes stories from the front lines of exploration onstage alongside stunning imagery and gripping footage. For more information, visit natgeolive.com.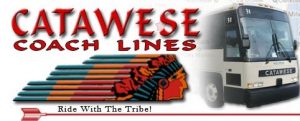 Complimentary Transportation
Thanks to a generous grant from PPL, the Weis Center will offer complimentary roundtrip transportation via Catawese Coach Lines from Shamokin, Mount Carmel and Shamokin Dam. Patrons using this transportation will receive complimentary tickets to the engagement. Advance reservations are required by February 14 by calling 570-577-3727 or emailing Lisa.Leighton@bucknell.edu. Reservations are limited and will be accepted on a first-come-first-served basis. Tickets will be issued to patrons upon boarding the bus. The pick-up schedule is as follows:
Shamokin – rear of Weis Markets at 5 p.m.
Mount Carmel – Divine Redeemer Church – 5:35 p.m.
Shamokin Dam – old Kmart lot at 6:20 p.m.
Return trip will begin around 9:15 p.m.
Tickets
Tickets for the engagement are $30 for adults, $24 for seniors 62+, $20 for youth 18 and under, $20 for Bucknell employees and retirees (limit 2), $10 for Bucknell students (limit 2), and $20 for non-Bucknell college students (limit 2). Tickets can be purchased online at Bucknell.edu/BoxOffice or by calling 570-577-1000.
Tickets are also available in person from several locations including the Weis Center lobby (weekdays 10 a.m. to 4 p.m.) and the CAP Center Box Office, located on the ground floor of the Elaine Langone Center (weekdays 10 a.m. to 4 p.m.).
For more information about the Weis Center for the Performing Arts, go to Bucknell.edu/WeisCenter or search for the Weis Center on Instagram, Facebook, Twitter or YouTube.