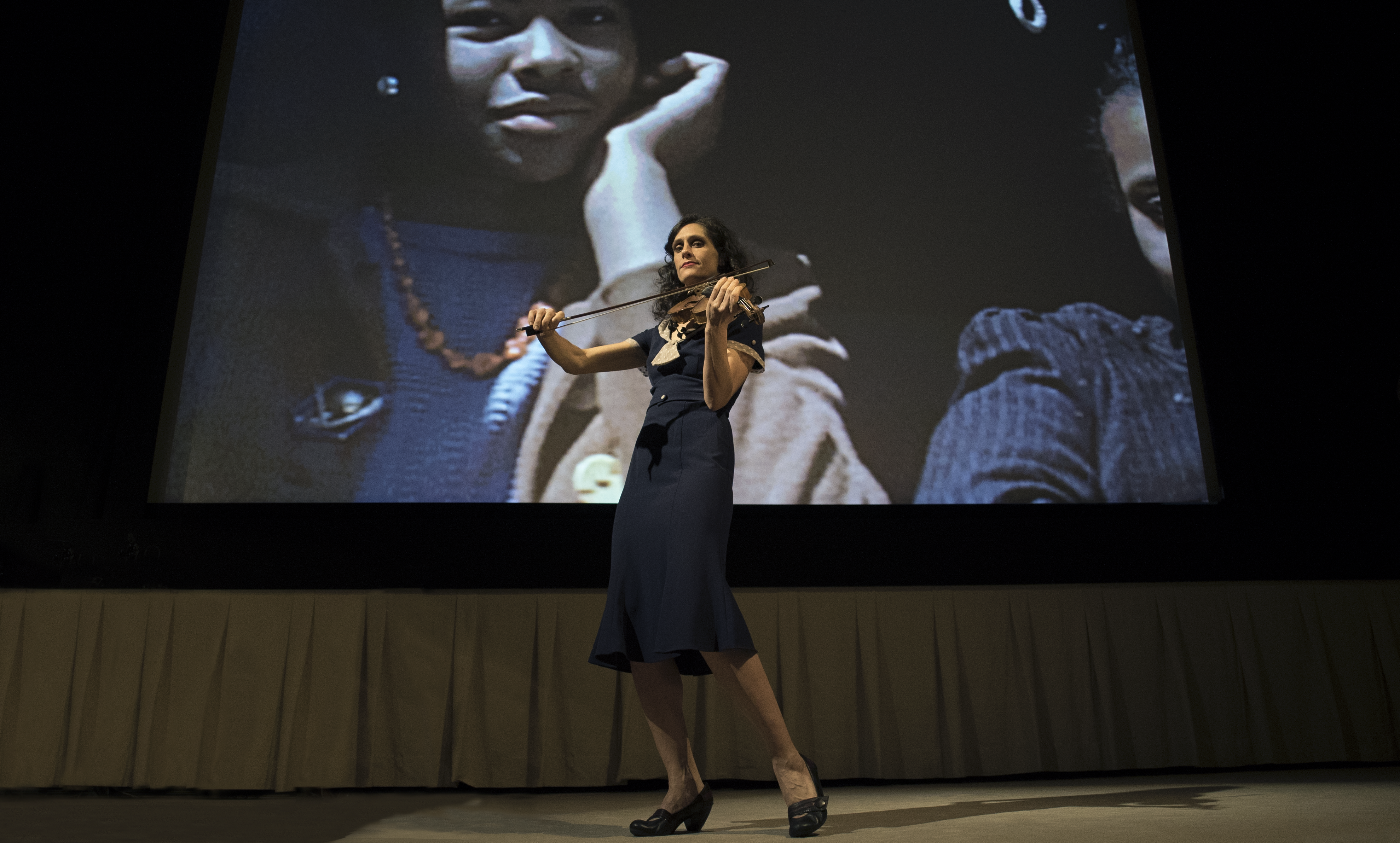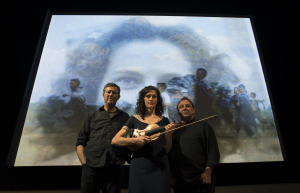 Jenny Scheinman's Kannapolis: A Moving Portrait, which combines live folk music and historic film clips, will be presented on Wednesday, March 6 at 7:30 p.m. at the Campus Theatre, 413 Market Street, in downtown Lewisburg.
In this new live music and film piece, acclaimed musician Jenny Scheinman presents the captivating visual world of H. Lee Waters, who documented more than 118 small towns in the southeast between 1936 and 1942.
Waters' films are of regular people going about their lives – mill workers streaming out of factories, a mother and daughter dancing on a dirt road, an old man reading a war-time headline and children racing in slow motion toward a huge wooden teeter totter.
Scheinman and filmmaker Finn Taylor have re-edited these iconic images to Scheinman's music, creating a new movie that speaks to any community as much as to the towns where it was filmed.
The ensemble is made up of: Jenny Scheinman – composer, arranger, violin, vocals, Robbie Fulks – guitar, banjo, vocals, Robbie Gjersoe – resonator guitar, baritone electric guitar, vocals, Finn Taylor – film director, Rick LeCompte – film editor and Trevor Jolly – sound designer.
Scheinman says of the project, "These are America's home movies.  They contain a clue to our nature, an imprint of our ancestry.  They were shot before Americans had sophisticated understanding of film, and capture truthfulness that one is hard-pressed to find in this day and age now that we are immersed in a world of social media, video, and photography.  These people can dance.  Girls catapult each other off seesaws and teenage boys hang on each other's arms.  Toothless men play resonator guitars on street corners, and toddlers push strollers through empty fields.  They remind us of our resilience and of our immense capacity for joy even in the hardest of times."
Kannapolis: A Moving Portrait was commissioned by Duke Performances at Duke University.
The Washington Post said of the project, "A beautifully coordinated melding of music and film… a vivid image of small-town life, morphing back and forth almost imperceptibly between black-and-white and color."
Jenny Scheinman, lead artist, is a composer, violinist and songwriter. She grew up on a homestead in Northern California and has been performing since she was a teenager. Scheinman has released nine studio albums and continues to steadily develop her career and acclaim as a bandleader. In 2008 she received national press attention in such distinguished publications as Rolling Stone, Billboard, Wall Street Journal, New York Times for her simultaneous release of the lush orchestral instrumental album Crossing The Field and her debut eponymous vocal release Jenny Scheinman. She followed this with three critically acclaimed and strikingly contrasting releases – Mischief & Mayhem, The Littlest Prisoner (a stunning follow-up vocal release featuring Bill Frisell and Brian Blade) and Here On Earth (a tribute to fiddle music and a companion piece to her multi-media touring show Kannapolis: A Moving Portrait.)  She consistently tops the Downbeat Magazine Critics Poll, and was hailed "best fiddler in NYC" by Time Out New York.
The New York Times said, "Scheinman [has] a distinctive vision of American music, suffused with plainspoken beauty and fortified all at once by country, gospel, and melting-pot folk, along with jazz and the blues."
General admission tickets are $20 for adults, $16 for seniors 62+, $10 for youth 18 and under, $10 for Bucknell employees and retirees (limit 2), FREE for Bucknell students (limit 2), and $10 for non-Bucknell college students (limit 2). Tickets can be purchased online at Bucknell.edu/BoxOffice or by calling 570-577-1000.
Tickets are also available in person from several locations including the Weis Center lobby (weekdays 10 a.m. to 4 p.m.) and the CAP Center Box Office, located on the ground floor of the Elaine Langone Center (weekdays 10 a.m. to 4 p.m.).
For more information about the Weis Center for the Performing Arts, go to Bucknell.edu/WeisCenter or search for the Weis Center on Instagram, Facebook, Twitter or YouTube.