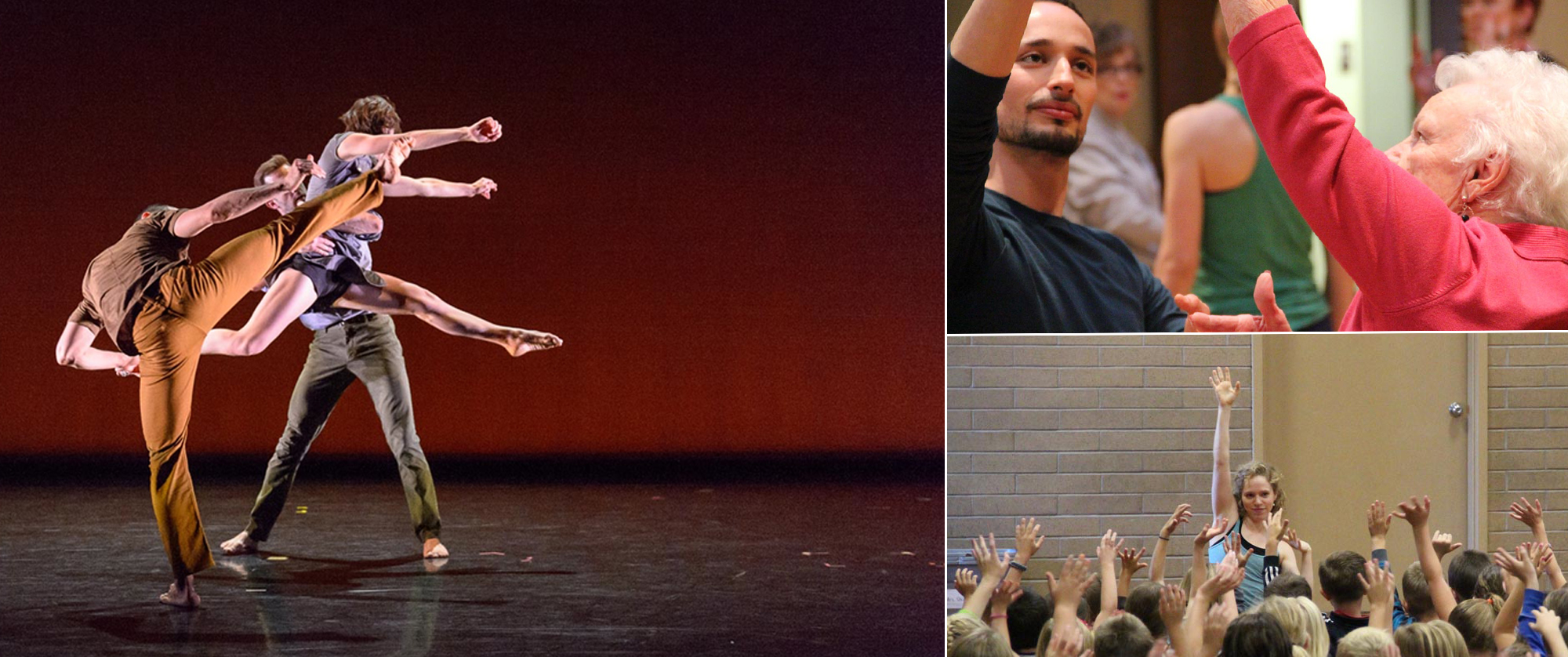 Salt Lake City, Utah-based Ririe-Woodbury Dance Company will perform four contemporary dance works on Saturday, March 23 at 7:30 p.m. at the Weis Center for the Performing Arts.
The performance is sponsored, in part, by Karl Voss and Chanin Wendling family.
While at the Weis Center, they will perform Excerpts from Exilic Dances by Daniel Charon, The Opposite of Killing by Tzveta Kassabova, Strict Love by Doug Varone and Storm by Daniel Charon.
TWO FREE DANCE CLASSES
As part of the engagement, the dance company will lead two classes in the community.
The first class, for children ages 3-5 years old and their caregivers, is on Friday, March 22 from 10:30-11:15 a.m. at the Lewisburg Children's Museum. The dance class is free but registration is required and space is limited. Dually trained artist/educators from Ririe-Woodbury Dance Company will guide guardians and children through an exploration of contemporary dance movement, creating a positive movement experience for children and guardians to create and share together. Activities might include movement exploration, improvisation, physical awareness exercises, and creative tasks. Register by calling 570-768-4914 or online at LewisburgChildrensMuseum.org.
The second class called "Creative Aging" is intended for seniors and will be held on Sunday, March 24 at 2 p.m. in Marlow Hall on the campus of RiverWoods in Lewisburg. The class is free and open to the public. Ririe-Woodbury Dance Company Artistic Director, Daniel Charon, will lead the creative movement class for older adults and seniors to help them improve physically cognitively and emotionally, all in a highly social and resonant environment. Activities might include movement exploration, improvisation, physical awareness exercises, and creative tasks.
Ririe-Woodbury Dance Company is known both nationally and internationally for commissioning works by exceptional choreographers as well as performing dances by their own artistic director Daniel Charon.
Ririe-Woodbury is deeply invested in the language of contemporary dance and strives to be at the forefront, providing audiences with a variety of choreographic styles in a single evening. The company's repertory ranges from minimalist to multi-media dances.
Ririe-Woodbury Dance Company is Utah's most established institution of contemporary dance. The Company actively embraces and commissions the work of contemporary choreographers, tours worldwide, and develops dynamic education and community outreach programming. Over the 55 years of its history, Ririe-Woodbury has toured nationally and internationally, always advocating the philosophy that "dance is for everybody."
Over the years, the Company has grown into an internationally renowned contemporary dance company, having performed in every state in the United States, as well as in South Africa, Southeast Asia, the Caribbean, the British Isles, and throughout Europe.
The Company founders were active in the earliest dance programs that were created by the National Endowment for the Arts. In June 2013, the Company welcomed its current Artistic Director, New York dance-artist Daniel Charon. His vision builds upon the Company's rich foundation while incorporating his own distinctive viewpoint as a seasoned dancer and established choreographer.
In 1972, Ririe-Woodbury was selected as one of only 20 dance companies to participate in two prestigious national initiatives: the Dance Touring Program and the Artists in the Schools Program. This opportunity led to the creation of the Company's education program, which became a national model that is still used for dance education in the schools today. Currently, Ririe-Woodbury has both education and an outreach directors whose jobs are singularly focused on creating dance opportunities for a wide audience, including toddlers, schoolchildren, adults, and nursing home residents. To enable the fulfillment of its commitment to bring dance into everyone's life, the Company trains its dancers as both performers and as educators, with special emphasis on kindergarten through high school dance education.
Ririe-Woodbury Dance Company curates a range of performances, from shows that appeal to the contemporary dance aficionado, to programs created for families to experience together. With educational offerings, community outreach, and performance adaptability, the Company extends its tailored reach through national and international touring– with the goal of fostering interest and awareness in dance, and the engagement of performing arts audiences.
Tickets for the Weis Center performance are $25 for adults, $20 for seniors 62+, $15 for youth 18 and under, $15 for Bucknell employees and retirees (limit 2), $10 for Bucknell students (limit 2), and $15 for non-Bucknell college students (limit 2). Tickets can be purchased online at Bucknell.edu/BoxOffice or by calling 570-577-1000.
Tickets are also available in person from several locations including the Weis Center lobby (weekdays 10 a.m. to 4 p.m.) and the CAP Center Box Office, located on the ground floor of the Elaine Langone Center (weekdays 10 a.m. to 4 p.m.).
For more information about the Weis Center for the Performing Arts, go to Bucknell.edu/WeisCenter or search for the Weis Center on Instagram, Facebook, Twitter or YouTube.