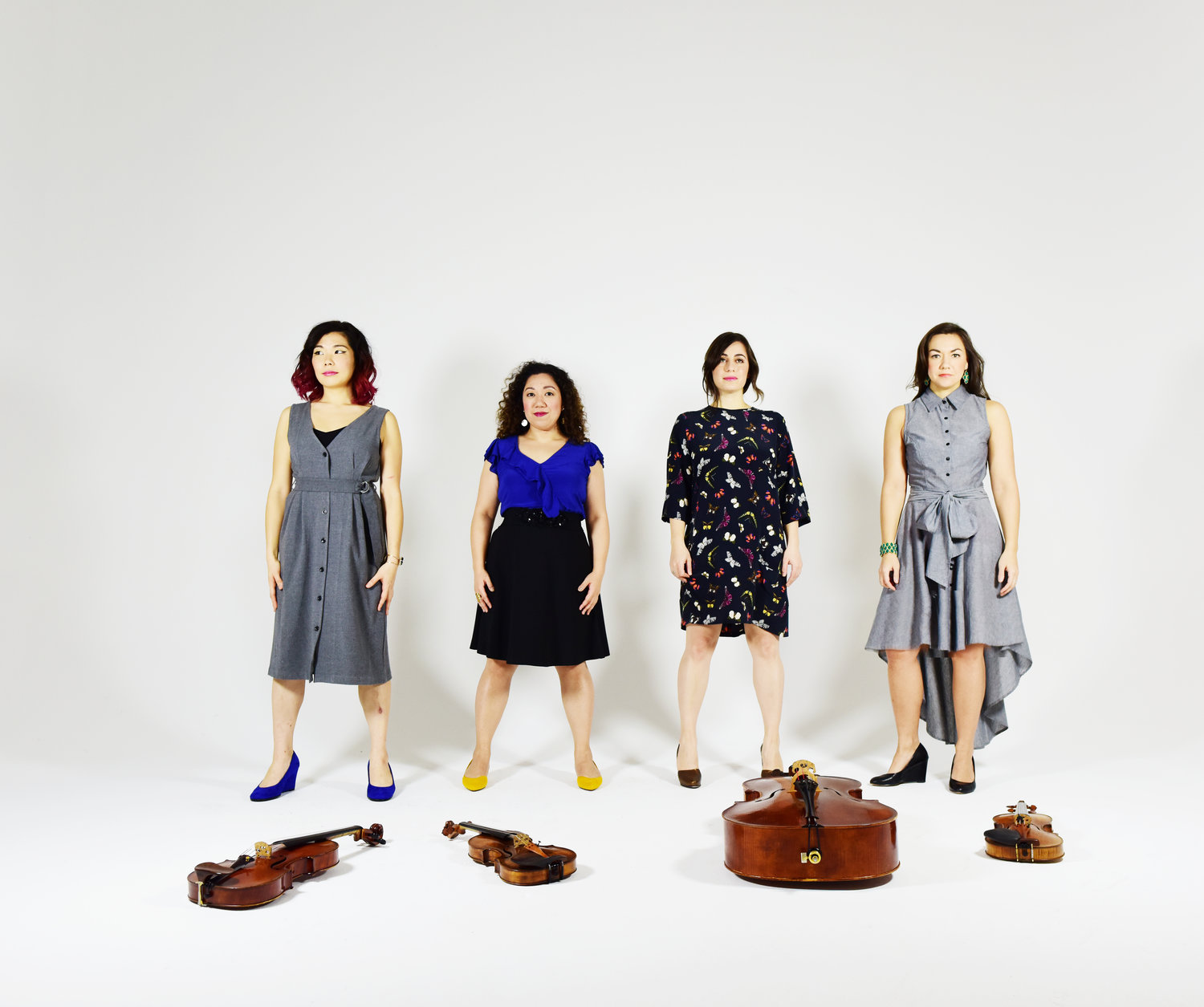 Internationally-distinguished string quartet, Aizuri Quartet, will present a new project, Intricate Machines, on Sunday, March 31 at 2 p.m. in the Atrium of the Weis Center for the Performing Arts. The performance is free and tickets are not required. General admission seating is first-come, first-seated.
Celebrating America's compositional diversity and talent, Intricate Machines pairs the acclaimed Aizuri Quartet with rising American composers Nina C. Young, Sky Macklay, Daniel Temkin, Phil Taylor, and Katherine Balch.
The five works on the program were all written since 2013. Co-curated with composers Daniel Temkin and Phil Taylor, the project features composers of diverse styles, sensibilities, and geographic locales.
Aizuri Quartet was awarded the Grand Prize and the CAG Management Prize at the 2018 M-Prize Chamber Arts Competition, along with top prizes at the 2017 Osaka International Chamber Music Competition in Japan, and the 2015 Wigmore Hall International String Quartet Competition in London. In 2017-2018, the Quartet was the MetLiveArts String Quartet-in-Residence at the Metropolitan Museum of Art, and previously served as the Ernst Stiefel String Quartet-in-Residence at the Caramoor Center for Music and the Arts (2015-2016), String Quartet-in-Residence at the Curtis Institute of Music in Philadelphia (2014-2016), and Ensemble-in-Residence at Ravinia Festival's Steans Institute (2014).
The Washington Post says, "Captivating performances [that] meld intellect, technique, and emotions."
Aizuri Quartet concerts stand out for their imaginative musical programming, as the group champions bold new works alongside masterpieces of the past. The group has an impressive commissioning record, with works written for them by Pulitzer-Prize winner Caroline Shaw, Opera Philadelphia composers Lembit Beecher and Rene Orth, and many others. Their debut CD Blueprinting features five commissions and received a 2019 Grammy Award nomination.
ABOUT THE COMPOSERS
Nina Young, a Rome Prize fellow and recipient of upcoming commissions from the New York Philharmonic and Philadelphia Orchestra, composed Memento Mori – Phase I as a meditation on the certainty of death, shrouding the piece in mystery and intense color. The work was described by the blog I Care If You Listen as "a madcap piece…at once exhilarating and hilarious in its energetic inventiveness."
Sky Macklay's Many Many Cadences was featured at the Gaudeamus Festival in 2017, and it has already become something of a classic, receiving dozens of performances worldwide from an array of major groups.
Daniel Temkin, the 2019 Protege Composer-in-Residence at Chamber Music Northwest, wrote Intricate Machines as a nod to the interconnected worlds of rock and classical music. Originally a percussionist and drum-set player in hardcore and punk bands, Temkin's piece features punchy rhythms and arching melodies that join musical worlds of Bartok, Metallica, John Adams, and Incubus.
The quartets by Phil Taylor and Katherine Balch were each originally commissioned by the Santa Fe Chamber Music Festival. Taylor, a recipient of the BMI William Schuman Prize, has music with a poignant searching quality and his of embers and aspen leaves simmers, sighs, and cries out with haunting gestures. Balch is currently Composer-in-Residence with Young Concert Artists and the California Symphony, and her With Each Breathing (whose title comes from an E.E. Cummings poem) was inspired by Beethoven's late string quartets.
Together, these works illustrate the wide range of music being written in America's classical landscape today, showing the vitality of contemporary works and their ability to poignantly touch upon different aspects of the human experience – particularly when performed with the commitment, passion, and musical depth for which the Aizuris are known.
For more information about the Weis Center for the Performing Arts, go to Bucknell.edu/WeisCenter or search for the Weis Center on Instagram, Facebook, Twitter or YouTube.