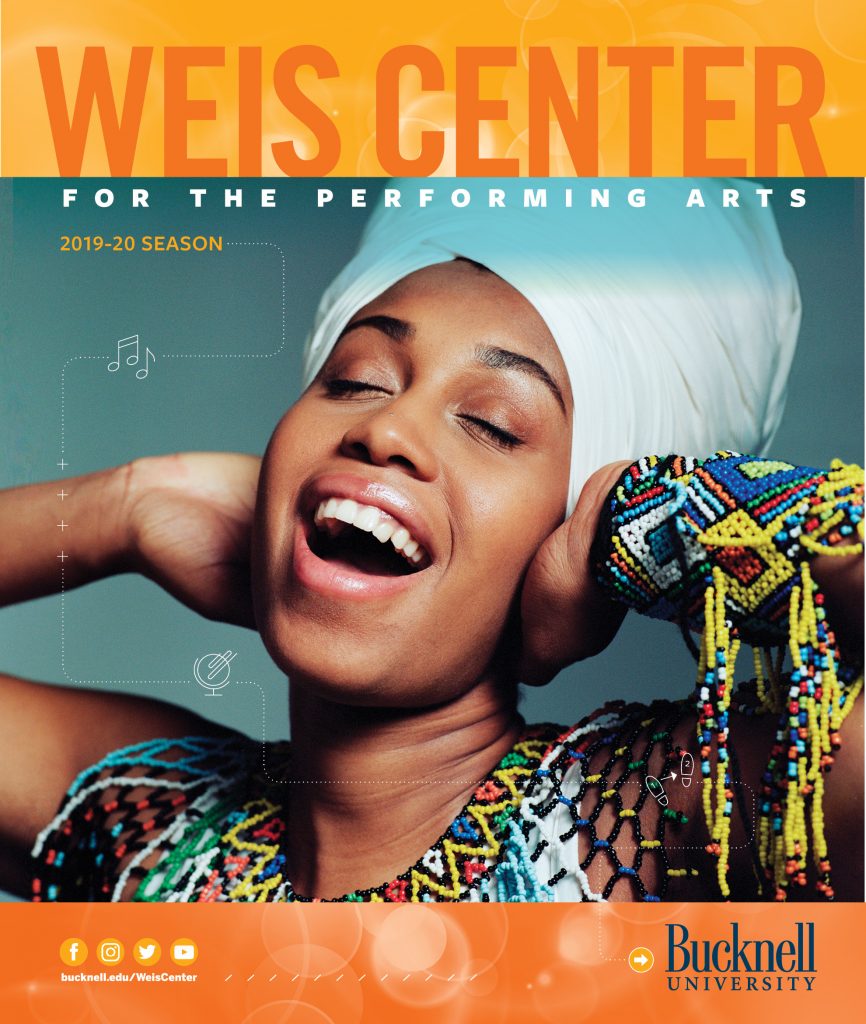 The 2019-20 season at the Weis Center for the Performing Arts at Bucknell University includes 25 professional performances – including world music from Zimbabwe, Ghana, Hawaii, Ireland and Nova Scotia plus classical music, Americana music, modern dance from two acclaimed companies, folk dance, several styles of jazz, and five family-friendly performances. Eight performances are free.
View our new 3- minute video here!
The season will kick off with a free jazz concert by Ryan Flannery Trio on Thursday, August 29, performing a memorable set of tunes including funk, ballads, and uptempo hard bop. This is the first of four free performances in the Weis Center Atrium.
The jazz theme continues with jazz vocalist Jazzmeia Horn on Thursday, September 12, then Afro-Cuban jazz ensemble Jane Bunnett and Maqueque on Thursday, September 19, which features the finest young women musicians in Cuba. The season also includes jazz vocalist Kat Edmonson in October, jazz drummer Allison Miller with her band Boom Tic Boom in January, and up-and-coming jazz vocalist from South Africa Vuyo Sotashe in April.
The Weis Center welcomes MacArthur "Genius" Award recipient and classical pianist Jeremy Denk on Sunday, September 22 at 2 p.m. to perform works by Bach, Ligeti, Liszt, Berg and Schumann. Later in the season, patrons can enjoy the National Symphony Orchestra of Ukraine in February and Calefax Reed Quintet in March.
Austin-based trio Steel Betty performs on Friday, September 27 with flavors of bluegrass, folk, blues, Tex-Mex, Old Time music, and classic country – they truly are a reflection of today's American music scene.
Philadanco returns on Tuesday, October 22 as they celebrate their 50th anniversary and then Malpaso Dance Company in February, a sought-after Cuban dance company with a growing international profile.
Nobuntu, a female a-cappella quintet from Zimbabwe, will perform traditional songs, Afro Jazz, and gospel music on Tuesday, November 12.
Blues fans will appreciate Toshi Reagon's soulful blend of rock, blues, and spirituals in January as part of campus-wide MLK Week celebrations.
Folk dance and music take the stage in February with The Tamburitzans. For eight decades, the Pittsburgh-based ensemble has presented a wide variety of folk dance and music representing international cultures.
In a special world premiere presentation, multimedia company Manual Cinema present Frankenstein on Saturday, November 2.The performance combines handmade shadow puppetry, cinematic techniques, and innovative sound and music. The company combines vintage overhead projectors, multiple screens, puppets, actors, sound design, and a live music ensemble for an unforgettable performance experience.
Family-friendly performances include Natalie MacMaster's Celtic Family Christmas on Tuesday, December 10, Eric Ian Farmer Trio's free performance on President's Day, plus two audience favorites return — Peking Acrobats and the Ukulele Orchestra of Great Britain close out the season in March and April respectively.
Brochure Available
The Weis Center's 24-page season brochure is now available. To request a hardcopy brochure, contact Lisa Leighton, marketing and outreach director, at 570-577-3727 or e-mail Lisa.Leighton@bucknell.edu and one will be mailed at no cost.
Hardcopies will be available at the Weis Center and throughout the Susquehanna River Valley region, including Visitors Bureaus and public libraries, in early August.
Sponsors
The Weis Center's 2019-20 season is supported by the following season-level sponsors: Bucknell Sports Properties, The Daily Item, Press Enterprise, Seven Mountains Media, Sunbury Broadcasting Corporation, Standard Journal, Susquehanna Life, ViaMedia and Service Electric, Williamsport Sun-Gazette, WNEP-TV, WPSU, and WVIA.
Event sponsors include Glenn and Raquel Alexander, Backyard Broadcasting, Bloomsburg Children's Museum, Bold Gold Media, Centre Daily Times, Coldwell Banker Penn One Real Estate, Doug and Mary Candland, Columbia-Montour Visitors Bureau, Julianna and John Cooper, Nancy and Sam Craig, Evangelical Community Hospital, the Exchange/Art Cart, Geisinger, iHeartRadio Williamsport, Lewisburg Children's Museum, Clayton and David Lightman, Teri MacBride and Steve Guattery, News Item, PPL, Riverwoods, Gary and Sandy Sojka, Stone State Entertainment, Susquehanna Life, Karl Voss and Chanin Wendling family, WITF, and the family of Janet Weis.
Grant funding for the season includes Mid Atlantic Arts Foundation, National Endowment for the Arts, and the Pennsylvania Council on the Arts.
Tickets
The majority of Weis Center tickets range in price from $20 to $35 for adults, with discounts available for subscribers (5 or more events), senior citizens, college students, groups and youth.
Subscribers have priority seating until Monday, August 12 at noon.
Beginning on Friday, Aug. 16, at 10 a.m., non-subscribers may order single tickets for any Weis Center season performance at Bucknell.edu/BoxOffice or by calling 570-577-1000.
Tickets will also be available in-person from several locations including the Weis Center lobby weekdays 10 a.m. to 4 p.m. and the CAP Center Box Office, located on the ground floor of the Elaine Langone Center, weekdays, 10 a.m. to 4 p.m.
For more information about the Weis Center for the Performing Arts, go to Bucknell.edu/WeisCenter or search for the Weis Center on Instagram, Facebook, Twitter or YouTube.