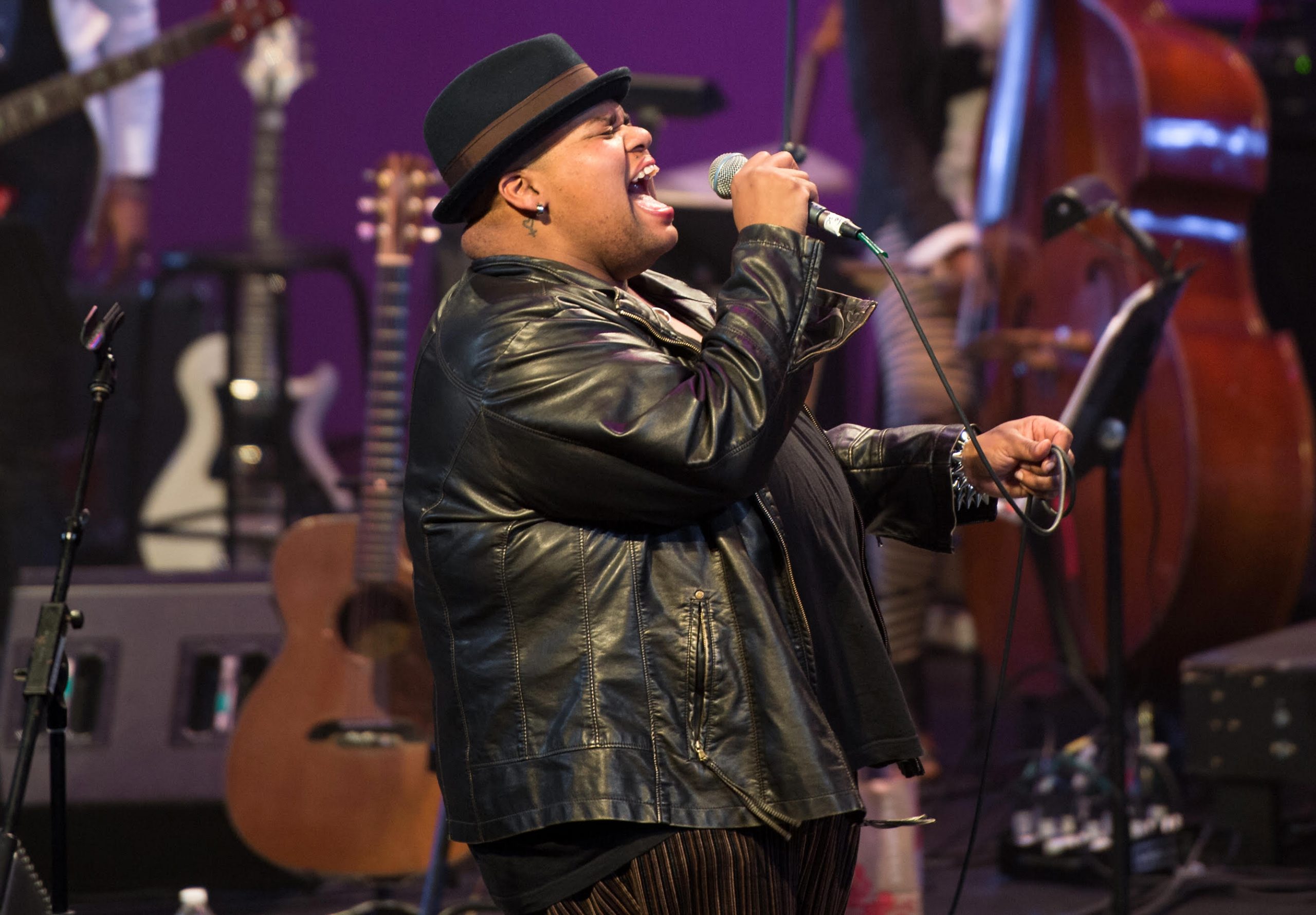 Singer-songwriter-guitarist Toshi Reagon will perform her unique blend of rock, blues, folk, and spirituals on Tuesday, January 21 at 7:30 p.m. at the Weis Center for the Performing Arts. This is a free performance and tickets are not required.
The performance is sponsored, in part, by Bucknell University's Department of Music, Jazz at Bucknell and Martin Luther King Jr. Week 2020.
Described by Vibe magazine as "one helluva rock'n'roller-coaster ride" and by Pop Matters as "a treasure waiting to be found," Toshi Reagon is a one-woman celebration of all that's dynamic, progressive and uplifting in American music.
Since first taking to the stage at age 17, this versatile singer-songwriter-guitarist has moved audiences of all kinds with her big hearted, hold-nothing back approach to rock, blues, R&B, country, folk, spirituals and funk.
The New York Times described her blend as "…a love of mixing things up…[her] vocal style ranges from a dirty blues moan to a gospel shout to an ethereal croon."
Over nearly 30 years, Reagon has collaborated with top innovators across a wide spectrum of the entertainment field. Since Lenny Kravitz chose her, straight out of college, to open for him on his first world tour, she has gone on to share stages with notable colleagues such as Nona Hendryx, Elvis Costello, Ani DiFranco, Pete Seeger, Dar Williams, Lizz Wright, Me'shell Ndegé Ocello and Marc Anthony Thompson (aka Chocolate Genius). Her performances with her mother, Bernice Johnson Reagon–civil rights activist and founder of the a cappella group, Sweet Honey in the Rock–are legendary.
Poet and playwright Carl Hancock Rux tapped Reagon as one of the producers for his Rux Revue album. She also produced Casselberry DuPree's Hot Corn in the Fire and Gina Breedlove's Open Heart. She served as producer or co-producer on four CDs for Sweet Honey in the Rock–In This Land (1995), Still On The Journey (1993), Sacred Ground (1996) and The Women Gather (2003). She has written songs for Lizz Wright's Dreaming Wide Awake (2005) and co-wrote and plays on several songs on Wright's The Orchard (2008).
Some of Reagon's proudest moments have included playing for her godfather Pete Seeger's 90th birthday celebration at Madison Square Garden (2009), a benefit for Seeger's environmental organization, Clearwater. She has also performed with the Freedom Singers at the White House in President Barack Obama and First Lady Michelle Obama's tribute to the music of the civil rights movement.
Toshi Reagon's honors include a 2009 Out Music Award, the 2007 Black Lily Award for Outstanding Performance, and a 2004 New York Foundation for the Arts award for music composition. She was one of several women honored by the National Women's History Project for "amazing intelligence, talent, courage and tenacity [that testify] to the myriad ways that generations of women have moved history forward."
For more information about the Weis Center for the Performing Arts, go to www.bucknell.edu/WeisCenter or search for the Weis Center on Instagram, Facebook, Twitter or YouTube.