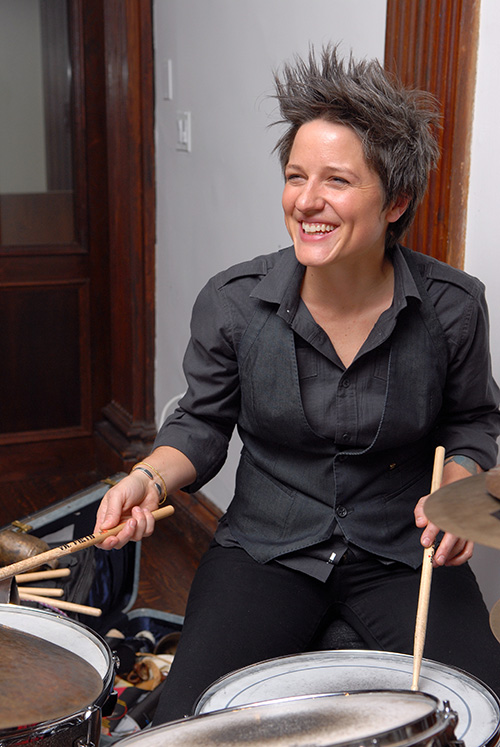 Jazz drummer, composer and teacher Allison Miller and her band Boom Tic Boom will present a new work, In Our Veins: Rivers and Social Change, on Friday, January 24 at 7:30 p.m. at the Weis Center.
Immediately before the performance, there will be a free pre-show talk with the artist from 6:45-7:15 p.m. in the Weis Center Atrium.
The Rivers project was commissioned by the Jazz Touring Network, a program of Mid Atlantic Arts Foundation with support from the Doris Duke Charitable Foundation. The co‐commissioning of this project was led by Lake Placid Center for the Arts in partnership with Ars Nova Workshop, Light Up the Queen Foundation, Modlin Center for the Arts, and Weis Center for the Performing Arts.
The Weis Center performance is sponsored, in part, by Karl Voss and Chanin Wendling family.
Described by critics as a charismatic and rhythmically propulsive drummer with melodic sensibility, Allison Miller engages her deep roots in jazz improvisation as a way to explore all music.
Miller has been named "Top 20 Jazz Drummers" in Downbeat Magazine and her composition, Otis Was a Polar Bear, is on NPR's list of The 200 Greatest Songs by 21st Century Women. Miller is Monterey Jazz Festival's 2019 Artist in Residence, alongside bassist/producer Derrick Hodge. She is also the first recipient of the Mid Atlantic Arts Foundation's Commissioning Grant.
The acclaimed percussionist and Yamaha clinician will be joined by her band, Boom Tic Boom, which features pianist Myra Melford, violinist Jenny Scheinman, clarinetist Ben Goldberg, cornetist Kirk Knuffke, bassist Todd Sickafoose and Miller on drums and composition.
Boom Tic Boom has been met with critical acclaim receiving 4.5 stars from Downbeat and making "Top 10 Jazz Albums" lists for Downbeat, The LA Times, Jazz Journalists Association and Something Else.
ABOUT THE NEW WORK
Rivers are the lifeline of America, and in the 19th and 20th century, many social movements took place around waterways. "In Our Veins: Rivers and Social Change" is a multimedia suite for chamber jazz ensemble and tap dancer centered around five American rivers (Susquehanna, Delaware, James, Hudson, Schuylkill) and the social and environmental changes they inspired.
Tickets for the Weis Center performance are $20 for adults, $16 for seniors 62+, $10 for youth 18 and under, $10 for Bucknell employees and retirees (limit 2), FREE for Bucknell students (limit 2), and $10 for non-Bucknell college students (limit 2). Tickets can be purchased online at Bucknell.edu/BoxOffice or by calling 570-577-1000.
Tickets are also available in person from several locations including the Weis Center lobby (weekdays 10 a.m. to 4 p.m.) and the CAP Center Box Office, located on the ground floor of the Elaine Langone Center (weekdays 10 a.m. to 4 p.m.).
For more information about the Weis Center for the Performing Arts, go to Bucknell.edu/WeisCenter or search for the Weis Center on Instagram, Facebook, Twitter or YouTube.