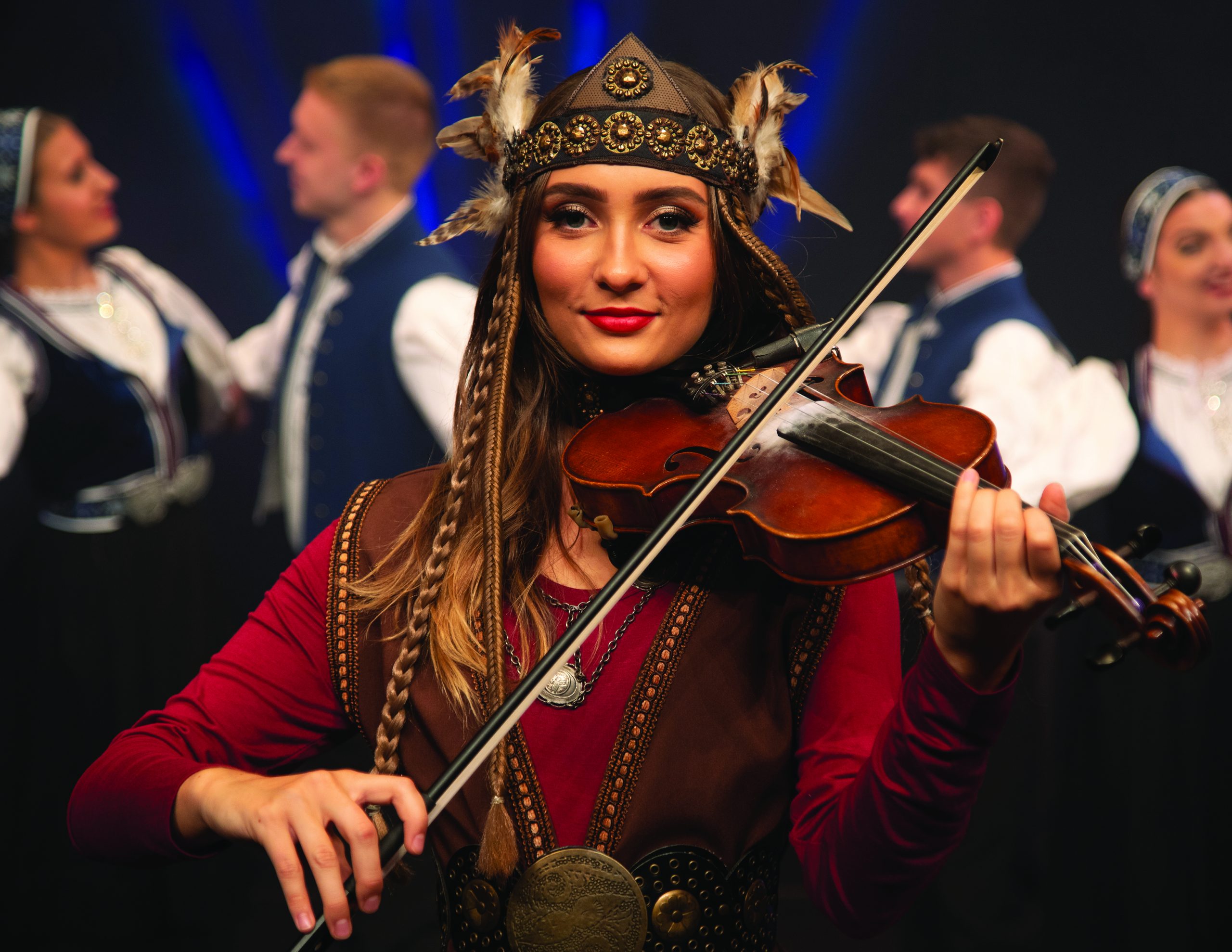 America's longest running live stage production, The Tamburitzans, will perform on Friday, February 7 at 7:30 p.m. at the Weis Center. The Tamburitzans present an elaborate live stage production that transports audiences to the heart of intriguing international cultures from around the globe.
The Tamburitzans have entertained and delighted audiences of all ages for over eight decades. Dedicated to perpetuating international cultural heritage, the ensemble delivers a high caliber multi-media showcase. This season's ensemble features 29 passionate young professionals in a vibrant and energetic production featuring festive costumes, bold visuals, daring acrobatics, and musical variety for the whole family.
Through music, song, and dance Symbols: Expressions of Culture showcases beauty and brilliance of traditions from around the globe. Woven as a tapestry of Croatian, Georgian, Nordic, Russian, Serbian, Polish, Irish and Bulgarian cultures, audiences will be transported to folk celebrations through intricate choreography, mesmerizing music, and unique voices.
Immediately before the performance, there will be a free dance class taught by members of the Central PA-based Global Music and Dance Collective from 6:30-7:15 p.m. in the Weis Center Atrium. The dance class will feature 3 dance instructors, including Bucknell's own Paula Davis and 7 musicians including accordion and brass instruments. The Collective will base the Eastern European dances on the Tammies' program that evening and will lead 3-4 different dances with commentary in between discussing dance steps and the region of origin.
The Exchange's Art Cart will also be on-site from 6:30-7:15 p.m. with special all-ages activities related to the performance.
The performance is sponsored, in part, by John and Julianna Cooper and family.
COMPLIMENTARY TRANSPORTATION FROM COAL REGION
Thanks to a generous grant from PPL Foundation, the Weis Center will offer complimentary roundtrip transportation via Catawese Coach Lines from Shamokin, Mount Carmel and Sunbury. Patrons using this transportation will receive complimentary tickets to the engagement. Tickets will be issued to patrons upon boarding the bus. Note that this free transportation offer REPLACES the previously-announced bus transportation for Calefax Reed Quintet on March 26, which will no longer be offered.
Advance reservations for transportation to the Tamburitzans performance are required by Monday, February 3 by calling 570-577-3727 or emailing Lisa.Leighton@bucknell.edu. Reservations are very limited and will be accepted on a first-come-first-served basis. The pick-up schedule is as follows:
Shamokin – rear of Weis Markets at 5:30 p.m.
Mount Carmel – Divine Redeemer Church at 6 p.m.
Sunbury – North 4th Street Plaza near Beiter's Home Center at 6:30 p.m.
Arrival at the Weis Center by 7 p.m.
Return trip will begin around 9:30 p.m.
Tickets for the Weis Center performance are $25 for adults, $20 for seniors 62+, $15 for youth 18 and under, $15 for Bucknell employees and retirees (limit 2), $10 for Bucknell students (limit 2), and $15 for non-Bucknell college students (limit 2). Tickets can be purchased online at Bucknell.edu/BoxOffice or by calling 570-577-1000.
Tickets are also available in person from several locations including the Weis Center lobby (weekdays 10 a.m. to 4 p.m.) and the CAP Center Box Office, located on the ground floor of the Elaine Langone Center (weekdays 10 a.m. to 4 p.m.).
For more information about the Weis Center for the Performing Arts, go to Bucknell.edu/WeisCenter or search for the Weis Center on Instagram, Facebook, Twitter or YouTube.