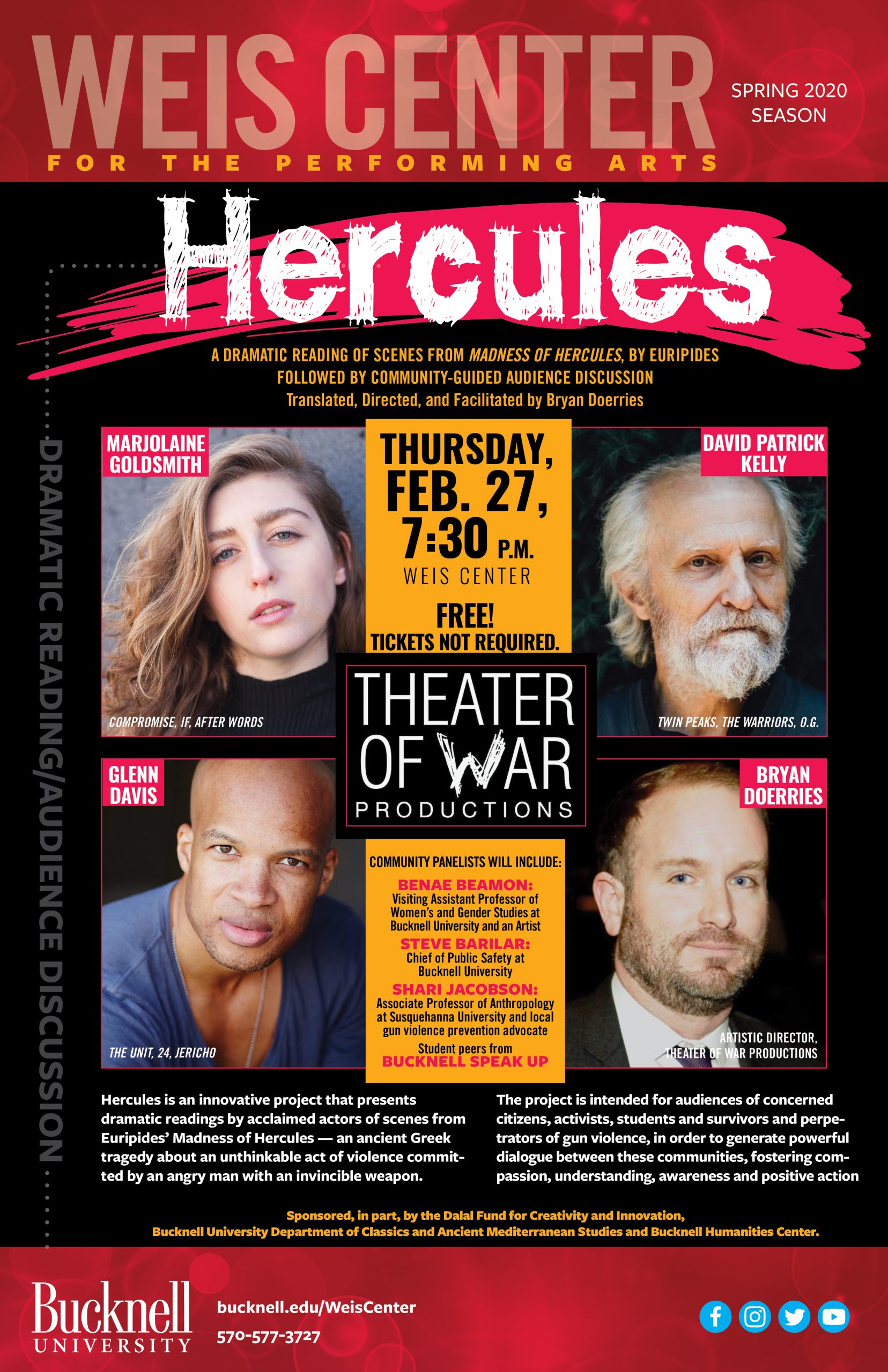 Theater of War Productions will present a dramatic reading of scenes from Madness of Hercules by Euripides on Thursday, February 27 at 7:30 p.m. at the Weis Center. The reading will be followed by community panelist remarks, culminating in a guided audience discussion. The text was translated by Bryan Doerries. This is a free engagement and tickets are not required.  
Hercules is an innovative project that presents dramatic readings by acclaimed actors of scenes from Euripides' Madness of Hercules — an ancient Greek tragedy about an unthinkable act of violence committed by an angry man with an invincible weapon—as a catalyst for powerful conversations about the impact of violence upon individuals, families, and communities.

The project engages diverse audiences of concerned citizens, activists, students and survivors and perpetrators of gun violence, in powerful dialogue, with the goal of fostering compassion, understanding, awareness and positive action.
The event is sponsored, in part, by the Dalal Fund for Creativity and Innovation, Bucknell University Department of Classics and Ancient Mediterranean Studies and Bucknell Humanities Center.
The readings will be directly followed by panelist remarks by the following community members:
Benae Beamon: Visiting Assistant Professor of Women's and Gender Studies at Bucknell University and an Artist
Steve Barilar: Chief of Public Safety at Bucknell University
Shari Jacobson: Associate Professor of Anthropology at Susquehanna University and local gun violence prevention advocate
Student peers from Bucknell Speak UP
The community panelist remarks will be followed by a guided audience discussion, facilitated by Theater of War Productions' Artistic Director, Bryan Doerries.
ABOUT THE READERS
Readers will include: Glenn Davis of The Unit, 24 and Jericho, David Patrick Kelly of Twin Peaks, The Warriors and O.G., Marjolaine Goldsmith of Compromise, If and After Words, and Bryan Doerries the Artistic Director of Theater of War.
David Patrick Kelly is well known for crafting memorable roles in the films of Walter Hill, David Lynch, Wim Wenders, Spike Lee and Clint Eastwood, among others. He has performed some of the greatest roles in the classical canon on Broadway and at leading theatres throughout the United States. He was awarded a special OBIE for sustained excellence for his work in classical, avant-garde and new plays.
Marjolaine Goldsmith is a graduate of Oberlin College, with a degree in Classical Civilization. She is currently training at the Wynn Handman Studio in New York City and has recently been seen in The Three Musketeers and Henry IV, Part 1 at The Vineyard Playhouse, and in films such as If, Compromise, My First Boyfriend, Dress, and After Words. She is honored to serve as both an actor and company manager at Theater of War Productions.
Glenn Davis' credits are extensive. On Broadway: Bengal Tiger at the Baghdad Zoo (Richard Rogers Theatre). Off-Broadway: Wig Out! (Vineyard Theatre). Regional: Bengal Tiger at the Baghdad Zoo (the Kirk Douglas Theatre and the Mark Taper Forum), The Brother/Sister Plays : The Brothers Size, In the Red and Brown Water, Marcus; Or the Secret of Sweet ; A Lesson Before Dying; The Bluest Eye (Steppenwolf Theatre); Caligula, Polaroid Stories, Vassa Zheleznova (Williamstown Theatre Festival); Wig Out! (Sundance Institute/Theatre Lab; Goodman Theatre, Chicago Shakespeare, Congo Square Theatre). International: Edward II, The Winter's Tale, As You Like It (Stratford Shakespeare Festival). Television: "24"(FOX); "The Unit"(CBS); "Jericho"(CBS).
Bryan Doerries is a Brooklyn-based writer, director, and translator, who currently serves as Artistic Director of Theater of War Productions. A self-described evangelist for ancient stories and their relevance to our lives today, Doerries uses age-old approaches to help individuals and communities heal from trauma and loss. During his tenure at Theater of War Productions, the company has presented diverse projects across the United States and internationally. The company uses dramatic readings of seminal plays and community conversations to confront topics such as combat-related psychological injury, end-of-life care, police and community relations, prison reform, gun violence, domestic violence, sexual assault, the refugee crisis, and addiction. Doerries' books include The Theater of War: What Ancient Greek Tragedies Can Teach Us Today, The Odyssey of Sergeant Jack Brennan, and a collection of his translations of ancient Greek Tragedies entitled All That You've Seen Here is God. Among his awards, he has received an honorary Doctorate of Humane Letters from Kenyon College, and in March 2017, he was named Public Artist in Residence (PAIR) for the City of New York, a joint appointment with the New York City Department of Veterans' Services and Department of Cultural Affairs.
ABOUT THEATER OF WAR
Theater of War Productions presents community-specific, theater-based projects that address pressing public health and social issues. Theater of War Productions works with leading film, theater, and television actors to present dramatic readings of seminal plays—from classical Greek tragedies to modern and contemporary works—followed by town hall-style discussions designed to confront social issues by drawing out raw and personal reactions to themes highlighted in the plays. The guided discussions underscore how the plays resonate with contemporary audiences and invite audience members to share their perspectives and experiences, and, helping to break down stigmas, foster empathy, compassion, and a deeper understanding of complex issues.
For more information about the Weis Center for the Performing Arts, go to www.bucknell.edu/WeisCenter or search for the Weis Center on Instagram, Facebook, Twitter or YouTube.