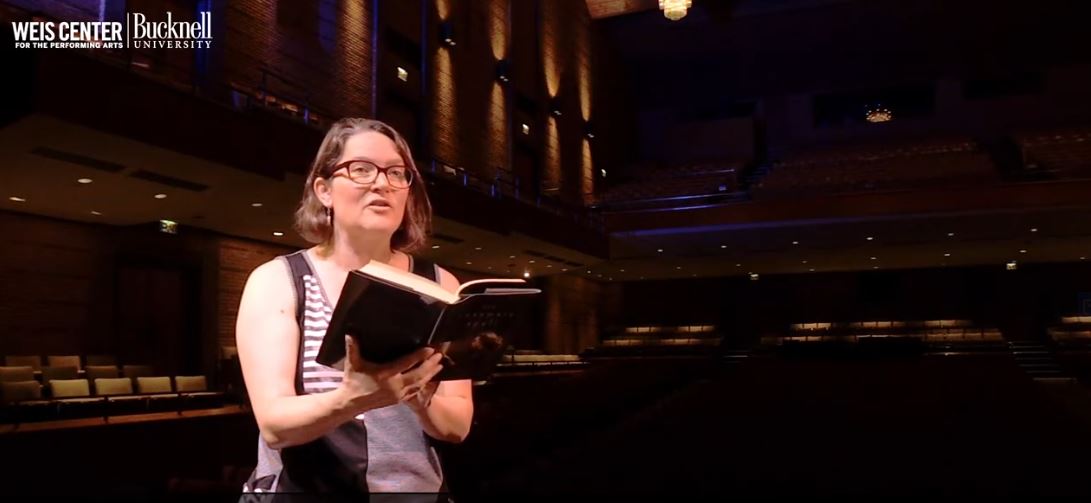 Welcome to our sixth installment of Weis Center Sessions!
Each Friday, we will release a video that features a member of the Bucknell University community. Today, we feature Professor Virginia Zimmerman as she reads a passage from her novel, The Rosemary Spell (2015).
Virginia Zimmerman is Professor of English at Bucknell University, where she teaches children's fiction and 19th-century British literature. Her scholarly work investigates time and traces, and her creative writing addresses similar themes. Her first novel, La Finestra del Temps (Cruïlla 2012), was translated into Catalan and published in Barcelona. The Rosemary Spell (Clarion 2015) was her American debut, and she has two novels in progress.
Zimmerman says, "The third chapter of The Rosemary Spell is one of my favorites because it features an English class and models the kind of close reading I use in my own teaching. In reading Shakespeare's Sonnet #55, the characters discover how words can be stronger even than stone in standing the test of time. The chapter develops the theme of the power of literature, a central theme in the novel and also in my life."
Recorded at and produced by the Weis Center for the Performing Arts at Bucknell University.
ENJOY!