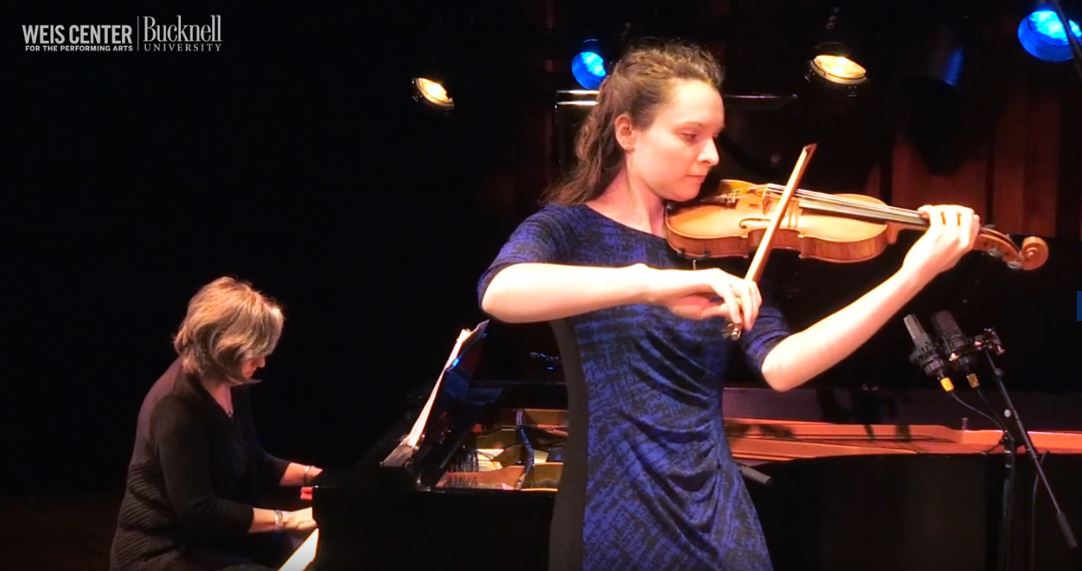 Welcome to our tenth installment of Weis Center Sessions!
Each Friday, we release a video that features a member of the Bucknell University community. Today, we feature violinist Grace Kenny and pianist Amy Kenny performing Liebesleid (Love's Sorrow) by Fritz Kreisler.
Grace Kenny is from Lewisburg. She earned a degree in violin performance from St. Olaf College and is currently studying to be certified to teach music K-12. Grace recently performed in the Bucknell Orchestra and the Bison Band, and her father is Dr. William Kenny, Professor of Music at Bucknell.
Amy Kenny has collaborated with her daughter Grace on numerous recitals and performances during the past two decades. As a flutist and pianist Kenny has performed through the years with many ensembles at Bucknell, such as the Symphonic Band, Orchestra, Opera Company, Chapel Choir and musical pit orchestra. Recently, she has taken on the roll as bass keyboardist with the Bison Band, an endeavor she enjoys with her husband and BU band director, Professor Bill Kenny. Kenny is a flutist with the Penn Central Wind Band and the Orchestra of the Susquehanna Valley Chorale. Additionally, she teaches instrumental music at Selinsgrove Area Middle School.
Recorded at and produced by the Weis Center for the Performing Arts at Bucknell University.
ENJOY!
Playlist of all Sessions here.