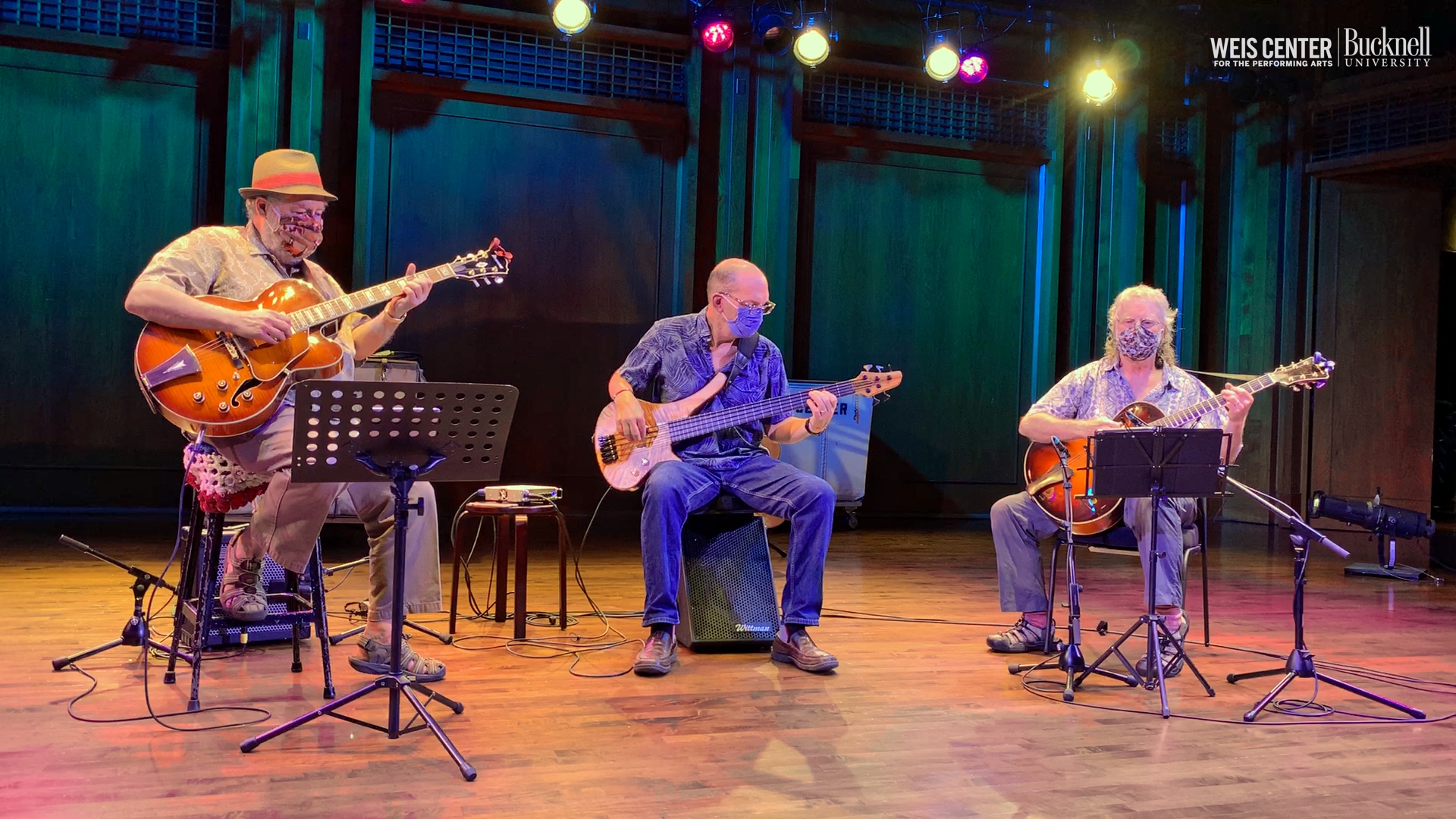 Welcome to our 12th installment of Weis Center Sessions!
Each Friday, we release a video that features a member of the Bucknell University community. Today, we feature a Lewisburg-area jazz trio with ties to Bucknell, Nine Degrees of Syncopation.
The ensemble includes: Joe DeCristopher on guitar, a 1970 Bucknell alum, Bill Flack on electric fretless bass, currently chair of the Psychology Department and Carl Kirby on guitar, professor in the Geology and Environmental Geosciences Department.
The band name is a play on words, but for this gig, they could be called "Six Feet of Separation." The band plays Gypsy, Latin, and Jazz Standards, Originals.
Joe deCristopher is also working on a duo project with Bill and plays with Carl in a quartet known as Sink or Swing and Lawson and Disorder, another trio featuring Lewisburg homegrown singer-songwriter, Larry Lawson. Joe was an attorney and worked for Susquehanna Legal Services from 1979 until he retired in 2017.
Carl Kirby has played in numerous groups through the years including the Appalachian Oldtime band Back Up & Push with Emeritus English professor Bob Taylor. Carl was featured in Bucknell Magazine in an article called "Passionate Pastimes," which highlighted what faculty do in their spare time.
Bill Flack has played in Bucky's Boys/This Band's For You with Don Krech, Joe Gaughan, and Phil Haynes at various University functions. He is a Professor and Chair of the Psychology Department, and a Senior Fellow in the Social Justice Residential College.
ABOUT THE PIECE
"Bossa for Deb" is Joe's composition (2006) and was loosely inspired by the Brazilian bossas composed by Antonio Carlos Jobim like "Girl from Ipanema," popularized by late alto sax great Stan Getz.

Joe says, "There are two features I like about the tune. First, the melody prominently features a moving major fifth interval occurring over F# minor (including notes G# and C#), A minor (notes B and E) and E major (notes D# and G# with a B between them). Second, I like the modulation from the key of E to the bridge, pitched mostly in the key of G. The tune is also inspired by and dedicated to my better half, Deb Slade."

Recorded at and produced by the Weis Center for the Performing Arts at Bucknell University.
ENJOY!
Playlist of all Sessions here.