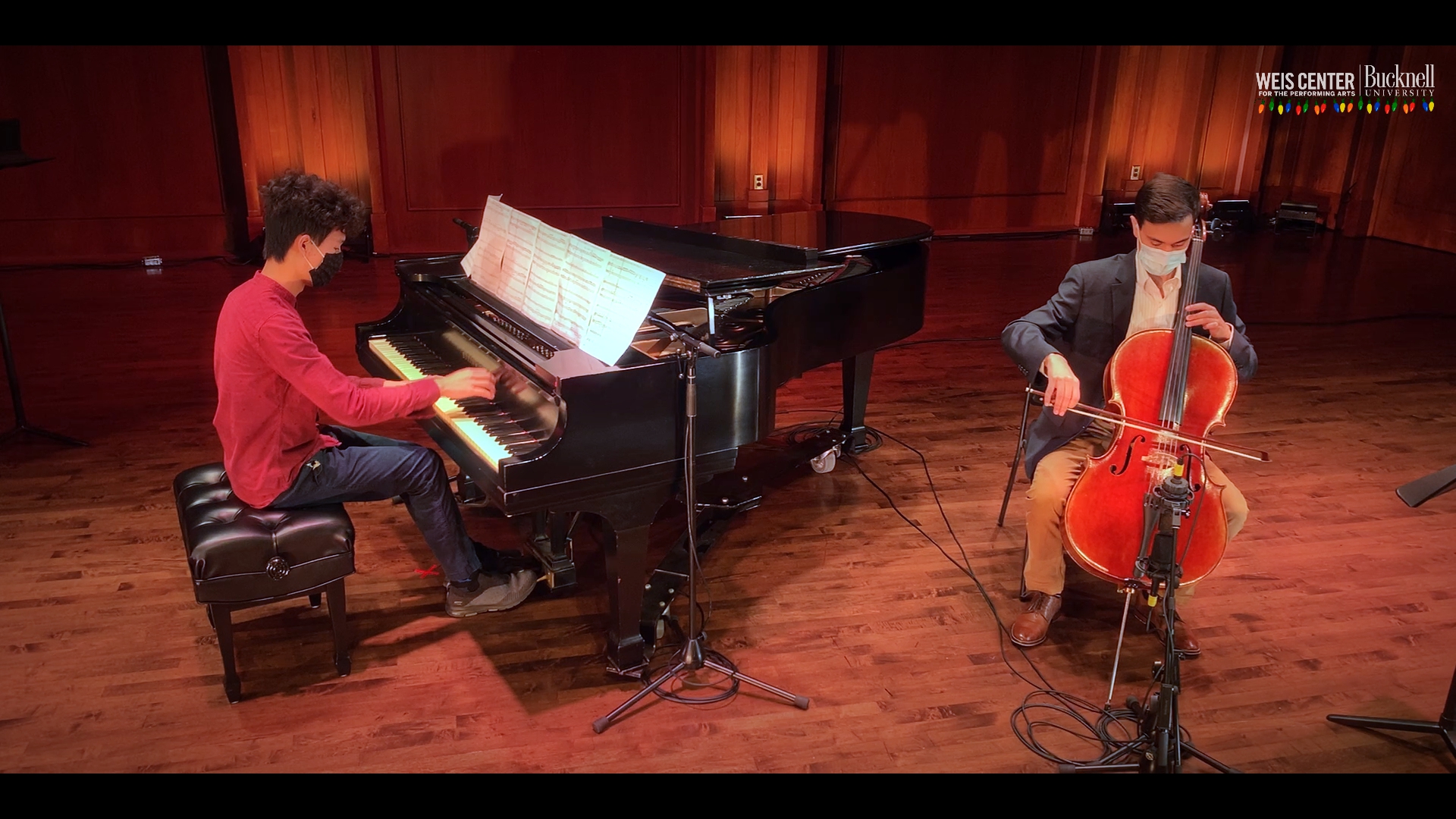 Merry Christmas!
Each Friday, we release a video that features a member of the Bucknell University community. We have a special holiday treat for our 29th installment of Weis Center Sessions: Bucknell students Jaden Lee (Piano) and Ryan Bailis (Cello) performing "The Manger."
Ryan Bailis is a senior from Bethlehem, PA majoring in computer engineering and management. Throughout his time at Bucknell, he has been a part of the orchestra, numerous chamber ensembles, and has performed at numerous masterclasses and "On the Rise" concerts prior to Weis Center performances. In the future, Ryan hopes to bridge his interests with music, business, and technology by venturing an innovative start-up company and further develop his passion for helping people through entrepreneurship.
Jaden Lee is a junior mechanical engineering major. His formal musical training began at the age of 9 when his stepfather taught him to play the piano. At age 11, he joined his elementary school's concert band as a trumpeter. Throughout high school, he actively participated in the music department in the concert choir, symphonic band, jazz band, and marching band. When he was 17, he began studying the organ and picked up a full-time organ position at the Zion United Church of Christ in York. He entered Bucknell with an Arts Merit Scholarship in organ and piano performance and has continued to play on the side at university events and Weis Center pre-shows. As an engineer, he is interested in how innovations in material science can be used to create cleaner, more efficient energy technologies.
"The Manger" is composed by the popular classical/pop instrumental group, The Piano Guys, in their second Christmas album, Christmas Together. With its modulation between minor and minor keys, this simple yet eerie cello/piano duet is a reflection of how the holidays can be bittersweet during these troubled times. Jaden thanks the Weis Center for the opportunity to record this piece and wishes everyone a safe and healthy holiday.
Recorded at and produced by the Weis Center for the Performing Arts at Bucknell University.
ENJOY!