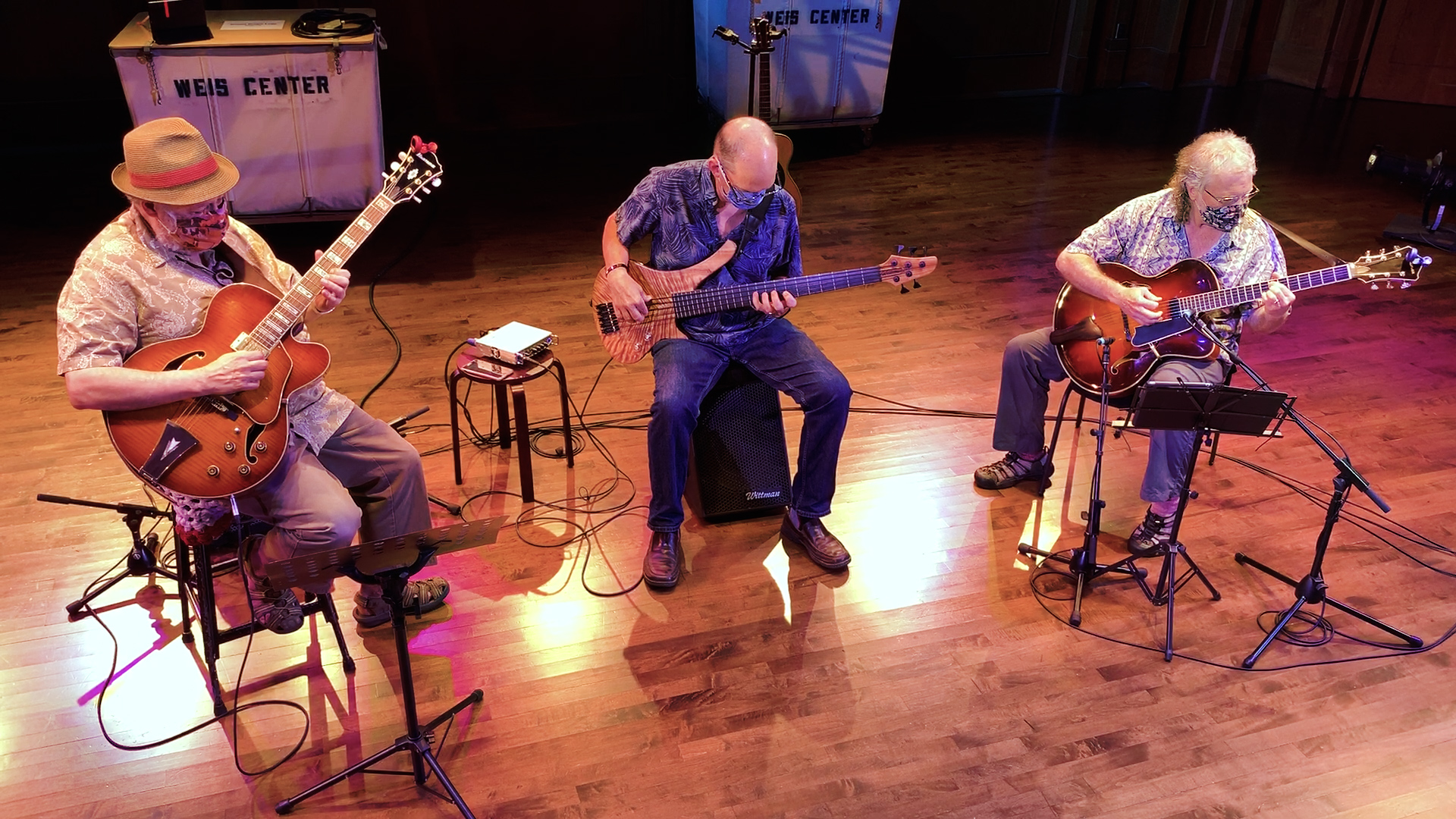 Welcome to Weis Center Sessions #33!
Each Friday, we release a video that features a member of the Bucknell University community. Today, we feature Lewisburg-area jazz trio Nine Degrees of Syncopation and the original piece, "August Diatonic" by Carl Kirby.
The ensemble includes: Joe DeCristopher on guitar, a 1970 Bucknell alum, Bill Flack on electric fretless bass, currently chair of the Psychology Department and Carl Kirby on guitar, professor in the Geology and Environmental Geosciences Department.
The band name is a play on words, but for this gig, they could be called "Six Feet of Separation." The band plays Gypsy, Latin, and Jazz Standards, Originals.
Joe deCristopher is also working on a duo project with Bill and plays with Carl in a quartet known as Sink or Swing and Lawson and Disorder, another trio featuring Lewisburg homegrown singer-songwriter, Larry Lawson. Joe was an attorney and worked for Susquehanna Legal Services from 1979 until he retired in 2017.
Carl Kirby has played in numerous groups through the years including the Appalachian Oldtime band Back Up & Push with Emeritus English professor Bob Taylor. Carl was featured in Bucknell Magazine in an article called "Passionate Pastimes," which highlighted what faculty do in their spare time.
Bill Flack has played in Bucky's Boys/This Band's For You with Don Krech, Joe Gaughan, and Phil Haynes at various University functions. He is a Professor and Chair of the Psychology Department, and a Senior Fellow in the Social Justice Residential College.
ABOUT THE PIECE
Carl has gone to the Galax (Virginia) Fiddlers Convention nearly every year for 35 years, where he is surrounded by about 1000 old time and bluegrass musicians for a week. For 20 years he has stayed with friends in "Swingtown", their camp with non-standard disco ball, music stands, discussions about music theory, swing and jazz music, and archtop guitars. He wrote "August Diatonic", his only composition thus far, in the 8th hour of a 9 hour drive down Interstate 81 towards Galax. Carl knows enough music theory to be dangerous, so he started thinking about how infrequently a minor-7th-flat 5 chord is used in tunes in a major key – a strange source for musical inspiration. He came up with the chords on the road, and the melody in Swingtown. The tune has every chord that works well with the familiar scale do-re-mi-fa-sol-la-ti-do, and each note in the melody is in that scale, i.e., the meolody notes are "diatonic."

Recorded at and produced by the Weis Center for the Performing Arts at Bucknell University.
ENJOY!