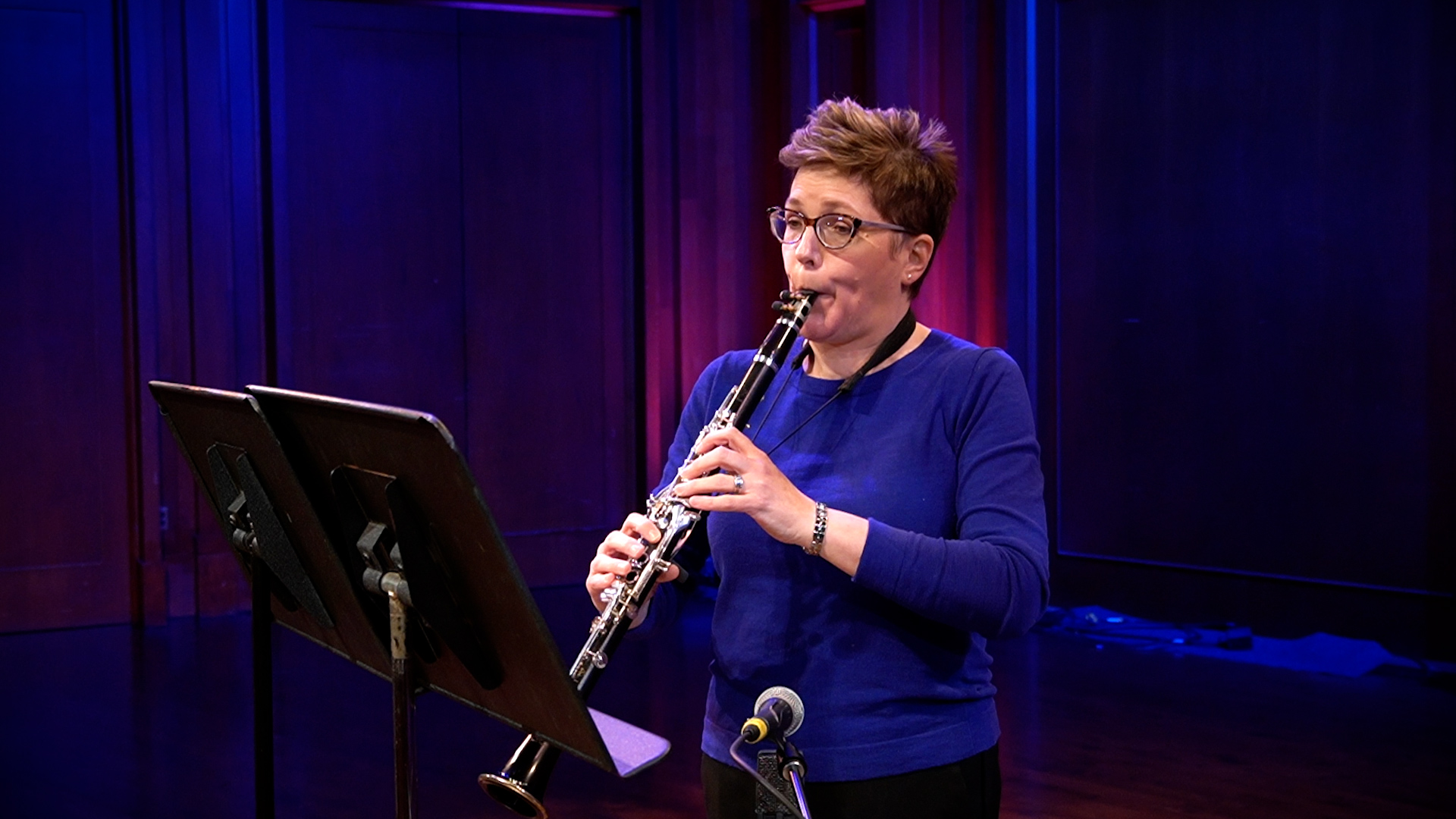 It's time for another Weis Center Session! Today, we feature our treasured colleague in Bucknell's Department of Music, clarinetist extraordinaire Colleen Hartung.
Colleen Hartung is an avid freelance musician that has performed with the Allentown Symphony, the Williamsport Symphony, the Winston-Salem Symphony, Opera Roanoke, the Roanoke Symphony, and the Ashlawn Opera Festival Orchestra. She has also been a participant at the Banff Centre for the Arts' Masterclass program with Wesley Foster. In 2014 Hartung premiered Ryan Woodward's Suite for Clarinet and Violin with Marcus Smolensky at the International Clarinet Association's Mid-America Clarinet Festival in Ohio. Along with colleague Stacie Thompson, she reintroduced Ruth Crawford Seeger's Diaphonic Suite No. 3 for Two Clarinets at the International Clarinet Association's 2018 ClarinetFest in Ostende, Belgium.
As a chamber musician, Hartung was a founding member of the Sunderman Woodwind Quintet while on the faculty of the Sunderman Conservatory of Music at Gettysburg College. This ensemble gave performances and masterclasses throughout the East Coast. She has also performed with the Dover Quartet and toured internationally with the Weis Trio.
Outside the classical realm, Hartung has performed with Bruce Hornsby and the Range, Kansas, the Brubeck Brothers Quartet, NEA Jazz Master Rufus Reid, and jazz pianist Dan Tepfer.
She received her Doctor of Musical Arts degree at Michigan State University and earned her Master of Music and Bachelor of Music degrees at the University of North Carolina School of the Arts. Her teachers have included Robert Listokin, Brian Moorhead, Mark Nuccio, and Elsa Ludewig-Verdehr.
Hartung is currently principal clarinet with the Gettysburg Chamber Orchestra and second clarinet with the Pennsylvania Chamber Orchestra. She teaches clarinet at Bucknell University and Susquehanna University.
She says, "I chose to perform Hommage à Manuel de Falla by Béla Kovács because I had been interested in this piece for a while and suddenly had more time available to learn it during the pandemic. It turned out to be an excellent choice because Kovács demands much of the clarinetist technically and musically, and it has also given me a sense of joy when I have been unable to collaborate with other musicians. This piece is one of several homages for solo clarinet that Kovacs wrote as a celebration of Classical composers."
Enjoy!