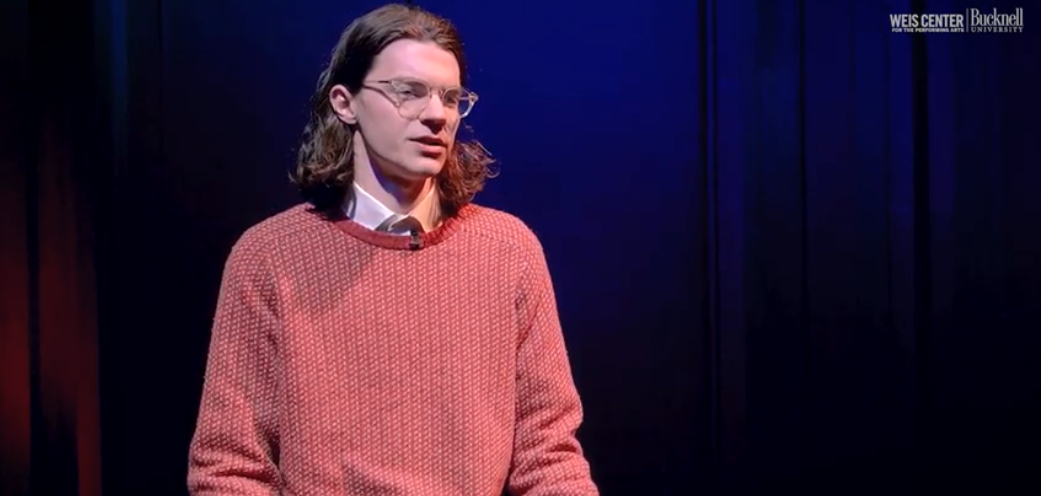 Welcome to our 45th installment of Weis Center Sessions.
Since April is National Poetry Month, we will be featuring poetry readings for the next few weeks.
Today, we highlight Bucknell student J.A. Holm '22 and his poem "City Streets." In the coming weeks, we will highlight Joselyn Busato and Andy Ciotola.
J.A. Holm is a Junior who recently switched majors from Psychology to Creative Writing to pursue a career writing poetry or working in related industries. Only in the last few years has he begun to take poetry seriously and has since been published in Toho Journal Vol. 2, No. 1. He also has an upcoming Chapbook being published by Toho which is slated to be released in May/June of this year. His chief inspirations are William Carlos Williams, Walt Whitman, Gary Snyder, Mother Nature, meditation, and a deep fascination with being and the self.
Holm says, "The poem 'City Streets' is a meditative snapshot of an intersection of streets I worked off of in Philadelphia. For hundreds of hours I stood and watched the complicated interactions of the people of Philly and synthesized this poem from many of those observations. It was originally written on a rainy day hence the imagery within the poem which is centered around a cold wet rainy day in the streets of Philly sometime around October. The final stanza focuses on a homeless man who has been exposed to the elements for countless years and still remains stoic while folks rush by without even the decency to pay him a glance."
Recorded at and produced by the Weis Center for the Performing Arts at Bucknell University.