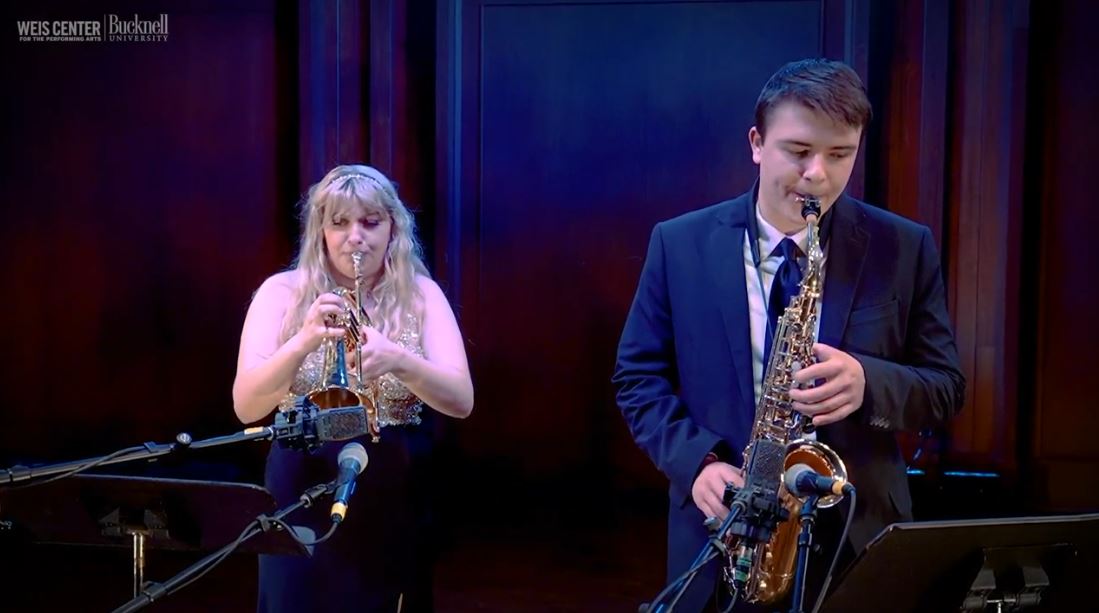 Welcome to Weis Center Sessions #48!
This week we're featuring two Bucknell students – Adam Baranik '23 on alto saxophone and Katherine Idleman '22 on horns as they perform a jazzy tune called "Mario's Accounting."
Adam Baranik is a sophomore chemistry major and music minor. He participates in the Jazz Band, Symphonic Band, and Bison Band.
Adam says, "We came across this piece in December of 2020 through Instagram. It was written and recorded by a tenor player from New York, Augie Bello, who currently has over 80,000 followers on Instagram. Katherine found a trumpet transcription of the melody from a guy named Jacob Anderson, and she asked me if I wanted to play it with her on my alto. We sent Augie Bello a direct message on Instagram asking him what he'd like us to title the piece. We weren't expecting him to reply because he was so famous, but he actually did and asked us to call it Mario's Accounting."
Katherine and Adam met through the bands at Bucknell.
Adam says, "We're both super passionate about music, and our goofy personalities quickly meshed in the first ensemble I joined at Bucknell, Symphonic Band. Through my freshman year, we became close friends and started jamming and writing music together."
Katherine Idleman is a junior music education major. She is a member of the Orchestra, Symphonic Band, Jazz Band, Pep Band, and a brass quintet.
Katherine says, "We love writing music together as well as making funny music themed videos. We help each other try new things all of the time. For example, he accompanied my bassoon playing on piano and I helped him get a start on trumpet. I also love playing the constant flow of arrangements he creates and I am so grateful for his help with jazz, too. I couldn't ask for a more supportive friend who constantly makes me laugh and also brings out the best in me!"
Enjoy their collaboration on this wonderful jazz piece.