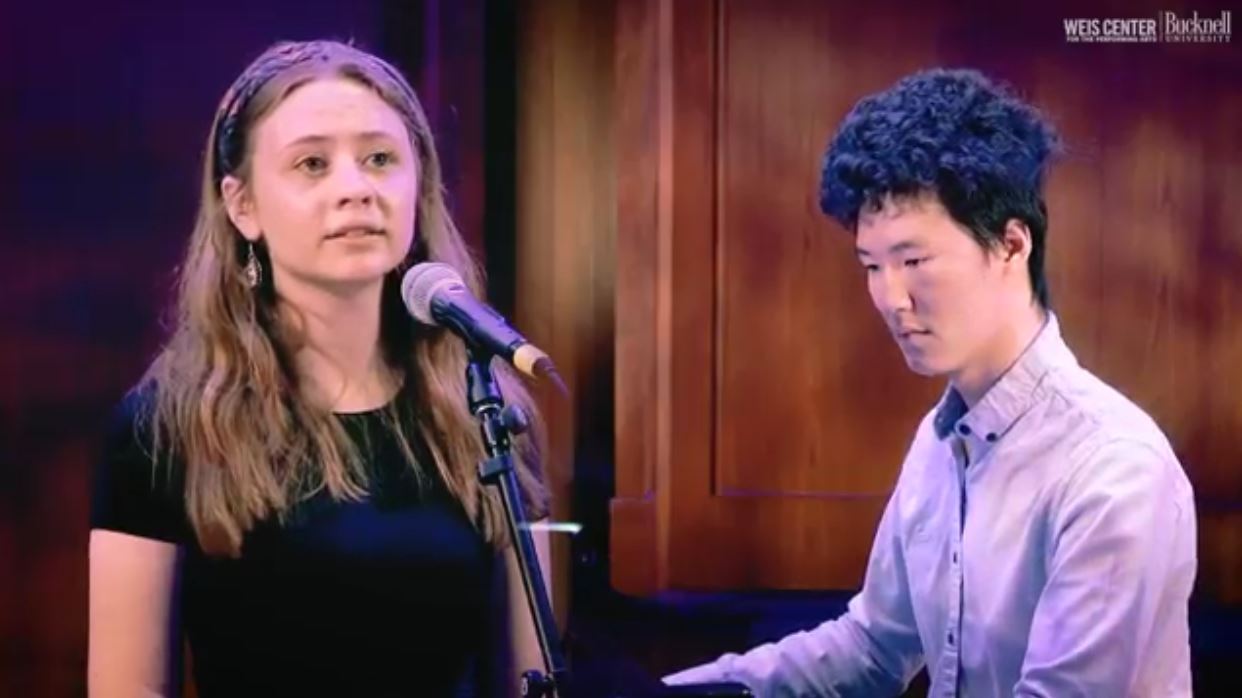 We are approaching the one-year mark for Weis Center Sessions! We hope the series has been a source of joy and inspiration.
Today, we present two Bucknell students – vocalist Elena Roe '24 and pianist Jaden Lee '22 – as they perform the lovely Gershwin song, "Someone to Watch Over Me."
The piece was composed by George Gershwin with lyrics by Ira Gershwin.
Elena Roe '24 plans to double major in International Relations and Russian Studies. She is a Presidential Fellow, Secretary of her a-cappella group Beyond Unison, a Senator for the Class of 2024, and an opinions writer for the Bucknellian. She is also a member of Cap and Dagger and involved with Bucknell's theatre department & choirs.
Elena says, "In talking with Jaden, who had suggested something along the lines of jazz, I suggested this particular piece because it's always been one of my family's favorites. Gershwin's works are a perfect blend of the more classical style I'm used to, as well as a fun, jazzy feel that's really fun to experiment with. I hope you enjoy!"
Jaden Lee is a rising senior studying Mechanical Engineering. His music career began at age 9 when his stepfather taught him to play the piano. Upon being accepted to Bucknell, he became an Arts Merit Scholar in Piano and Organ performance. Since his time at Bucknell, Jaden maintained a regular performance schedule on the organ even during his time abroad in Sydney, Australia. Jaden is grateful for everyone who has supported his music career and is looking forward to presenting a culminating recital in the fall of 2021.
Jaden says that the song "Someone to Watch Over Me" is a piece that is usually out of the norm for him to play. While he normally focuses on classical music, he believes that this piece is a subtle nod to his family's jazz roots. His stepfather was a jazz musician who created a funk band of which Jaden has many memories. He wants this piece to be a tribute to the incredible influence that his stepfather had on him.
Enjoy!