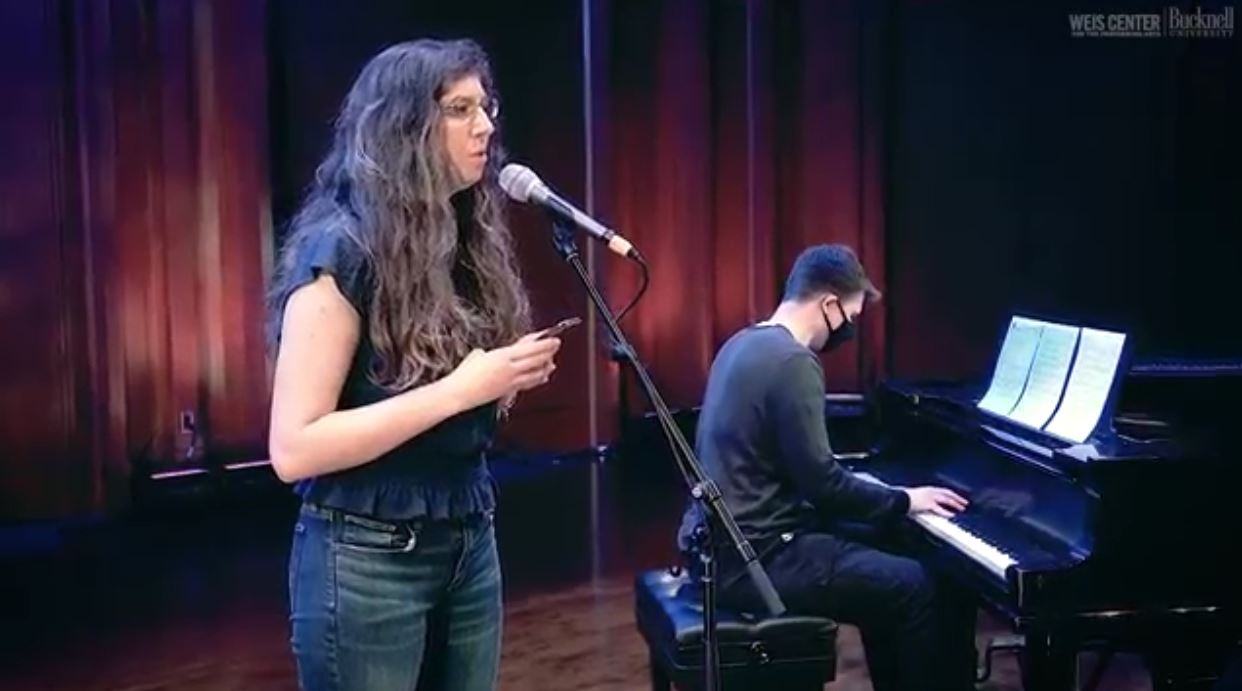 Welcome to Weis Center Sessions #51! Today, we're featuring two stellar Bucknell University students, Morgan Thomas '23 on vocals and Adam Baranik '23 on piano performing "Je Vole" ("I Fly") in the style of Louane.
Adam Baranik is a sophomore chemistry major and music minor. He participates in the Jazz Band, Symphonic Band, and Bison Band.
Morgan Thomas is a sophomore double majoring in biochemistry and cellular biology &French & francophone studies. Morgan is an accomplished musician who has played the flute since 4th grade and has played in the Symphonic Band and Pep Band (Bison Band). She has also independently provided vocal performances and enjoys volunteering as a cantor at the local Roman Catholic Parish in Lewisburg.
Morgan's passion for the French language and French culture has continued to grow over the last 9 years of her studies. Integrating two of her greatest passions—French and music—has motivated her to learn many popular French musical pieces and inspired her to further pursue her interests in exploring the beautiful French language and incredible wonders of the Francophone world.
Adam and Morgan met during their freshman year at Bucknell through their musical interests (Symphonic Band and Bison Band), common science classes, and through their mutual involvement in Bucknell Chemistry Club activities. Adam is an accomplished and recognized pianist and can often be heard playing on one of the grand pianos throughout on-campus residential buildings.
Adam says, "I lived in Roberts this year, and I will sometimes go play the piano in the lobby (despite the fact it's out of tune). I think that's how Morgan found out I played piano. I was grateful Morgan asked me if I'd like to play for her Weis Center Session because it was a good opportunity to accompany a vocalist, which I had only done a couple times before. Plus, she made it easy by being organized and cheerful!"
Morgan says, "I was first introduced to Louane's song Je vole (I fly) by a former French teacher. Louane is a young French singer and musician from Hénin-Beaumont, France, and I have consistently listened to her music since becoming aware of her impressive vocal skill and musical talents three years ago. This particular song carries an important message; it addresses the challenges of young adult independence, encourages the necessary embrace of vulnerability in order to soar, reveals that courage and determination are instrumental in achieving success, and reminds us that those we love will always be there to support us — the power and strength of unconditional familial loyalty."
Enjoy!