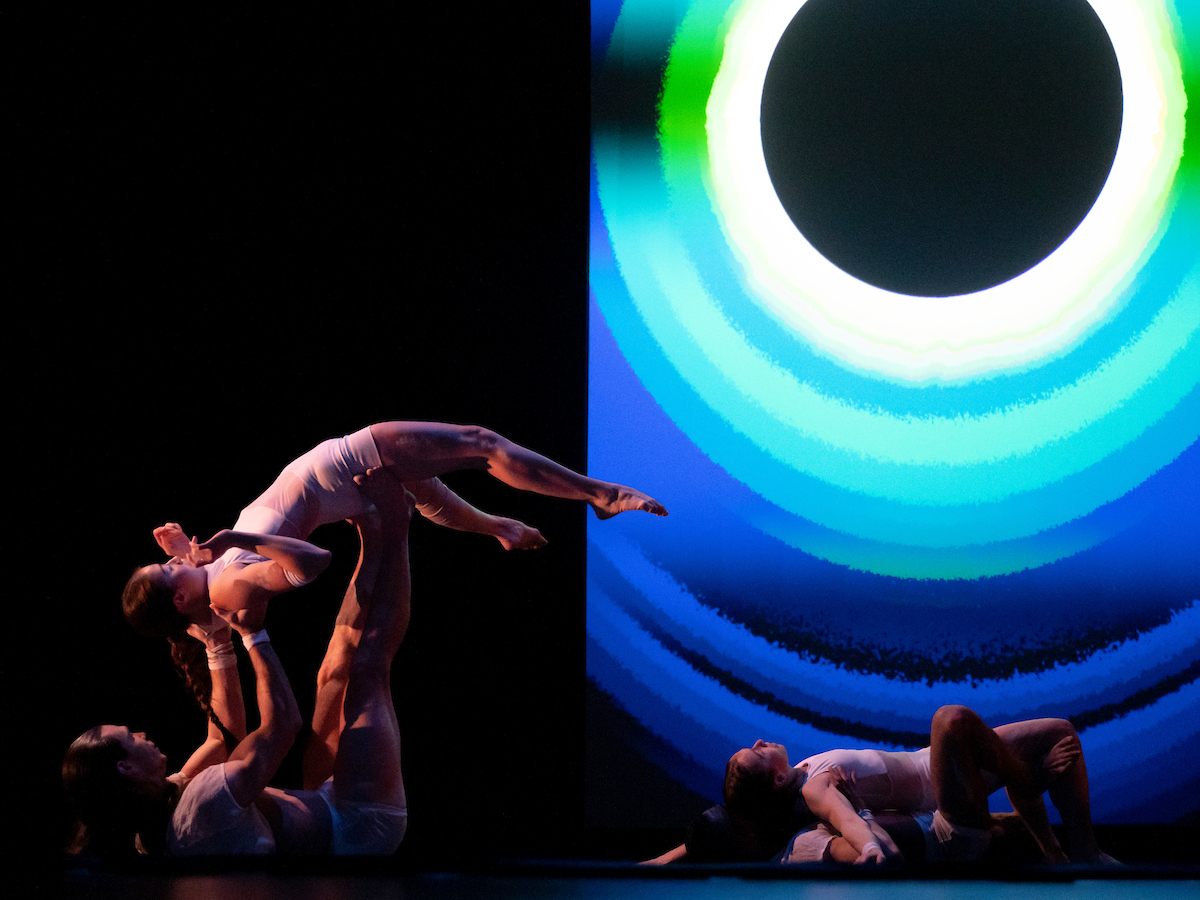 Canadian-based Red Sky Performance will perform their work "Trace" on Tuesday, Sept. 28 at 7:30 p.m. at the Weis Center for the Performing Arts at Bucknell University.

There will be a pre-performance talk with Red Sky Performance's Artistic Director Sandra Laronde on the same day as the performance, from 6:45-7:15 p.m. in the Weis Center Atrium. Masks are required.
Led by Artistic Director Sandra Laronde of the Teme-Augama Anishinaabe (People of the Deep Water), the group is currently in their 21st year of dance, theater, music and media.
While at the Weis Center, Red Sky Performance will present the work, "Trace" which is 60 minutes in length, without an intermission and features six dancers: Sarah Di Iorio, Miyeko Ferguson, Lindsay Harpham, Tyler Layton-Olson, Jessica Mak and Connor Mitton and three live musicians: Rick Sacks, Ian De Souza and Nadene Pita.
Members of the company have said about the piece, "We are traceable to the very beginnings of the universe, our ancestral origins stretching across the Milky Way to the atoms burning inside of us in the 'here and now' on Earth."
Laronde says that "Trace" is a highly kinetic contemporary dance work inspired by Indigenous (Anishinaabe) sky and star stories, offering a glimpse into our origin as well as our future evolution.
"Trace" has won two Dora Mavor Moore awards, presented annually by the Toronto Alliance for the Performing Arts, which honors theater, dance and opera productions in Toronto.
The performance is sponsored, in part, by PPL, Evangelical Community Hospital and the ArtsCONNECT program of Mid Atlantic Arts Foundation with support from the National Endowment for the Arts.
ABOUT RED SKY PERFORMANCE
Red Sky Performance is a leading company of contemporary Indigenous performance in Canada and worldwide.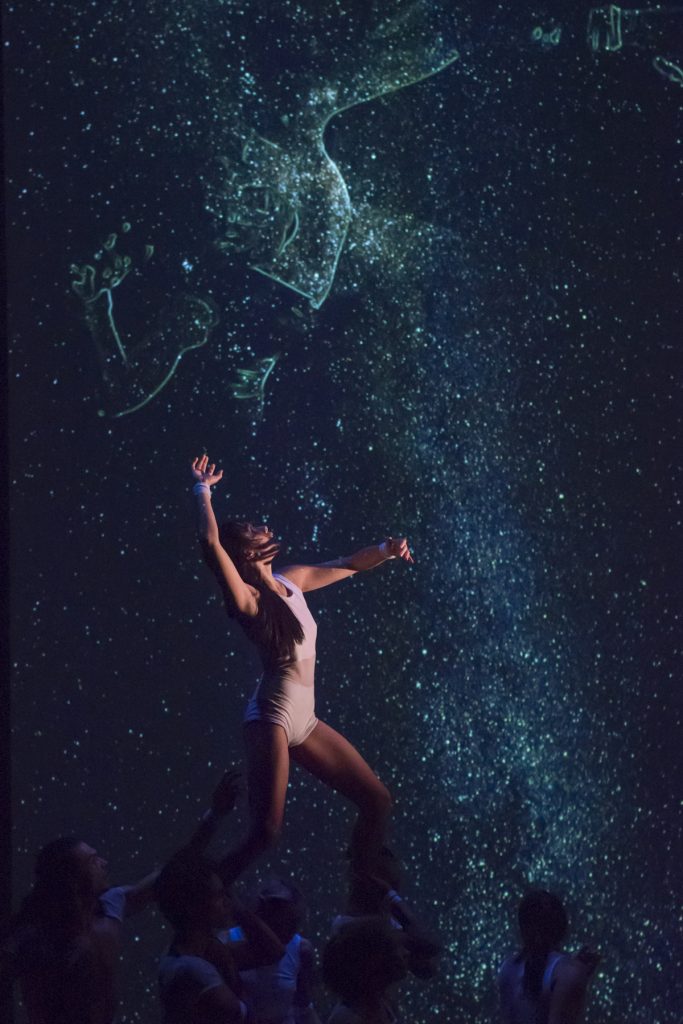 Led by Artistic Director Sandra Laronde of the Teme-Augama Anishinaabe (People of the Deep Water), they are currently in their 21st year of dance, theatre, music, and media. Red Sky's mission is to create inspiring experiences of contemporary Indigenous arts and culture that transform society. They create, produce, and tour original work to expand the ecology of contemporary Indigenous performance.
They are dedicated to working with emerging and established artists as they hone their artistic practice, particularly through an Indigenous lens, offering unique opportunities for these practitioners to thrive creatively and professionally.
Touring since 2003, Red Sky has delivered over 2,778 performances across Canada including 198 international performances in 17 countries on four continents, including landmark events such as at two Cultural Olympiads (Beijing and Vancouver), World Expo in Shanghai, Venice Biennale, and Jacob's Pillow. At the same time, they have remained deeply rooted and invested on a grassroots level and regularly perform in urban, rural and reserve communities across Turtle Island.
Red Sky is the recipient of 16 Dora Mavor Moore awards and nominations, two Canadian Aboriginal Music Awards, three International Youth Drama Awards from Shenzhen, China, and the Smithsonian Expressive Award, among other recognitions.
TICKETS
Tickets are $25 for Adults, $20 for Seniors 62+, $15 for Youth 18 and under, $15 Bucknell employees and retirees (limit 2): $10 for Bucknell students (limit 2), and $15 for Non-Bucknell students (limit 2).
Special rate for youth dancers: The Weis Center is offering a special $10 rate for youth under 18 who are taking dance classes at local dance studios. The code RedSkyDance21 (not case sensitive) should be entered as the Coupon Code at checkout on Bucknell.edu/BoxOffice to access the $10 rate for the student AND the accompanying parent or guardian (adult or senior 62+).
Tickets can be reserved in advance by calling 570-577-1000 or online at Bucknell.edu/BoxOffice. Seating for the fall 2021 season is socially distanced and general admission; specific seats cannot be reserved in advance.

Tickets are also available in person from several locations including the Weis Center lobby (weekdays 10 a.m. to 4 p.m.) and the CAP Center Box Office, located on the ground floor of the Elaine Langone Center (weekdays 10 a.m. to 4 p.m.).

While on campus, patrons must abide by all Bucknell University health and safety guidelines, including maintaining social distancing and wearing appropriate face coverings. All visitors are required to wear a face covering when indoors. We reserve the right to request that any visitors who do not follow University protocols leave the premises.

These protocols may be subject to change at any time. Please continue to visit our website for the most up-to-date information at Bucknell.edu/WeisCenter.

For more information about the Weis Center for the Performing Arts, go to Bucknell.edu/WeisCenter or search for the Weis Center on Instagram, Facebook, Twitter or YouTube.